Report from The Chart Seminar in Singapore
Eoin Treacy's view -

Last week's event was another enjoyable visit to Singapore and was an apt time to ruminate on Lee Kwan Yew's legacy of turning a tropical backwater into a first world private banking and high end manufacturing centre. Delegates came in from Argentina, Australia, Japan and of course Singapore which led to some interesting and varied discussions.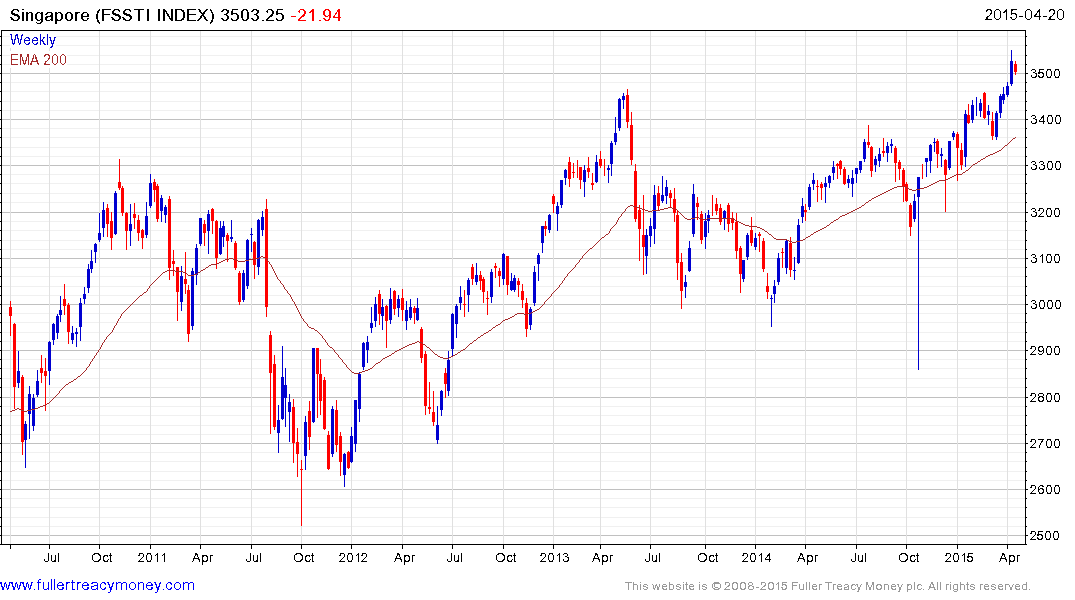 Singapore's stock market is being led higher by the banking sector and shares a high degree of commonality with Taiwan and South Korea. The Index is somewhat overbought in the short-term and some consolidation of recent gains in looking likely. However a sustained move below the 200-day MA, currently near 3400, would be required to question medium-term scope for additional upside.
As one might imagine the main topic of conversation was on the outlook for the Asian region not least following China's explosive breakout over the preceding three weeks. Delegates were also interested in the outlook for the European region and we also looked at the S&P 500. We looked at the oil price and a number of related instruments. We also looked at gold prices and a number of miners, select Singapore shares as well as a wide range of international bank shares. We also had a wide ranging discussion on currencies.
This section continues in the Subscriber's Area.
Back to top