Metal Matters
Thanks to a subscriber for this report from Scotiabank which may be of interest. Here is a section:
Funds turn buyers again on Comex
The net long fund position (NLFP) has up until recently been declining, but this has mainly been a result of stale long liquidation, as seen by the drop in the black line in the chart above. But, while the longs have cut exposure (until recently); shorts have not been getting bearish, as seen by the declining red line. This has suggested longs have grown impatient as Gold prices have failed to break higher, but lack of upside has not encouraged bears to increase exposure. More recently, fund longs have started to increase exposure again. The gross long fund position has climbed to 259,032 contracts as of 27th March, from a recent low of 223,882 contracts. The NLFP has returned to 203,354 contracts from a low of 148,731 contracts on 20th March. This latest change was driven by 35,150 contracts of fresh buying and 19,473 contracts of short-covering.

Investors increase exposure to ETFs
Holdings in Gold ETFs are edging higher with investors adding 18.5 tonnes in March. Holdings now stand at 2,162 tonnes, up some 39 tonnes so far this year. Holdings averaged 2,068 tonnes in 2017. Given the lukewarm investor interest in Gold ETFs, it may be that the market is waiting for prices to break higher above the $1,366-$1,388/oz resistance area before increasing exposure.
Eoin Treacy's view -

A link to the full report and a section from it are posted in the Subscriber's Area.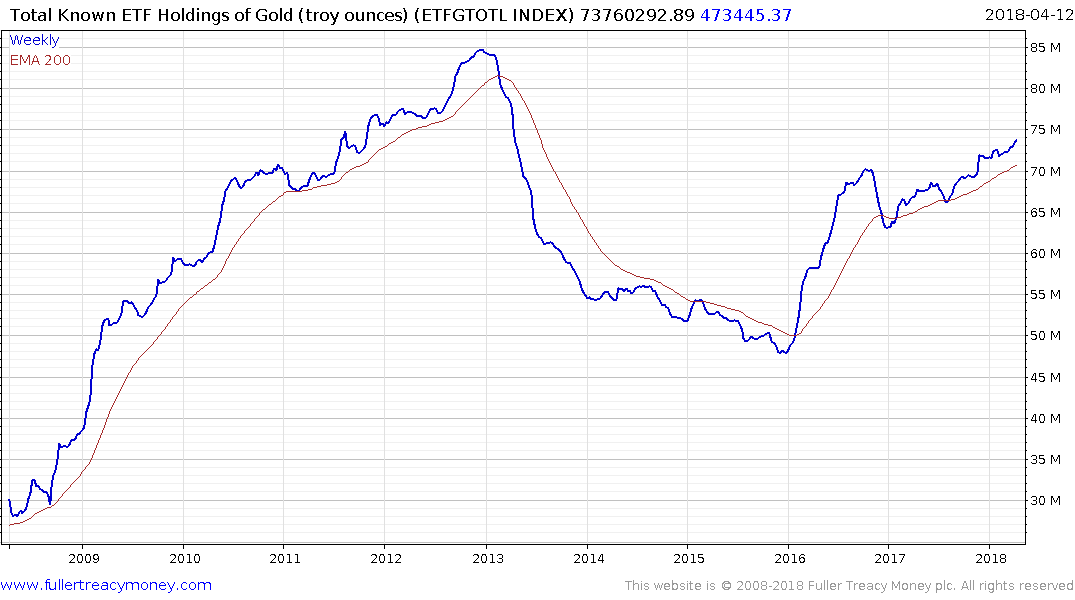 ETF Holdings of Gold have shown surprising resolve over the last 18 months. The fact that all those long positions, opened when gold rallied to break its downtrend in 2016, hung around until now, and are adding to the total outstanding long position, is a testament to the bullish interest in the metal. Considering how volatile the price has been over the same period this is a particularly noteworthy development.
This section continues in the Subscriber's Area.
Back to top