Cobalt, Uranium, and The Four Horsemen of Opportunity
Thanks to a subscriber for this note from Polar Capital LLC which may be of interest. Here is a section:
In summary, world trade friction is growing. More countries are beholden to the kindness of others for those commodities in high concentrations from nations that can employ them as weapons of response to adversarial tariffs. What is that worth per pound of cobalt? Nothing. Until it is. What is it worth that the DRC is a political quagmire and the country is about to be 75% of world production? Nothing. Until it is. What is it worth that China dominates cobalt chemical refining for batteries and western auto companies are still generally open on supply? Nothing. Until it is. It is likely that spot prices are about to soften a bit after an ungodly strong, unabated run. We believe that weakness is merely prelude to new highs when the Fall "mating season" begins. How do we play it? Besides our relatively small physical positon, we own Cobalt 27 (KBLT CN) because they hold 3,000 metric tons of cobalt metal safely housed in western warehouses, and we believe they will further execute their business plan by acquiring a stream or streams before the end of the year and share that cash flow with shareholders in the form of a dividend. We think cobalt prices can trade past the old high of $50 in 2008, a period during which battery demand from electric vehicles did not exist.
Eoin Treacy's view -

A link to the full note is posted in the Subscriber's Area.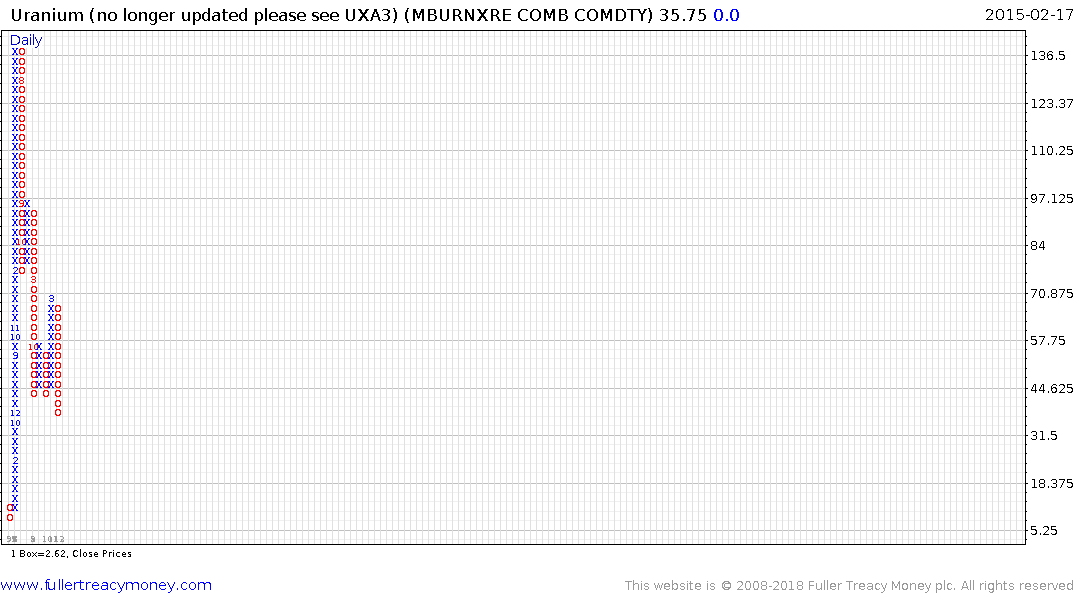 I'll never forget the bull market in uranium that took place between 2003 and 2007. It was the easiest market in the world to monitor. The price only went up. It highlighted just how useful point and figure charts are in monitoring a runaway bull market. When the consistency of the advance changed the easy conclusion was that a peak of at least medium-term significance had been reached.
This section continues in the Subscriber's Area.
Back to top