Buy-to-Let Inflating Real Estate Seen Creating Peril
This article by Patrick Gower and Neil Callanan for Bloomberg may be of interest to subscribers. Here is a section:
Lenders provided 2.2 billion pounds ($3.8 billion) of private-landlord mortgages in April, a 57 percent increase from a year earlier, according to the Council for Mortgage Lenders.

Almost half of that by volume was refinancing. Gross mortgage lending increased 36 percent to 16.6 billion pounds and loans to first-time buyers gained 47 percent to 3.5 billion pounds in the same period.

Homes bought as rentals made up about 14 percent of new mortgages during the second quarter, according to the CML.

Lenders offer a record 637 buy-to-let mortgage products, a 37 percent rise from a year earlier, according to broker Mortgages for Business Ltd.

Lenders "who aren't into it want to go into it; those that are there want to expand," said Richard Sexton, a director at property appraiser e.surv. "It's a different pool to fish in."
Eoin Treacy's view -

The London House Prices Index has accelerated higher over the last two years as low interest rates, a recovering economy, strong demand from foreign buyers and low inventory fuelled prices advances. The Index has risen 30% since early 2012. As anyone who has attended The Chart Seminar will recall; acceleration is a trend ending of undetermined duration. There is no evidence yet that the advance has ended but the first clear downward dynamic is likely to signal a peak of at least near-term significance.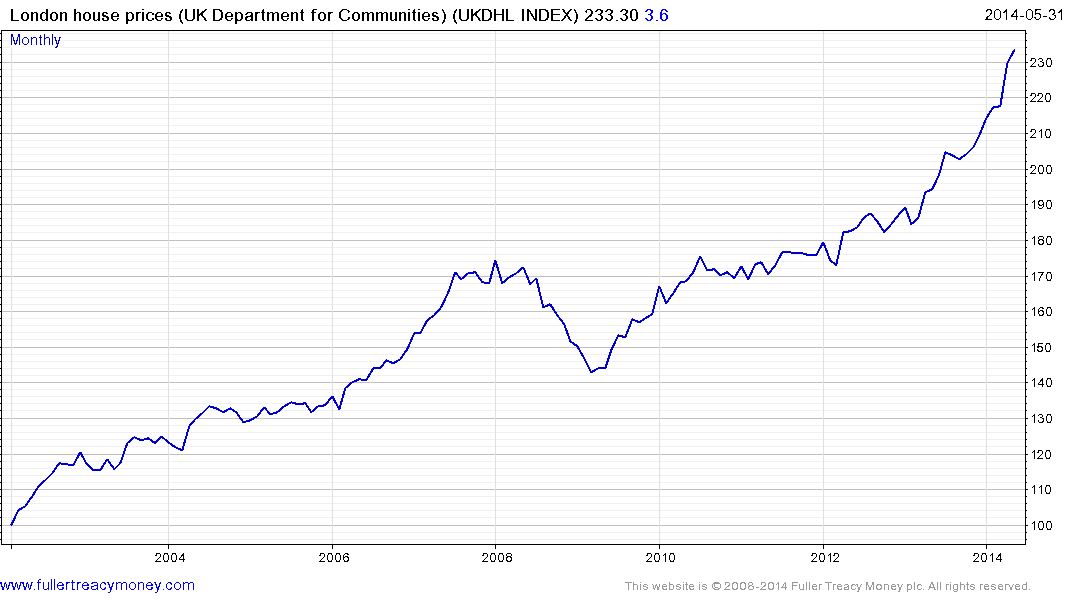 This section continues in the Subscriber's Area.
Back to top