The Big Issues 2003-2016
Thanks to a subscriber for this report from ComSec which may be of interest. Here is a section on China and how its evolution affects Australia:
China is Australia's largest trading partner. Further, recently the number of tourists to Australia from greater China (mainland China and Hong Kong) outnumbered those from New Zealand. China is also providing the biggest contribution to global economic growth of any nation. China may still only be the second largest economy on the planet but with growth rates near 7 per cent rather than 2 per cent in the US, it is expected to contribute 1 percentage point of the expected 3.6 per cent growth of the global economy in 2016.

But China is transforming. Whereas the industrial sector drove growth in past years, in future years it will be services and household spending that is expected to lead the way.

This is hardly a remarkable situation. All major industrialised economies have followed the same path. It has happened more recently in South Korea, Taiwan and even Japan. And the US and Australia have also trekked the same path. Rural and mining sectors initially drive economies, and infrastructure is put in place. But as incomes rise and businesses are priced out of markets, they move on to more elaborately-transformed manufactures and services industries.

Chinese authorities have made no secret of the fact that growth drivers are changing and that growth rates will slow. Chinese authorities refer to it as the "new normal". Economic growth rates are more likely to be in a range of 6.0-7.0 per cent.

Such transformations are by no means easy. Some businesses will need to close as industries retreat in importance while other businesses will take their place. And the impact is by no means local. Australian resource providers will need to get used to lower prices and will need to adjust supply to the slower pace of expected demand. Commodity prices have trended lower for a century, interspersed with relatively short-lived upturns as new economies industrialise – like Japan and China.

While there will be some pain in Australian mining and Energy sectors, there are other businesses and industries that will benefit from rising Chinese incomes, as well as the rising middle class in Asia. Business such as those in food production, tourism, education, health and financial services.
We expect China to experience a relatively soft landing. But that doesn't mean that there won't be bumps along the way as Chinese authorities attempt to transform the nation from a developing economy into a developed economy.
Eoin Treacy's view -

A link to the full report is posted in the Subscriber's Area.

Australia sidestepped the worst effects of the Global financial Crisis because its resources sector benefitted so much from China's stimulus program. However Australia is also an advanced economy with world class education, high tech and agricultural resources all of which are well positioned to benefit from Chinese demand for better quality products as standards of living improve.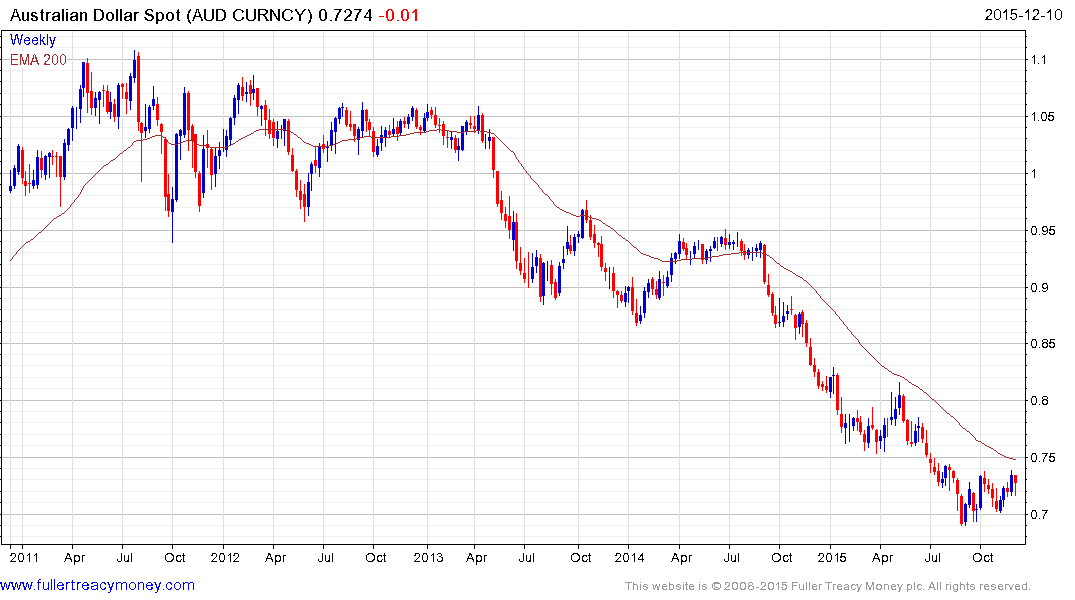 The Australian Dollar has been trending lower for more than three years. It most recently encountered resistance in the region of the 200-day MA from May and extended its decline in a consistent manner until September. A reversionary rally is still underway but a sustained move above 75¢ would be required to begin to question medium-term US Dollar dominance.
This section continues in the Subscriber's Area.
Back to top