The India Report
Thanks to Deepak Lalwani for this edition of his weekly report which may be of interest to subscribers. Here is a section:
PM Modi's "Make in India" initiative was endorsed by a global manufacturing giant. General Electric of the US inaugurated its 67-acre plant in Chakan, near the western city of Poona (which is close to Bombay). The new $ 200m manufacturing facility will be an export hub, with plans to send half of its output to the company's global factories. The new plant is GE's first multi-purpose manufacturing facility in India and will produce a range of products, including aviation, rail and diesel engines. The company hopes to win increased domestic orders also.

The National Association of Software and Services Companies (NASSCOM) expects India's $ 150 bn IT outsourcing sector to see export revenue growth of 12-14% in the next fiscal year which starts on 1 April 2015. This compares with an estimated increase of 12% in the current fiscal year which will end on 31 March. The sector's exports in 2015/16 are expected to touch $ 112 bn, according to NASSCOM. The sector is worth $ 150 bn in total after adding revenue generated from the domestic market. Future growth in the sector will be influenced by increasing demand from global companies for new high value services such as digital technology, mobile applications and cloud computing, according to NASSCOM. However, the export-driven outsourcing industry must focus on building a large pool of skilled workforce to avail of opportunities in the emerging high-end services segment, according to NASSCOM's Chairman. R. Chandrasekaran. A shortage of qualified engineers to tap this segment poses a risk to the growth prospects of India's showpiece IT sector. It accounts for about 10% of India's GDP and employs roughly 3.5 m people who are mainly in the country. As much as 75% of outsourcing IT exports are to the US and Europe.
Here is a link to the full report.

India has long relied on its domestic consumer base to insulate the economy from global issues that have tended to take a toll on export-oriented nations. However if India is to achieve its development goals, not least mobilising its massive young population in order to provide hundreds of millions of people a better wage, it has little choice but to foster a major manufacturing sector. Plans are in the works to achieve this long-term goal by attracting FDI with a proactive attitude, better terms of trade and improving infrastructure. Provided these plans are followed through on and will be supported by successive administrations there is every chance India can achieve its development potential.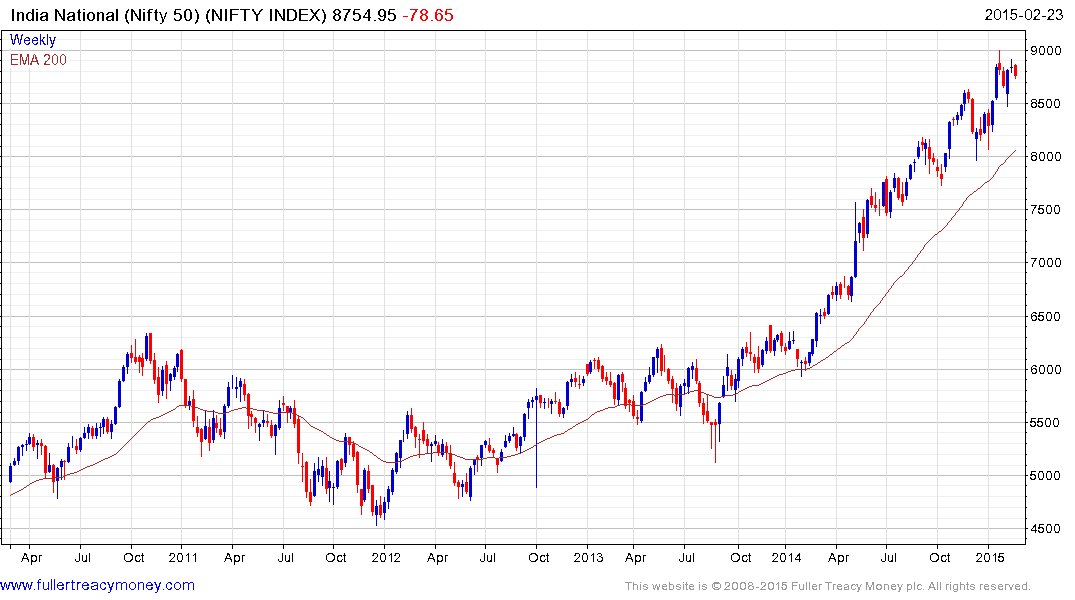 The Nifty Index has paused in the region of 9000 over the last month as it gradually unwinds its overbought condition relative to the 200-day MA. A sustained move below the 200-day would be required to question medium-term scope for additional upside.
Back to top