The Outlook for Energy: A View to 2040 2014
This report from Exxon Mobil may be of interest to subscribers. Here is a section:
In 2010, coal was the world's No. 1 fuel for power generation, accounting for about 45 percent of fuel demand. Though coal use will likely increase by about 55 percent in developing countries by 2040, it continues to lose ground in developed countries – primarily to natural gas and renewables such as wind and solar.

By 2040, demand for natural gas in the power generation sector is expected to rise by close to 80 percent. At that time, natural gas will be approaching coal as the world's largest Energy source for power generation, and coal's share will have dropped to about 30 percent. Natural gas will actually produce more electricity than coal, reflecting efficiency advantages of gas-fired versus coal-fired power plants.

Increased local natural gas production in North America and elsewhere, along with expanded international trade, is expected to supply the gas for power generation.

By 2040, we expect that the use of nuclear power will approximately double and renewables will increase by about 150 percent, led by wind and hydroelectric power.
Eoin Treacy's view -

A link to the full report is posted in the Subscriber's Area.

It's hard to think of a more benighted sector than coal. Beset on all sides by obstacles such as tougher environmental standards, slower growth in major markets like China, excess supply, too much debt and low natural gas prices in the USA, steaming coal has fallen back to test the 2013 lows.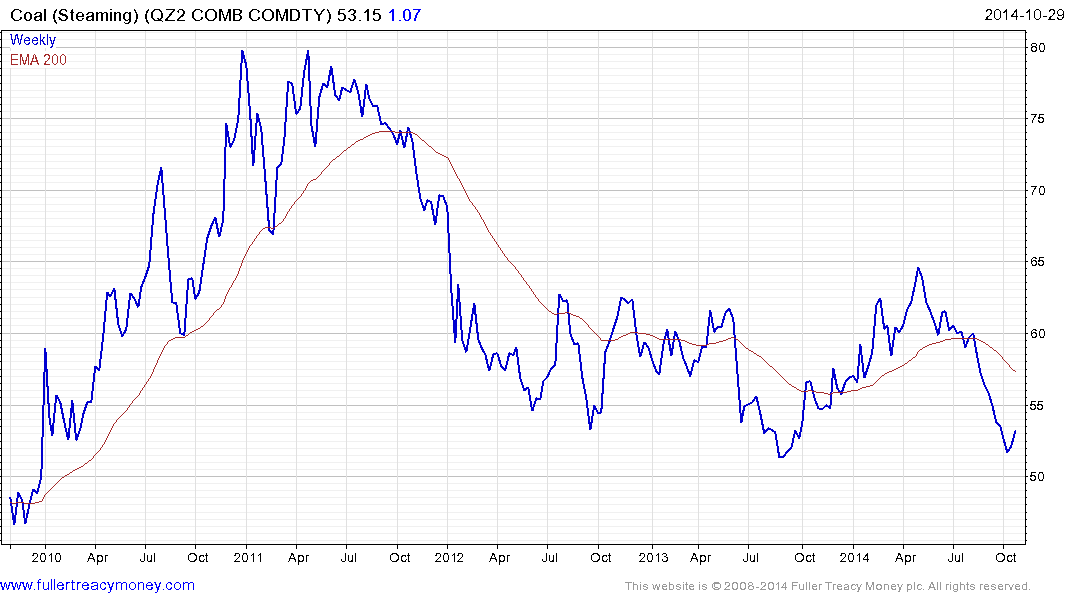 This section continues in the Subscriber's Area.
Back to top