Email of the day on Norwegian oil services companies
I will revert in more detail on oil services tomorrow, but gut feeling is that a few shares have accelerated to the downside and are now trying to establish support. Several names are claimed by analysts to have overreacted to the downside becoming undervalued. One seismic company, Polarcus, need more equity and that is also raising worries among invstors regarding other companies. Feels a bit like capitulation the last down leg.

On the other side we need to keep in mind e.g. the recent oil price forecast from DNB Markets. I am not sure all investors have adjusted expectations to a much lower oil price environment, which will dampen upside potential for many Energy related stocks.

And

I looked at the charts in your oil services section in the library (Eoin's favourites). Some stocks look like they have bottomed.

For perspective I have attached the oil service index of Oslo Stock Exchange. No evidence of an end to the downtrend, apart from a "hope" that the 2011 low will provide support. Looking at individual constituents of the index:

AKSO (Aker Solutions; oil service products/services): consolidating after recent drop, but testing lows FOE (Fred Olsen Energy; drilling): has been accelerating down this fall, but another dramatic drop this week PGS (Petroleum Geo-Services; seismic): still in downtrend PRS (Prosafe; accommodation rigs): consolidating recent drop SDRL (Seadrill; rigs): consolidating after steep decline TGS (seismic): showing relative strength, only stock not to post 12 month lows.

Seems to me there is less signs in the Norwegian oil service sector of an end to the acceleration/downtrend than in your international oil service stocks. I am short SUBC (Subsea 7; short term trading position), long DOLP (Dolphin - seismic; likely quite undervalued today) and long PLCS (Polarcus - seismic; my biggest mistake this year...).

Conclusion: there are some signs of capitulation recently, but not yet evidence that all is over, although some stocks are arguably cheap. But there might be some further thinking among investors that oil price decks will have to be revised down. This could hinder the upside going forward.

What do you think?
Eoin Treacy's view -

Thank you for these generous emails. I'm sure other subscribers will be glad of your on the ground perspective in Norway. The oil services sector has taken a beating not least because the forecasts for demand growth they based expansion plans on are not panning out. The recent decline in crude oil prices has thrown this issue into sharper focus.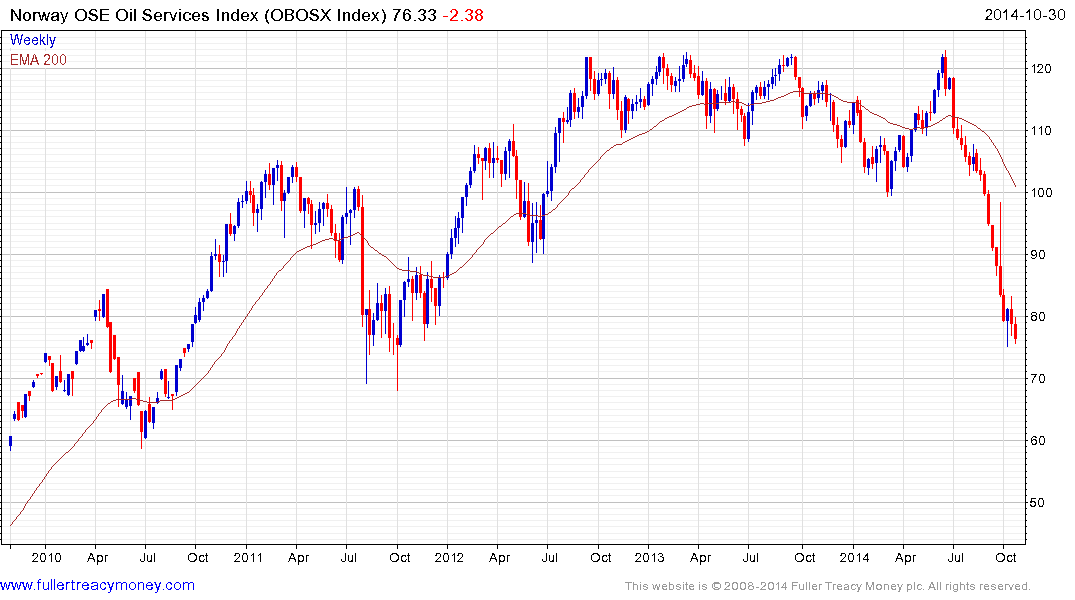 This section continues in the Subscriber's Area.
Back to top