Valeant Plummets as Democrats Seek Subpoena on Drug Prices
This article by Caroline Chen for Bloomberg may be of interest to subscribers. Here is a section:
"We believe it is critical to hold drug companies to account" when they buy old drugs and raise their prices, 18 Democratic representatives wrote in a letter to Jason Chaffetz, the chairman of the House's committee on oversight and government reform. They highlighted Valeant's heart drugs Nitropress and Isuprel, whose prices increased by 212 percent and 525 percent the day that Valeant acquired the rights to sell them.

Valeant's shares have fallen for three straight days after Democratic presidential candidate Hillary Clinton said last week that she would reform the drug industry to protect consumers from price hikes. Clinton was responding to media reports on Turing Pharmaceuticals AG Chief Executive Officer Martin Shkreli, a former hedge fund manager who raised the price of a decades-old antibiotic 50-fold, to $750 a pill from $13.50 a pill, after acquiring it.

Clinton outlined a plan that included a mandate on research and development spending, a proposal which could hurt companies like Valeant that rely on serial acquisitions to build a pipeline of drug candidates. Last year, Valeant spent $246 million on R&D, far less than companies of similar size, according to data compiled by Bloomberg.
Mrs. Clinton might be flagging in the polls but she remains the odds on favourite to become President and this type of populist rhetoric is bad news for the once highflying biotech sector. Ground breaking innovative therapies are expensive to develop and while there is clearly an argument drug prices are much higher in the USA than just about anywhere else, this is a situation that would be best handled in a nuanced fashion rather than the vote seeking approach currently being pursued.

This is all the more important because the biotech sector has grown in importance over the course of a five-year uptrend and the move to relative weakness from what was the best performing sector earlier this year is a headwind. The S&P 500 Pharmaceutical and Biotech indices currently represent a combined 8.8% of the wider Index.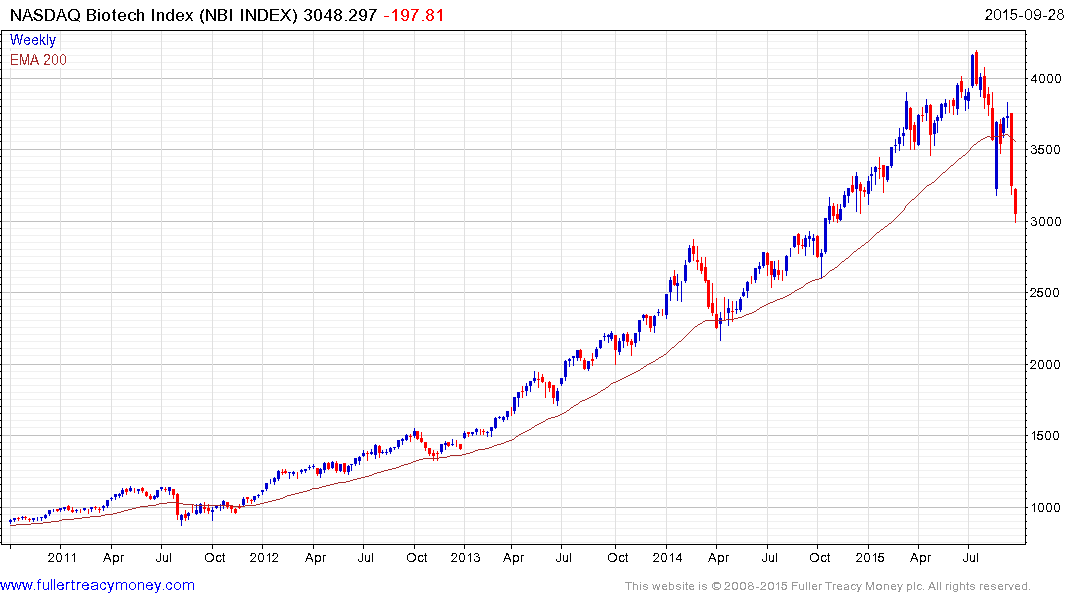 The Nasdaq Biotech Index encountered resistance in the region of the 3750 two weeks ago and moved to a new reaction low today following last week's additional downward dynamic. This is a major loss of uptrend consistency and a sustained move above 3750 would be required to question medium-term supply dominance.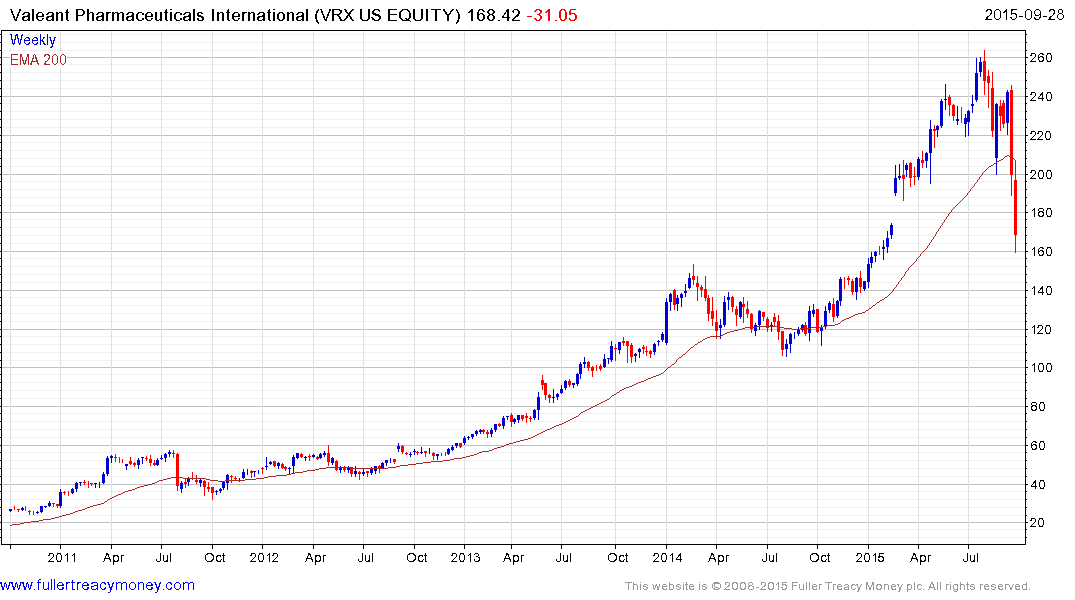 Valeant closed off its lows today so there is some potential for steadying and an unwinding of the short-term oversold condition, but a sustained move above $210 is the minimum required to signal a return to demand dominance beyond the short term.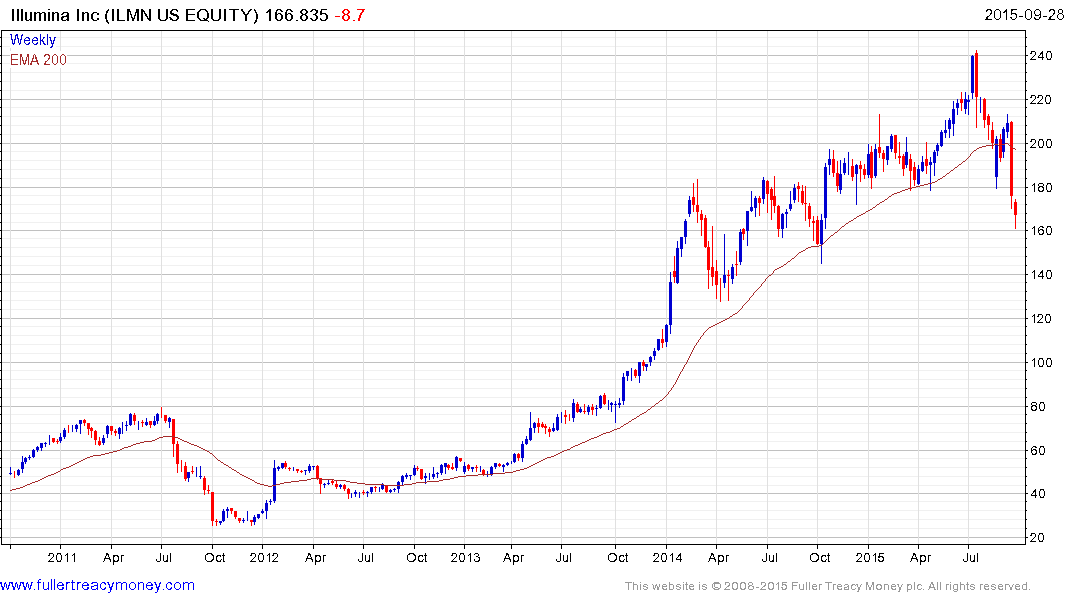 Illumina has now dropped to break the medium-term progression of higher reaction lows.
Bristol-Myers Squibb has held up somewhat better but encountered resistance in the region of the trend mean from two weeks ago and a sustained move above $65 will be required to question medium-term supply dominance.
Back to top