Shanghai-Hong Kong Stock Connect: For investing in SSE securities
Thanks to a subscriber for this note from the Hong Kong Stock Exchange which may be of interest to subscribers. Here is a section:
Under Shanghai-Hong Kong Stock Connect, The Stock Exchange of Hong Kong Limited (SEHK) and Shanghai Stock Exchange (SSE) will establish mutual order-routing connectivity and related technical infrastructure to enable investors in their respective markets to trade designated equity securities listed in the other's market. Hong Kong Securities Clearing Company Limited (HKSCC) and China Securities Depository and Clearing Corporation Limited (ChinaClear) will be responsible for clearing, settlement and the provision of depository, nominee and other related services for the trades initiated by the investors in their respective markets. This brochure provides information for investors who want to use Shanghai-Hong Kong Stock Connect to trade equity securities listed on SSE.
The opening up of the Shanghai-Hong Kong Stock Connect is a major undertaking. It represents a further easing of China's closed capital market, with an additional $50 billion in market liquidity possible, under the terms of the agreement. (Please see this additional note from SocGen highlighting the conditions of the existing QFII, RQFII and new Stock Connect program)
With a daily quota of $2bn, and potentially robust demand, the prospects of the program's limits being hit in a relatively short period of time are quite high. It will then be up to the authorities to decide how open they are willing to allow the financial system to become.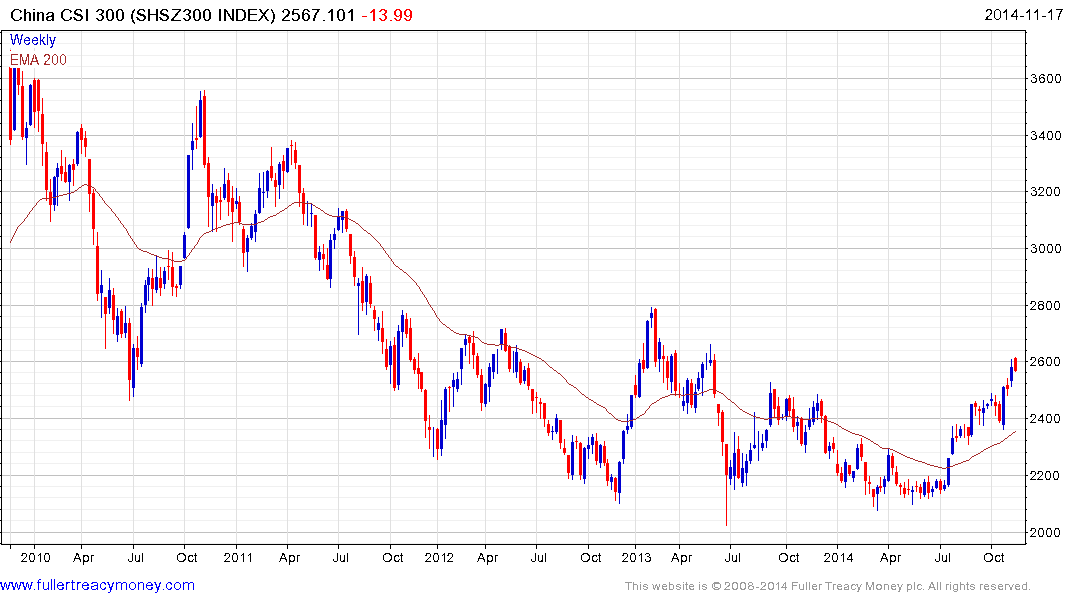 The CSI 300 Index had rallied in advance of this event and was a little softer today. However a sustained move below the 200-day MA, currently near 2400, would be required to question medium-term recovery potential.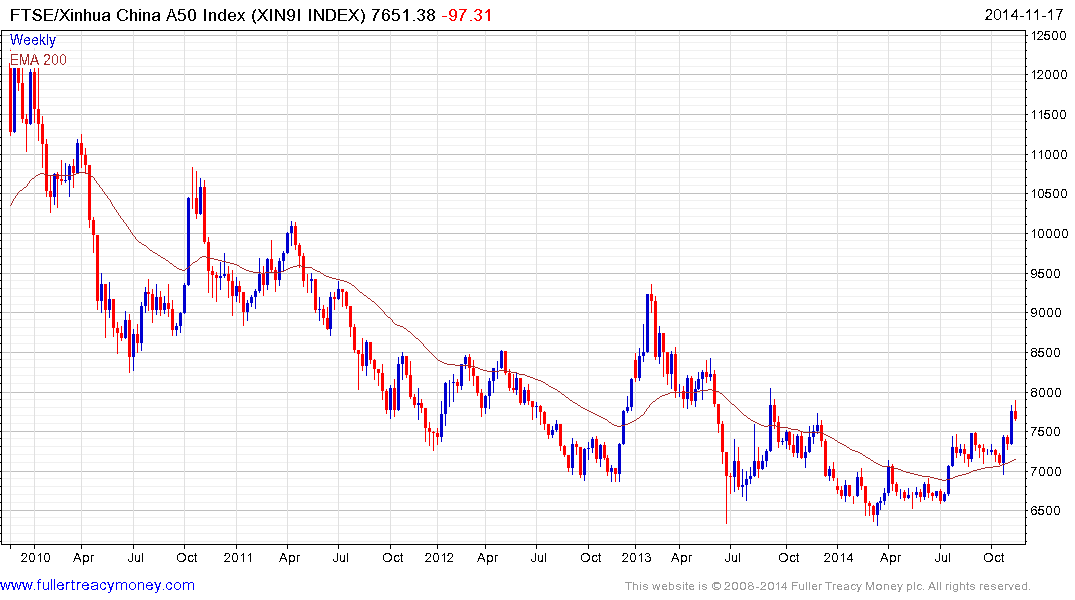 The FTSE/Xinhua China A50 Index has a similar pattern.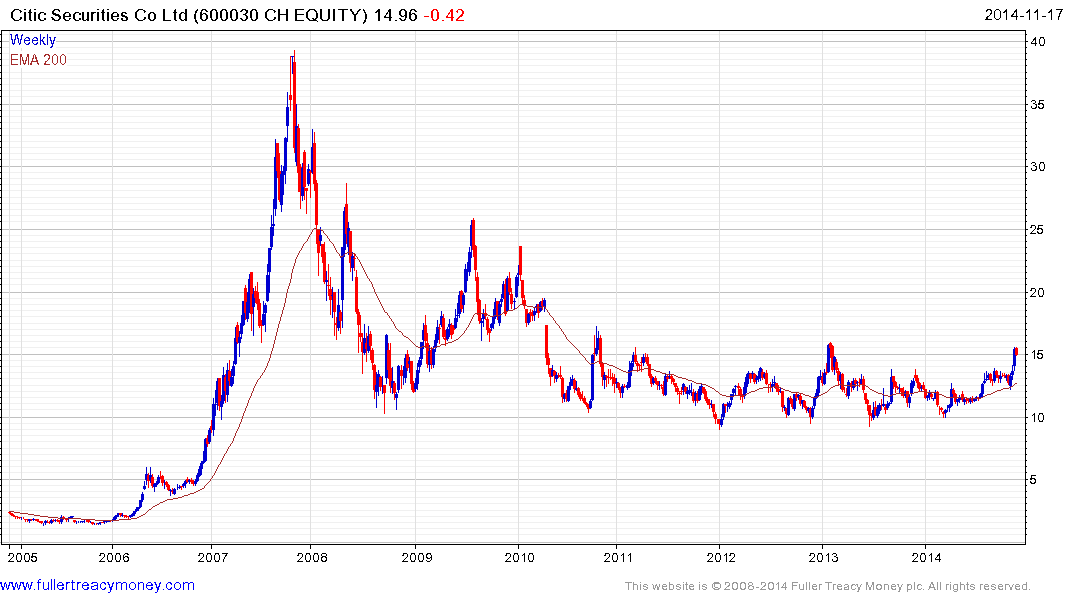 Broker dealers may be among some of the main beneficiaries of increased trading between Shanghai and Hong Kong. Citic Securities A-Share retested the upper side of a four-year base last week and some consolidation of recent gains appears likely before a break above CNY15 can be sustained.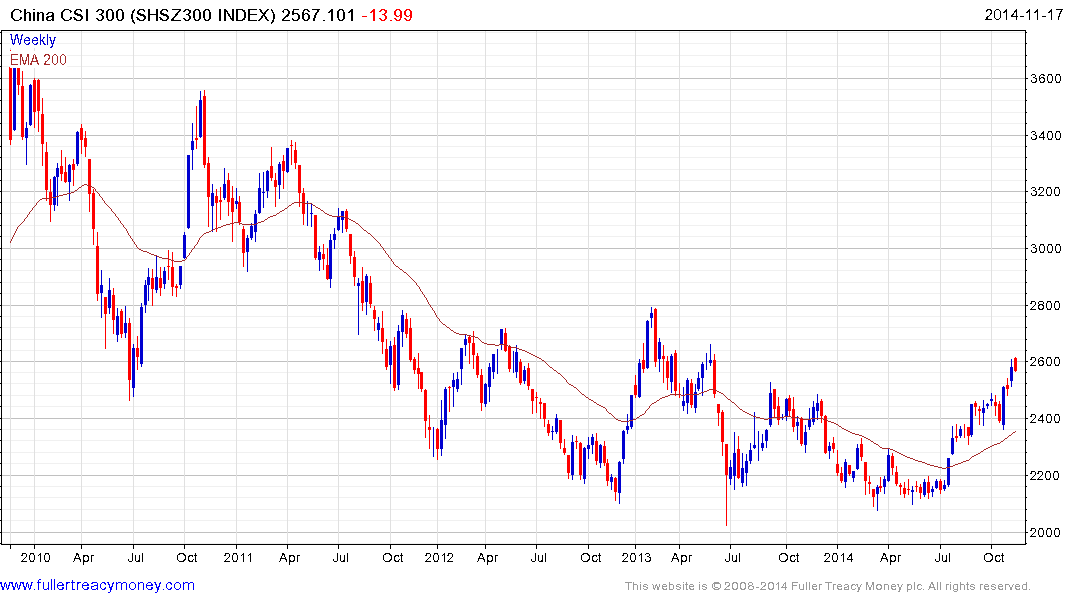 Back to top