Puerto Rico Creditors Said Drawing Battle Lines as Default Looms
This article by Laura J. Keller and Michelle Kaske for Bloomberg may be of interest to subscribers. Here is a section:
Garcia Padilla has turned the island's rescue efforts on their head. In a televised speech Monday, the governor said he will seek to delay payments on the island's $72 billion in debt for "a number of years," and he called on officials to come up with a debt restructuring plan by Aug. 30.

His comments sent the prices on some Puerto Rico bonds tumbling to all-time lows, while both Standard & Poor's and Fitch Ratings cut the commonwealth's ratings deeper into junk.
With traditional municipal-debt investors shunning its bonds, the island faces a stultifying cash crunch and the government expects its development bank to run out of capital by Sept. 30.

Puerto Rico's new fiscal year starts July 1 and lawmakers Monday night passed a budget that would enable it to make payments on central-government debt. The U.S. territory of 3.5 million people is grappling with a jobless rate double the national average and a debt load bigger than every U.S. state except California and New York.

The creditors own about $4.5 billion of Puerto Rico's debt and are led by Fir Tree Partners and Monarch Alternative Capital. They had been proposing terms for the bond deal since at least February, people with knowledge of the matter told Bloomberg last week. It would siphon money to the GDB, which handles the island's debt transactions and lends to the commonwealth and its agencies, by repaying debt owed by its highway authority.
Puerto Rico is in a difficult situation being neither a state nor a city but a commonwealth. It therefore has no recourse to the same bankruptcy protection as a municipal like Detroit, the US government has said it will not bail it out and it does not have the ability to call on the IMF. Just how Puerto Rico anticipates being able to renegotiate the terms of its $73 billion remains to be seen. The market is now pricing in the inevitable budget cuts and tax increases that will be required but have not yet been announced.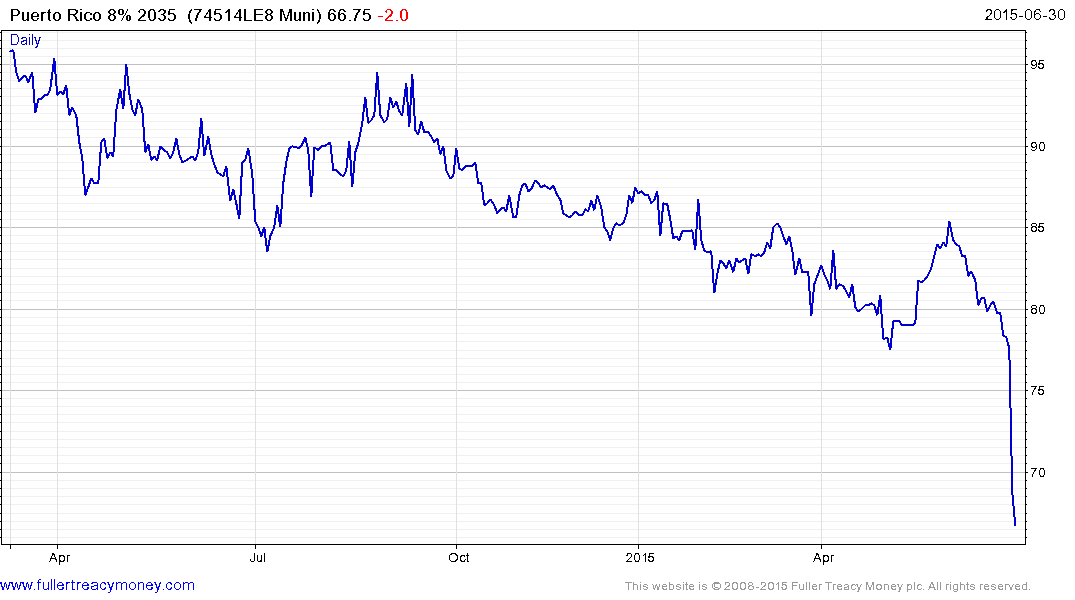 The Puerto Rico 8% 2035 is one of the island's most liquid bonds. It has been trending lower since it was issued at a discount little more than a year ago and accelerated today. It currently yields over 12% while the tax equivalent yield is over 40%. Without the callable and sinkable features of this issue the yield would be higher.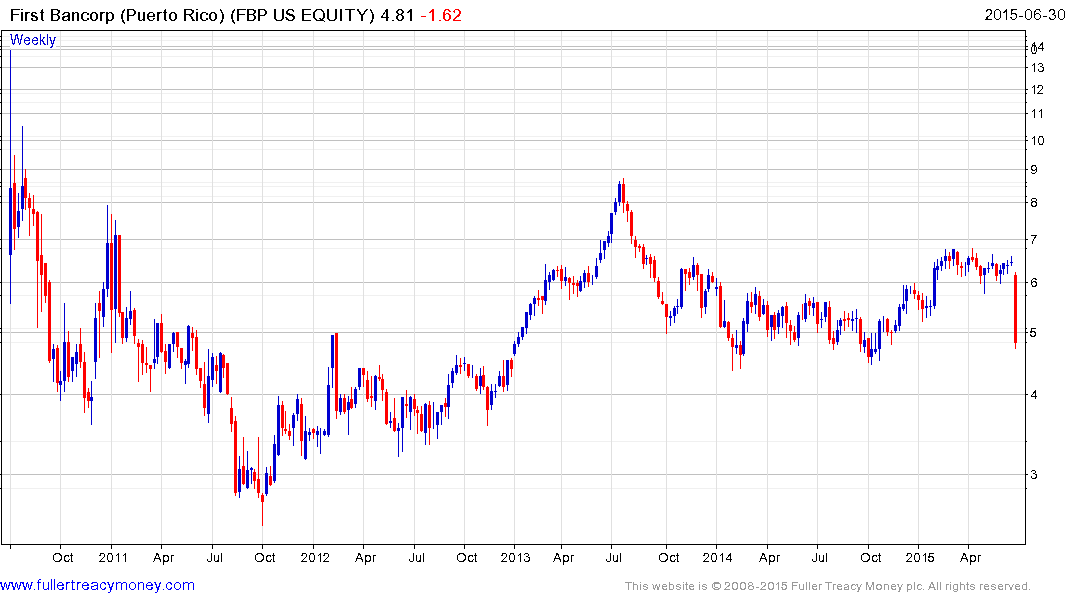 First Bancorp/Puerto Rico collapsed in 2010 and remains within a long-term range. It is currently pulling back from the upper side and a clear upward dynamic would be required to signal short covering.
Back to top