Postal Savings Bank of China chases Pre-IPO investors
This article from the Financial Times may be of interest to subscribers. Here is a section:
High quality global journalism requires investment. Please share this article with others using the link below, do not cut & paste the article. See our Ts&Cs and Copyright Policy for more detail. Email [email protected] to buy additional rights. http://www.ft.com/cms/s/0/5ccec596-b947-11e4-a8d0-00144feab7de.html#ixzz3SdAcm0uo

Postal Savings Bank is a fixture in rural China, where its network scoops up deposits from rural households. It has as much as $800bn in deposits, and puts its money into Chinese government bonds and the interbank market as well as lending to small and medium-sized enterprises and agricultural households.

?Its branch network of about 40,000 is larger than more widely known state-owned banks, such as Industrial and Commercial Bank of China.

"It is a true and pure savings bank," said the head of one Chinese investment fund that is considering buying a stake. "Its ability to collect deposits is very, very strong and because it doesn't have a huge loan book, the overall risk is very, very low. But to turn it into a new retail bank may be way too difficult."

Among the more interesting possible investors is Ant Financial, an affiliate of Alibaba, the US-listed ecommerce group. Alibaba already has a partnership with the International Finance Corporation, the private sector arm of the World Bank, to offer micro finance services in China. It could use the Postal Saving's Bank's cheap funding as a way to extend its financial muscle in the country.
Alibaba has been perhaps the most proactive of the globally significant technology companies in pursuing a dominant role in the financial services sector. Its Ali Pay service has allowed it to circumvent rules the major banks have to follow in terms of the deposit rates they can pay. This is achieved by leveraging the popularity of its online properties to attract customers. It is arguable whether tying up with a retail branch network is the most effective use of capital when the payments sector is increasingly online.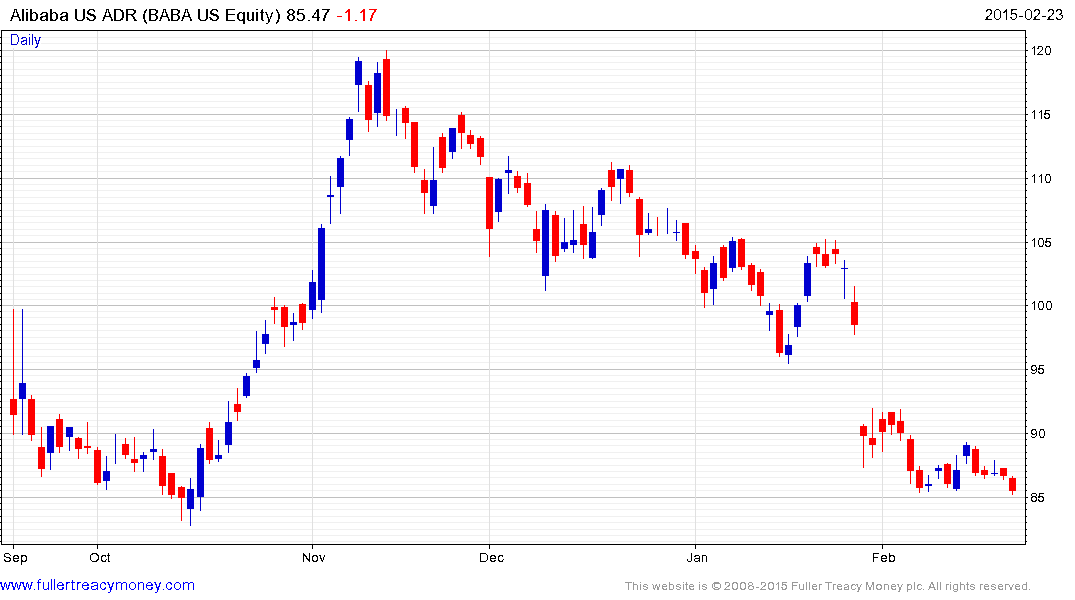 Alibaba's US ADR continues to trend lower, not least because its primary site is one of the main conduits for counterfeit goods' trading globally. A sustained move above $90 will be required to break the progression of lower rally highs and begin to signal a return to demand dominance.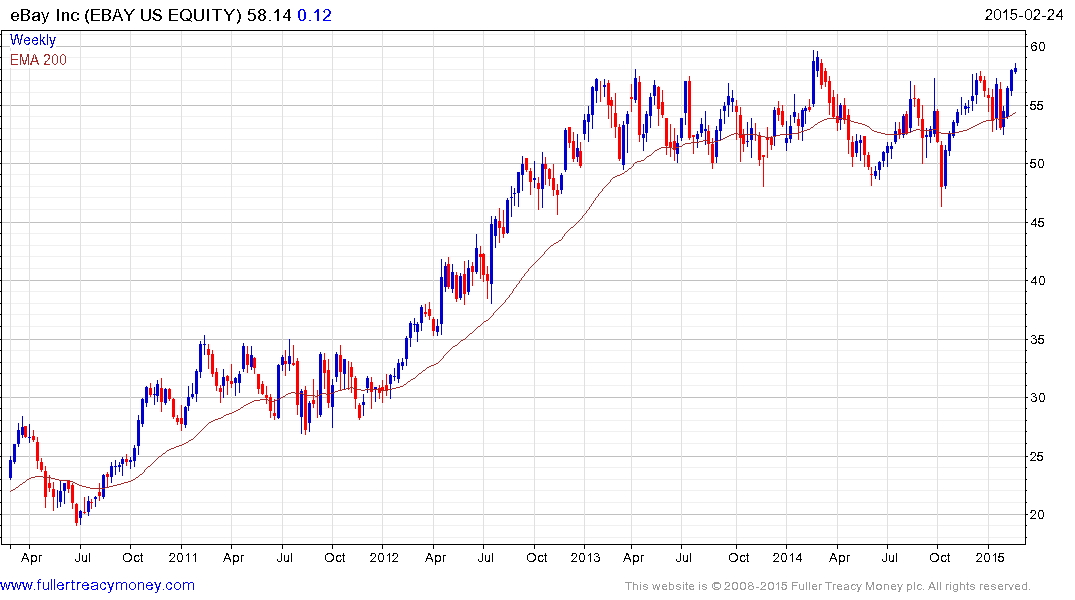 Ebay's PayPal Credit may yet be spun off into an independent business but for the moment continues to represent the company's most attractive growth avenue. The share is currently testing the upper side of a two-year range and a clear downward dynamic would be required to question potential for an upward break.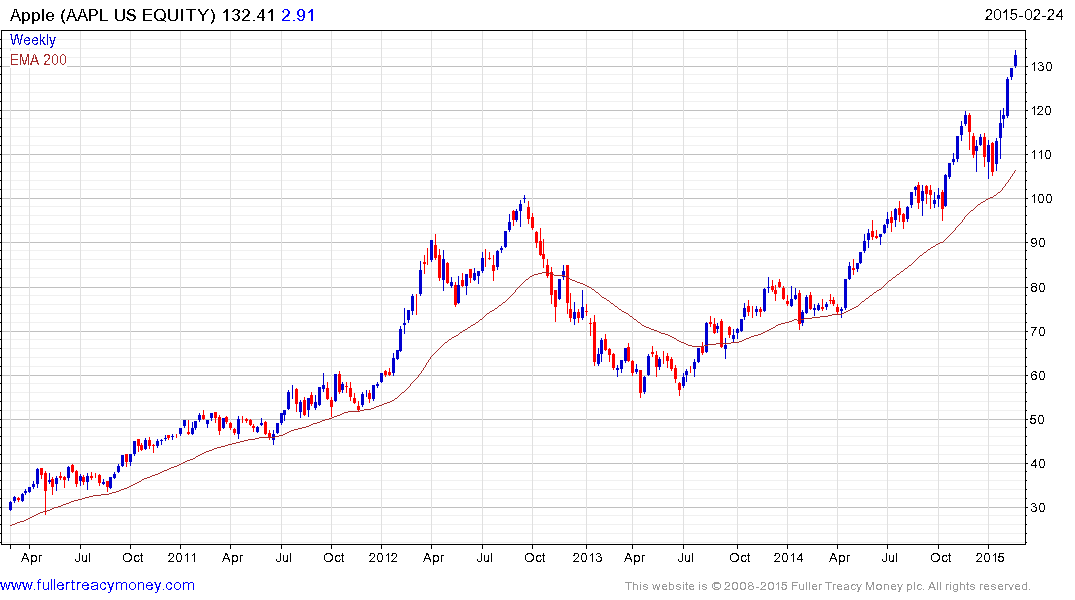 Apple Pay represents the latest growth avenue for the world's most valuable company. The share is becoming increasingly overextended relative to the 200-day MA but a clear downward dynamic would be required to signal mean reversion is underway.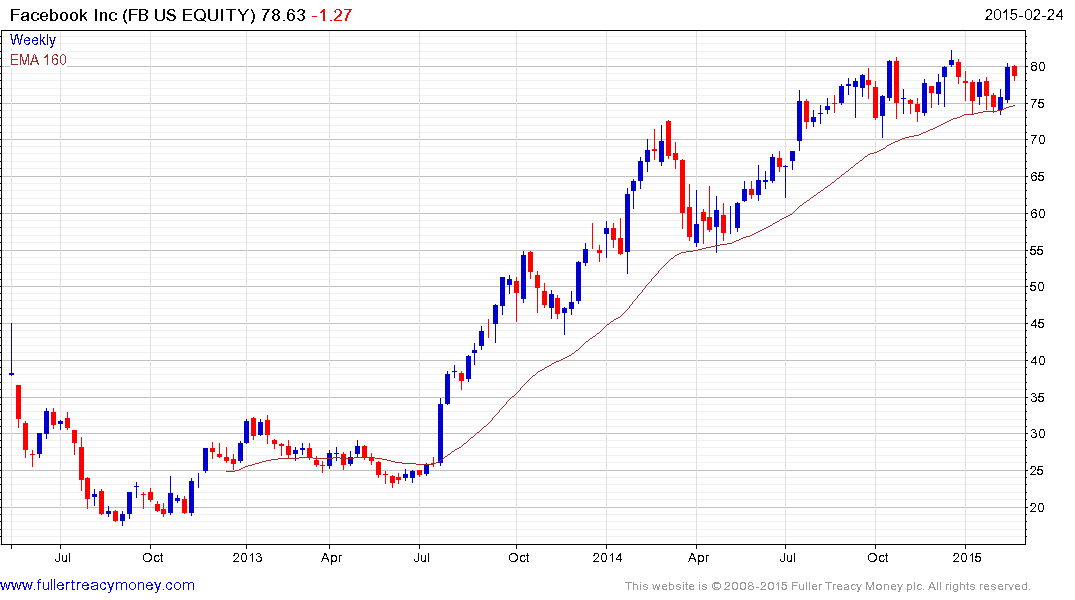 As David Brown pointed out in his presentation at the Markets Now event, Facebook has applied for an Irish banking licence. The share found support earlier this month in the region of the MA and a sustained move below it would be required to question potential for additional upside.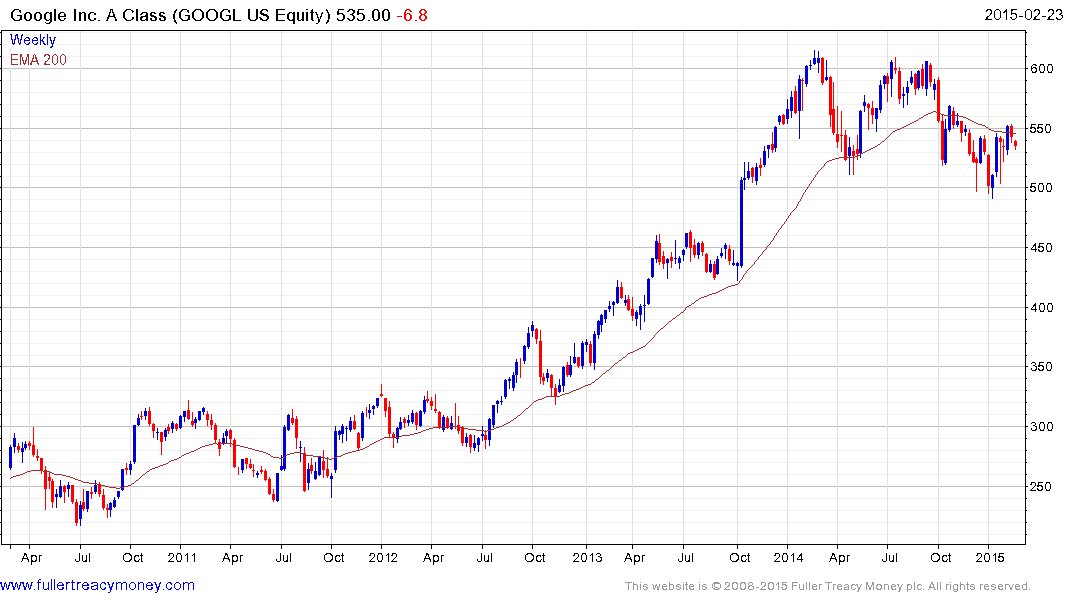 Google is also moving into this field by allowing businesses a line of credit for their Adwords campaigns. The shares has been rangebound for more than a year and encountered resistance in the region of the 200-day MA last week. It needs to sustain a move back above $550 to indicate a return to demand dominance.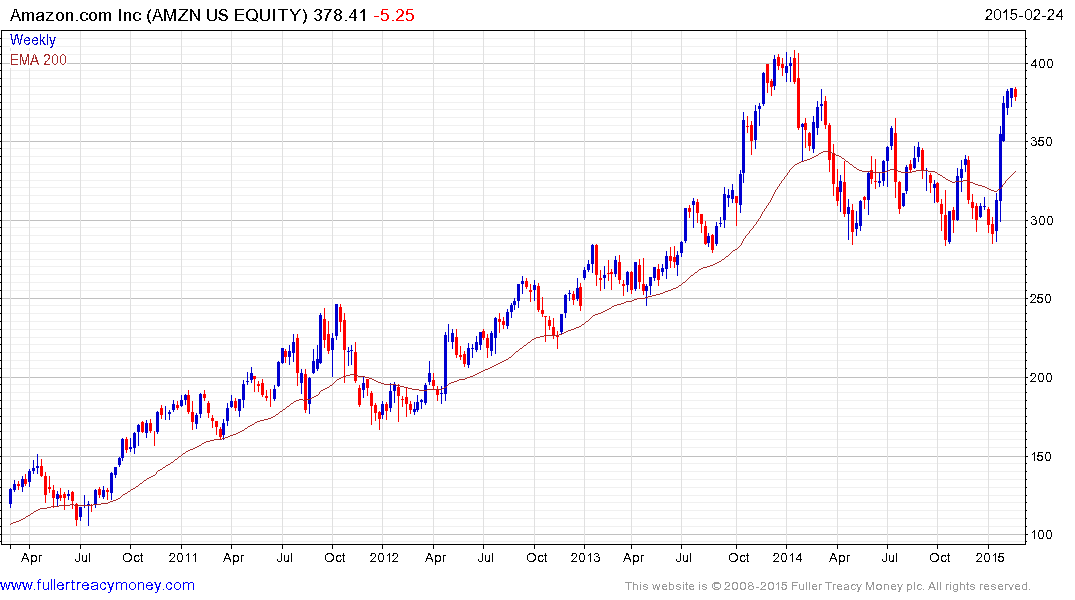 Amazon rallied to break a yearlong progression of lower rally highs in January. The attraction of a credit business to help boost margins from its other sales has obvious attraction since consumers tend to look more at the price paid for the goods than the cost of credit.

These are well capitalised companies with solid credentials in building online businesses. The banking sector is likely to face stiff competition in the coming decade as banking moves increasingly online.
Back to top