Email of the day on the MidPoint Danger Line
Trust you and your tribe are well.

Just a quick question. I don't seem to have heard the phrase 'mid-point danger line' (MDL)for quite a while. Is the MDL irrelevant these days?
Thank you for your kind words and yes, the whole tribe are thriving. Thanks also for this question which remains a topic of conversation at The Chart Seminar. Incidentally, it has been a bit of a challenge to secure a venue for next month's Chart Seminar in Melbourne, but we finally signed a contract with the Mercure in Treasury Gardens today. I'm really looking forward to revisiting my old stomping ground, having a coffee on a Lygon Street and, most of all, spending some quality time with subscribers.
The MDL stop is best employed in a staircase step sequence uptrend with a series of ranges one above another.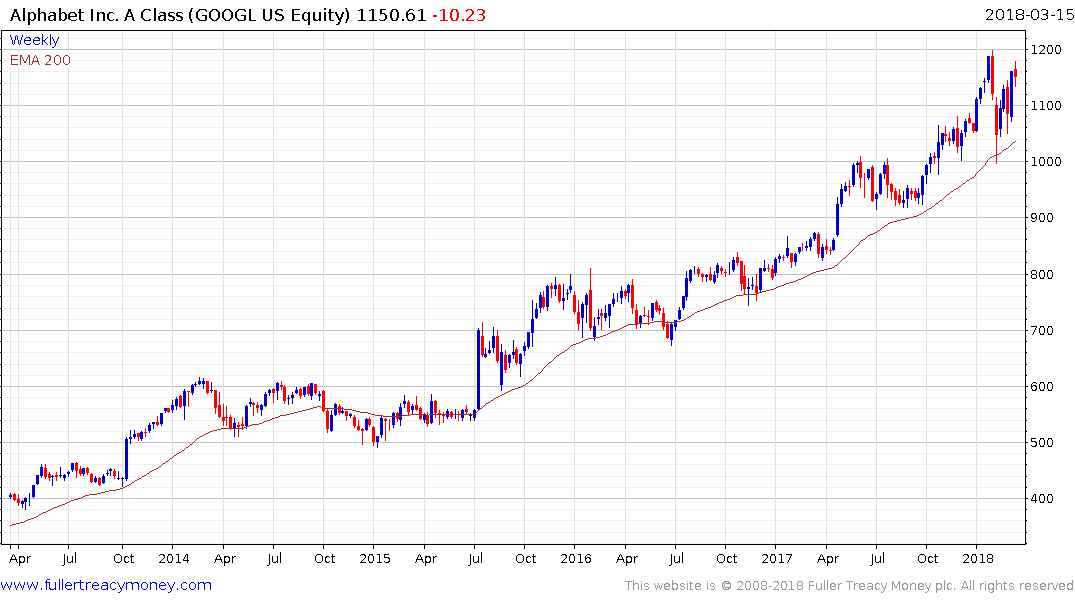 Google offers one of the best examples of a staircase uptrend over the last decade where ranges were almost uniformly limited to $100 pullbacks until February when the share pulled back by $200. An MDL stop would have been appropriate over almost the entire course of the trend to date.
Since each breakout was sustained a stop could have been introduced $55 below the breakout point, so a little bit more than half way down. When the next range formed, a breakout occurred, you could then raise the stop to slightly below the middle of the next range. That policy would have ensured the position was held probably until the inconsistency in late 2016 when the stop would have been triggered on an intraday basis. However, when the price moved on to new highs on a sustained basis in early 2017 one could have begun to rebuild the position.
Google also has a history of pausing at big round numbers. It paused below $300 and then at $400, found support at $500 and paused at $600. $700 was first resistance and then support, $800 represented a lengthier pause. $900 offered support and $1000 first represented resistance and more recently support. The largest reaction of $200 is an inconsistency but the share still has a staircase step sequence uptrend and has found support in the region of the upper side of the underlying range.
An MDL stop would be at $945. If it is triggered it would represent the largest pullback in a decade, from much higher levels, the failure of $1000 to offer support and it would be dipping seriously into the underlying range. That litany of inconsistencies would represent a potentially terminal condition for a trend that has been the picture of consistency since 2008.
Back to top