Copper price jumps on gangbusters China growth
This article by Frik Els for Bloomberg may be of interest to subscribers. Here is a section:
Copper futures trading on the Comex market in New York jumped on Monday on renewed optimism about economic strength in top commodity consumer China.

Copper for delivery in September jumped to a high of 2.7375 a pound (just over $6,000 a tonne) in lunchtime trade, up 1.7% on the day to the highest level since end-March. LME copper's 2017 year to date gains in percentage terms are now within shouting distance of 10%.

Commodity-intensive sectors continue to expand at a faster rate than the broader measure of industrial production

The economy of China, responsible for nearly half the world's consumption of copper, expanded at an annual rate of 6.9% in the second quarter against expectations of a slight decline and at a quicker pace than Beijing's own target of 6.5% growth for 2017.

In seasonally-adjusted quarter on quarter terms, growth was even more significant, picking up from 1.3% to 1.7%. If the trend continues, this year would be the first time since 2010 that the Chinese economy grew faster than the year before.

Industrial production data for June released today also pointed to a significant improvement. Growth in industrial output picked up from 6.5% year on year to 7.6% led by greater electricity and steel production. Bloomberg consensus forecasts pointed to no acceleration for Chinese industrial output.
China has a major political transition coming up in September or October. Xi Jinping has not yet anointed a new successor probably because so many positions are opening up in the Standing Committee and the Politburo, and he has a vested interest in stacking them with his own appointees.
The ousting of Sun Zhengcai, a current Politburo member, from Chongqing over the weekend supports the view Xi is angling towards the kind of control Zhang Zemin had over the political apparatus which persisted long after he was in the top position.
Talk of containing "grey rhinos" or in Donald Rumsfeld speak "known knowns" can also be viewed as an attempt to ensure Xi's legacy. Here is a section from an article discussing the issue from Bloomberg:
"The message from the leadership last weekend was very clear -- financial stability is now regarded as an important element of national security," said Raymond Yeung, the Hong Kong-based chief economist at Australia & New Zealand Banking Group Ltd.
An editorial in the Communist Party's People Daily newspaper on Monday pointed to the seriousness of the campaign, warning of potential "grey rhinos" -- a variation on the black swan events popularized during the global financial crisis, with the difference that the danger from a charging rhino is more immediate and the animals are less rare.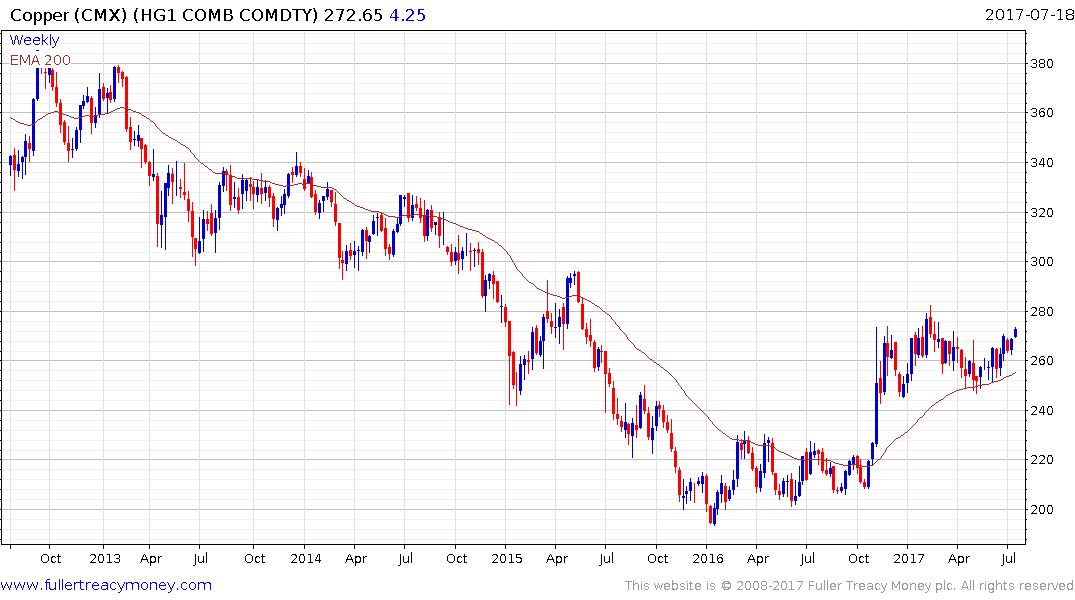 The containment of speculative flows suggests a desire to avoid overheating as the economy improves. Meanwhile copper continues to firm from the region of the trend mean and broke out to new four-month highs yesterday.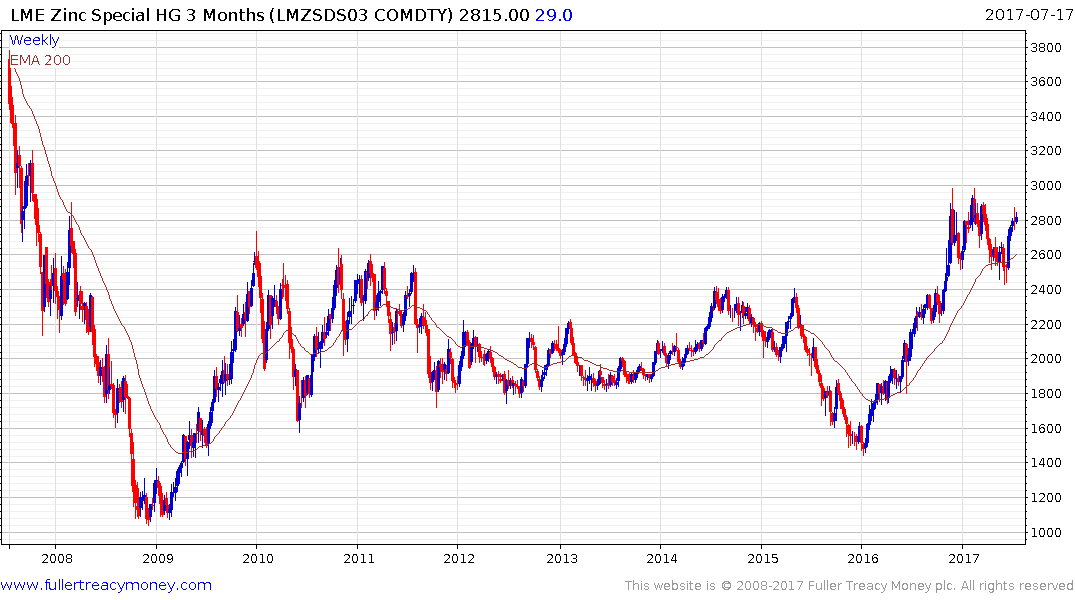 Zinc prices continue to firm from the $2500 area which represents the upper side of a seven-year base.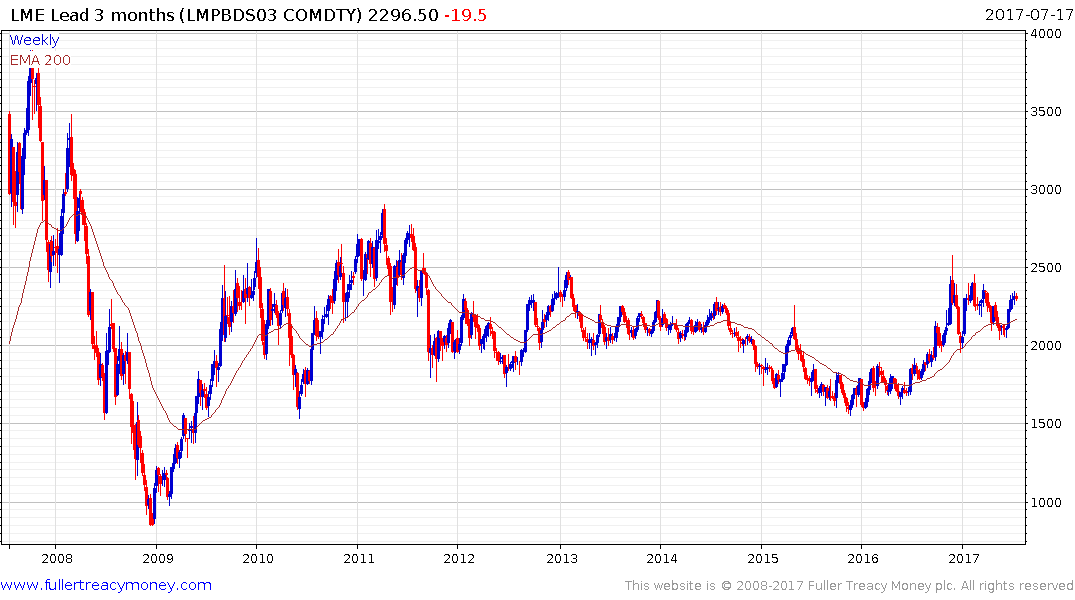 Lead prices have firmed from the region of the trend mean but a sustained move above $2500 would confirm a return to medium-term demand dominance. This article from mining.com may also be of interest.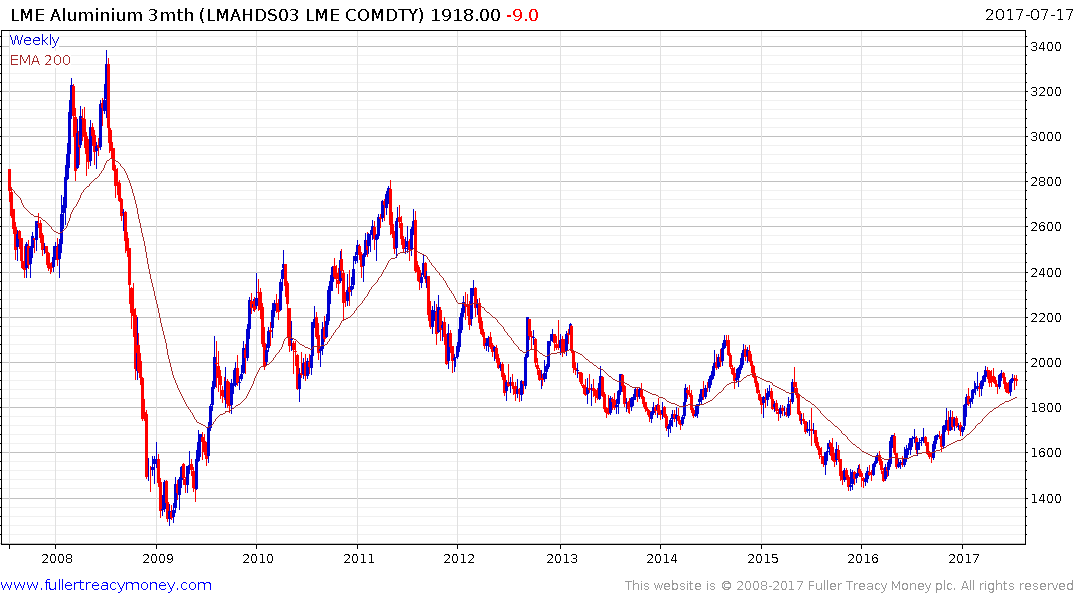 Aluminium has held an upward bias since early 2016 and is now approaching the psychological $2000 level.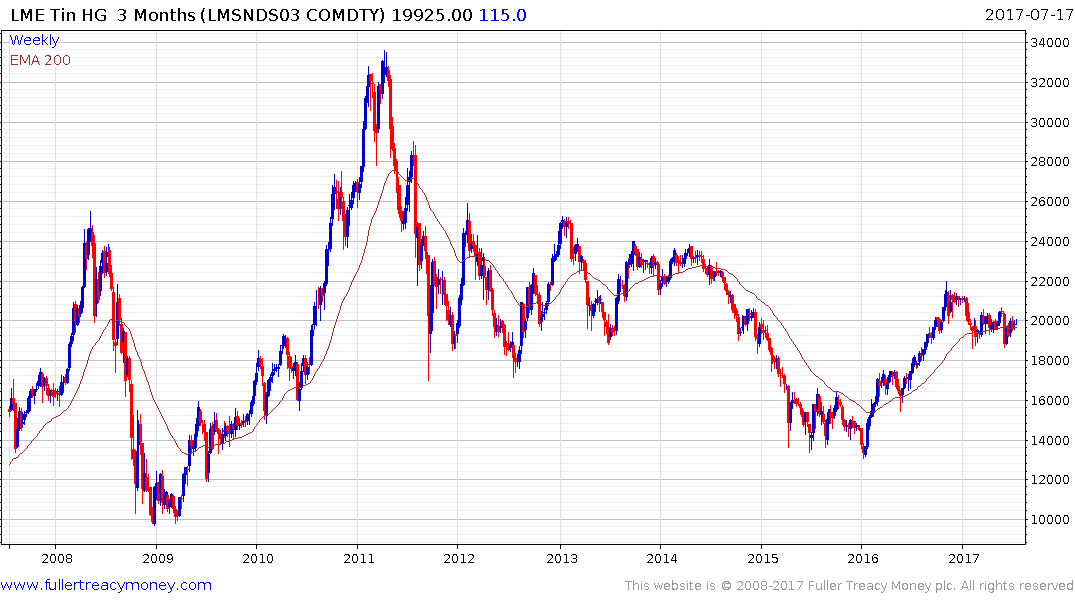 Tin prices have been ranging around the psychological $20000 level for most of this year and a sustained move above the May highs near $20700 would confirm a return to more than short-term demand dominance.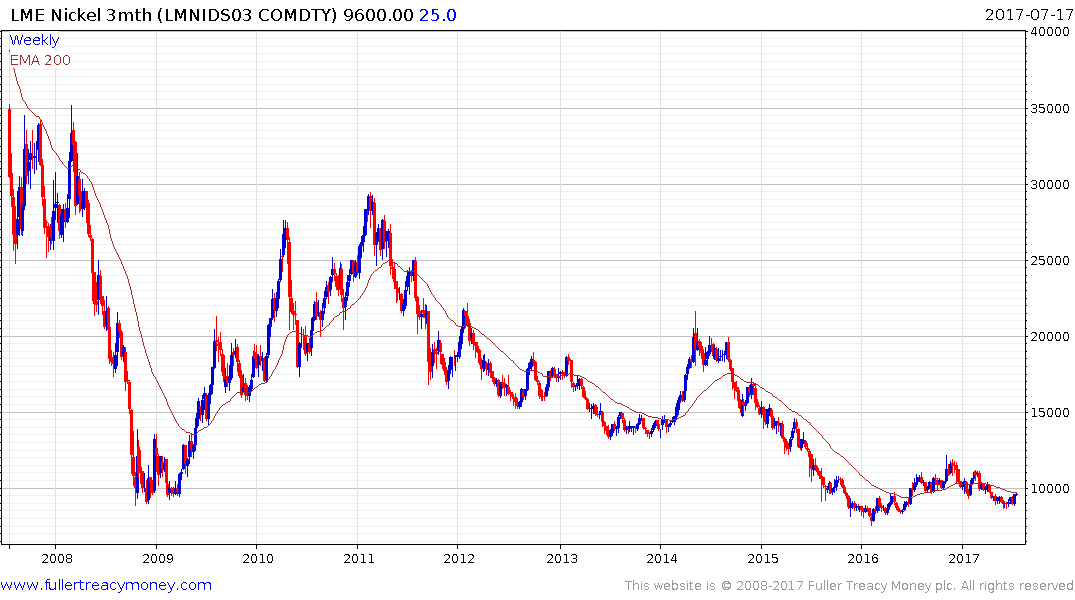 Nickel remains the sector laggard but has firmed from its lows and is now testing the region of the trend mean. A sustained move above it would bolster the potential for a catch-up move.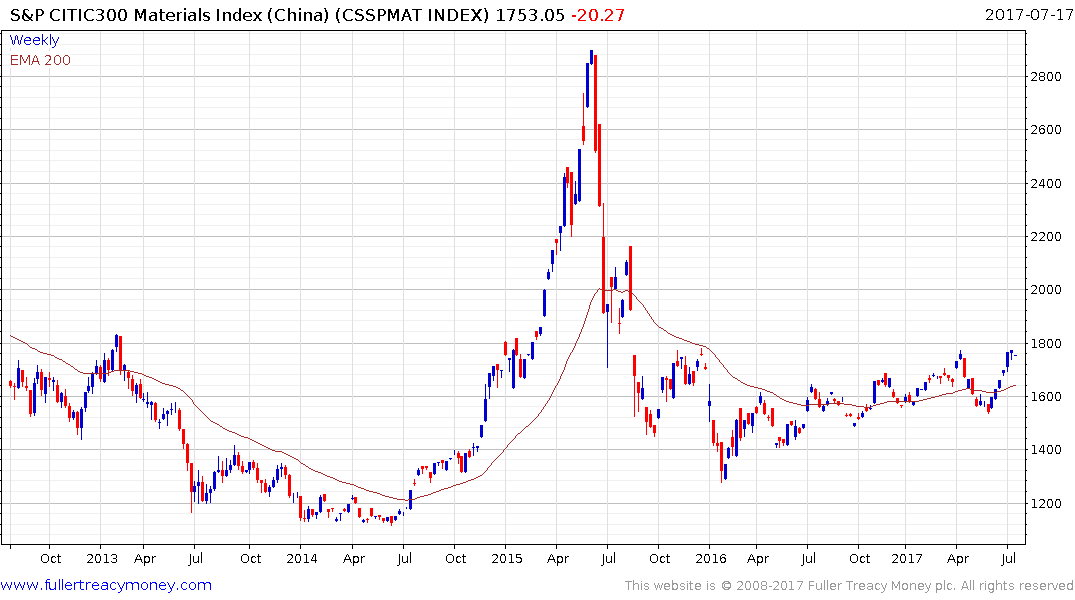 The S&P/Citic300 Materials Index was also among the best performing indices in China's mainland market today.
Back to top