Government okays composite foreign investment cap for FDI, FII
This article from Moneycontrol.com, CNBC India's website may be of interest to subscribers. Here is a section:
"One of the most important decisions in relation to the investment is the introduction of composite caps for simplification of foreign direct investments," Jaitley told reporters after the Cabinet meeting.

?The report by Justice AP Shah committee, looking into levying of minimum alternate tax (MAT) on foreign portfolio investors, should be out next week informed Jaitley. He said the Cabinet has also an expenditure of over Rs 8,500 crore on multi-state power transmission system. Welcoming the decision, Dinesh Kanabar told CNBC-TV18 the distinction between different types of foreign investments will no longer remain.

"I would like to believe that across all sectors, wherever there is no sectoral cap today, we are now breaking the barrier between FDI and FII. You could have done that in any case by passing a board resolution which some of the companies did. But, in effect, what we are now saying is that in sectors where 100 percent FDI is permitted, we could actually have a 100 percent FII holding which is absolutely a very welcome step," he said.

Echoing the sentiment, Pranav Sayta, Tax Partner, EY said Jaitley has implemented what he had promised in his Budget presentation this year. "I think it will certainly provide much greater flexibility, simplify things, make it far clearer, bring in certainty into ease of doing business."
Following an impressive performance last year India underperformed for much of this year and lost the attention of investors as China took off and Europe garnered column inches. However the reform minded government of Narendra Modi has not gone away and India is once again returning to favour as its relative strength makes headlines. The decision to streamline the ability of foreign companies to invest in India is a significant development because it helps to remove uncertainty.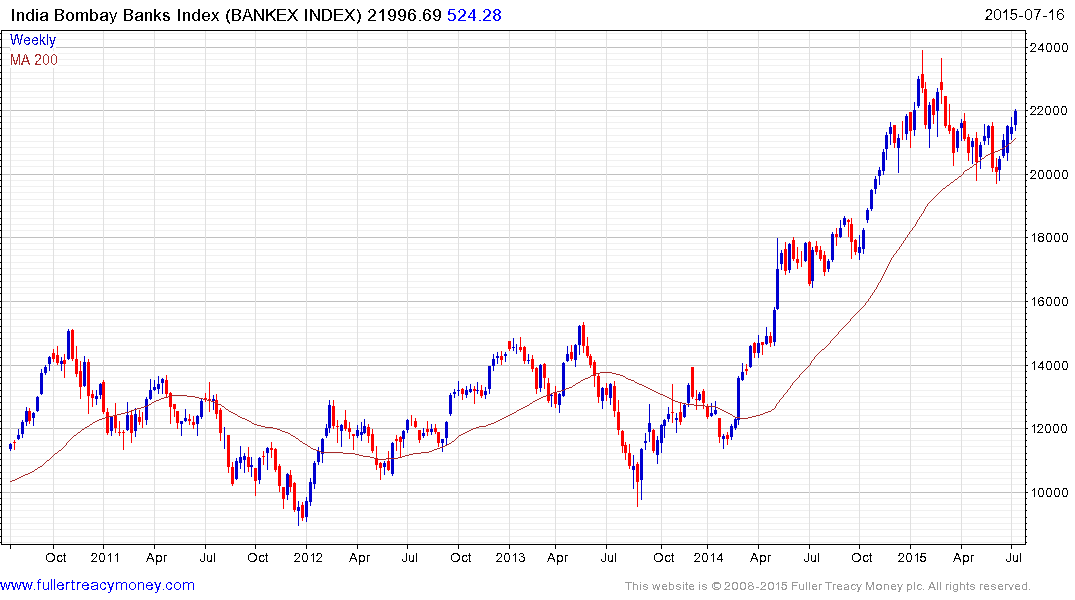 The Bombay Banks Index hit a new four-month high this week to break the progression of lower rally highs evident since December. A clear downward dynamic would be required to question potential for additional upside.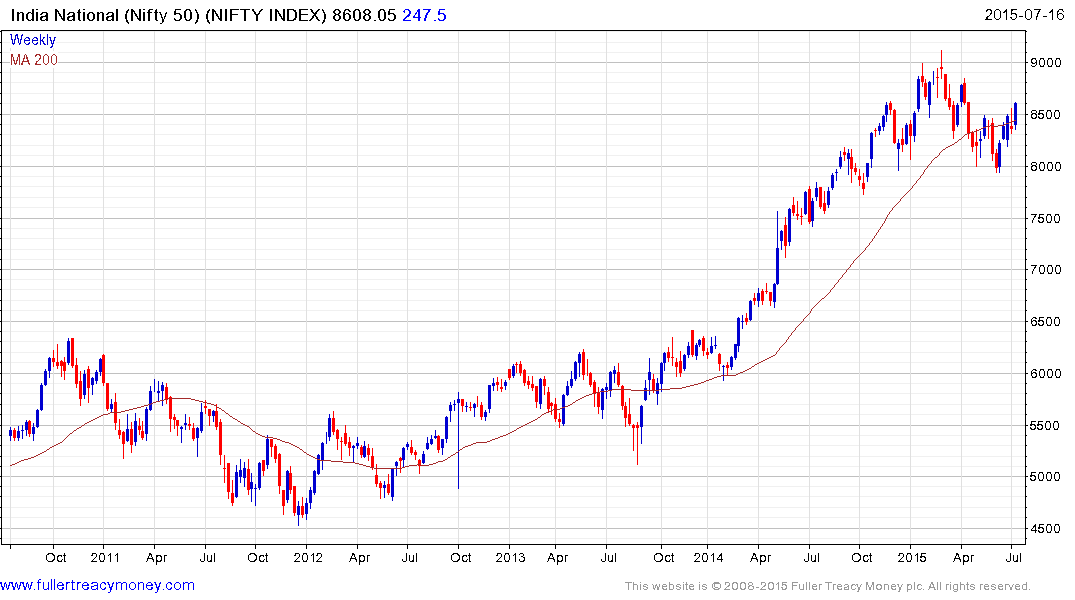 The Nifty Index shares a similar pattern.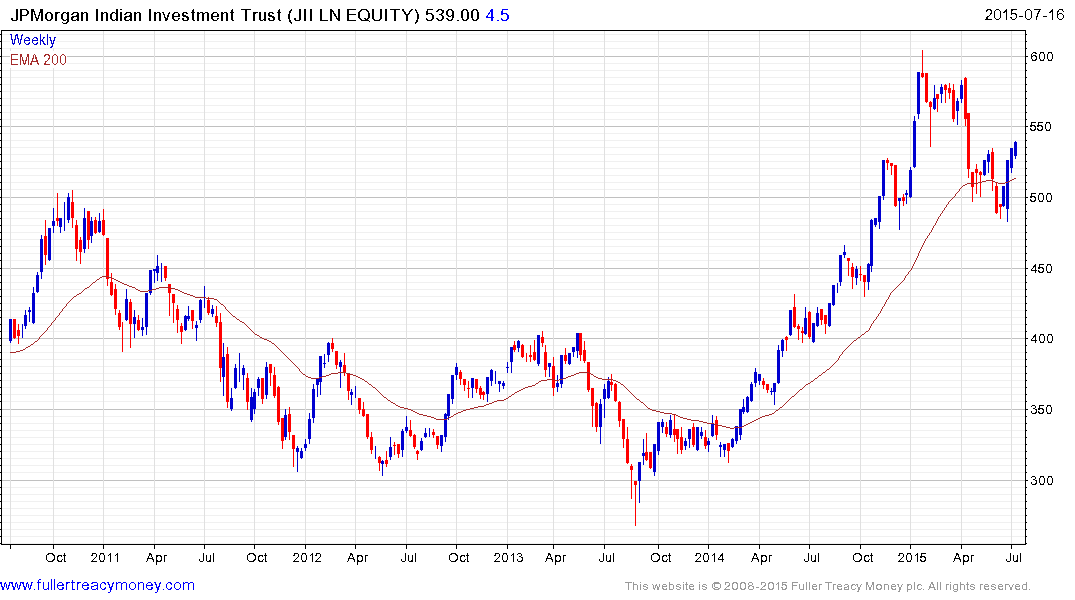 The UK listed JPMorgan India Investment Trust is currently trading at a discount to NAV of 10.58% and continues to firm from the region of the 200-day MA following a process of mean reversion.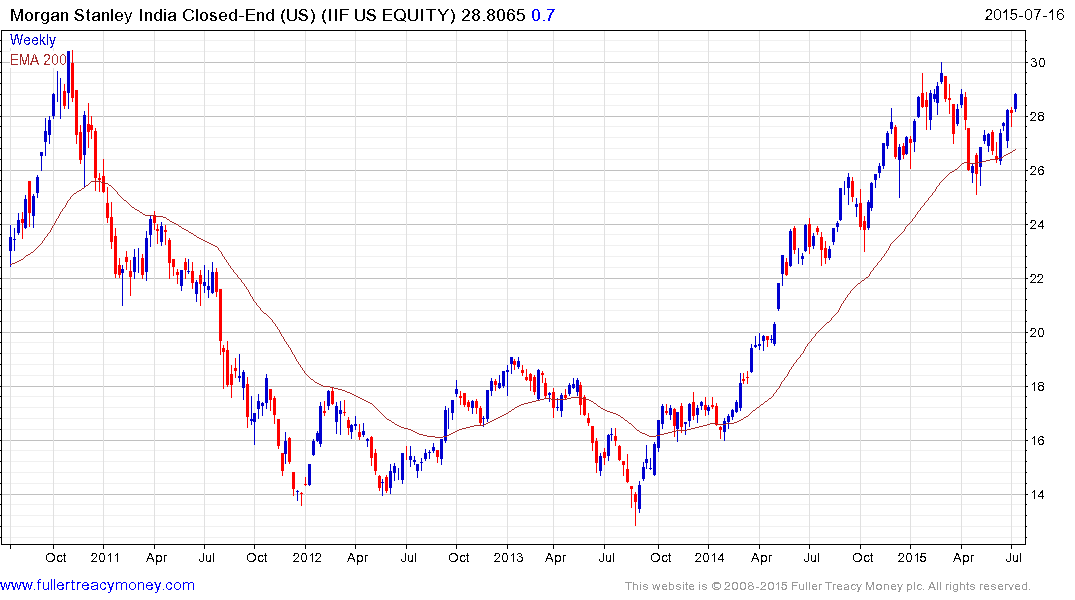 The US listed Morgan Stanley India Fund trades at a discount to NAV of 10.97%. It has held a progression of higher reaction lows since finding support in the region of the trend mean in April and a sustained move below $27 would be required to begin to question potential for continued higher to lateral ranging.
Back to top