Glencore: 'Electric vehicle revolution is happening faster than expected'
This article by Frik Els for Bloomberg may be of interest to subscribers. Here is a section:
Vehicles with conventional internal combustion engines typically contain about 20 kilograms of copper. For electric vehicles the copper load is up to 80 kilograms (and increased quantities of cobalt, nickel, manganese).

Bloomberg reports Ivan Glasenberg, CEO of Glencore, the world's third largest producer of copper, told investors at an industry meeting in Barcelona "the electric vehicle revolution is happening and its impact is likely to be felt faster than expected."

Almost all carmakers are increasing investment in electric vehicles as governments adopt tighter emissions targets, he added.

In a recent report consultants McKinsey forecast that barring large-scale substitution by aluminum and other materials or a significant increase in recycling, primary copper demand could potentially grow to 31 million tonnes by 2035 as per capita usage rates in emerging markets, particularly in China, approach levels in developed economies. The prediction represent more than 40% growth from today's annual demand levels of around 22 million tonnes.
Electric vehicles are on a major growth trajectory as the cost of batteries trends lower while the cost of regulatory compliance for car manufacturers increases. That represents a significant change for the automotive sector which Tesla has benefitted enormously from. The question for the company is whether it can prosper when subsidies eventually expire and when more battery factories open up in South Korea, Japan and China.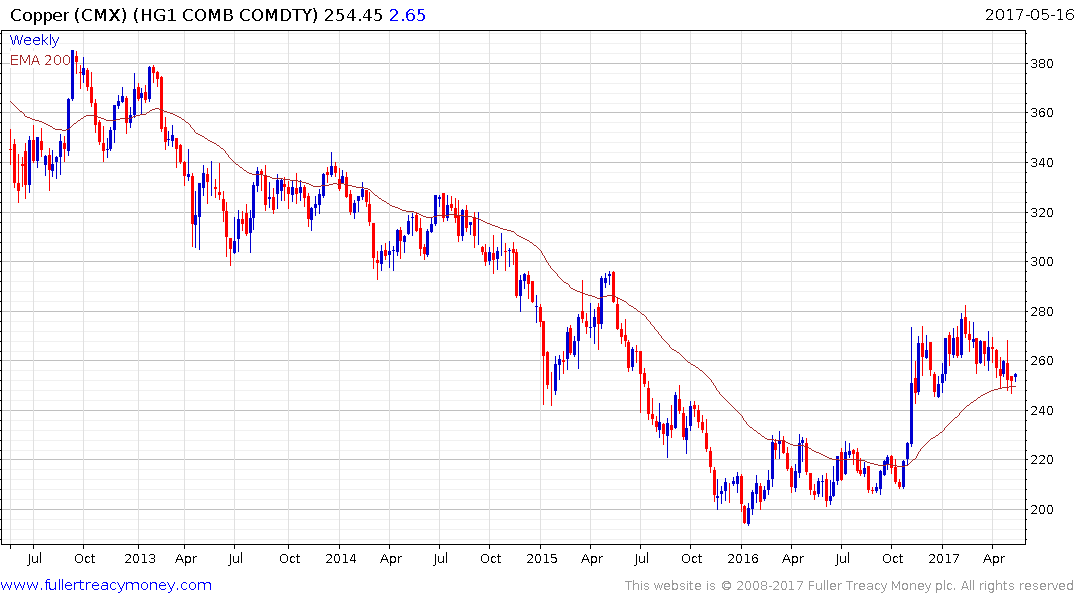 As long as the production of electric vehicles remains on an upward trajectory copper consumption should experience a tailwind. The bigger question is centres on whether supply will keep pace. Despite widespread US Dollar weakness today copper did not rally and continues to hold in the $2.50 area which also approximates the region of the 200-day MA. A sustained move above $2.70 would break the three-month downward bias and confirm a return to medium-term demand dominance.
Back to top