Email of the day on Japanese banks and REITs
Just read your piece on Japanese financials

What is the issue with Tokyo listed stocks? There are no restrictions for non-Japanese investors to buy local stocks, at least from the perspective of a European investor.

Why do you mention only ADR and GDR? (btw. German listed GDR have often very poor liquidity)

Btw: Wisdom Tree used to have a hedged ETF on Financials: WisdomTree Japan Hedged Financials Fund (DXJF) but I don't know if it is still actively traded

Finally: Do Japanese REITs also belong to this category of possible beneficiaries from rising J-yields like banks in your opinion? The iShares Japan REIT ETF trades under ticker 1476 JP
Thank you for this email which others may find of interest. I've been writing about Japanese banks since the summer but certainly with more frequency over the last month and I posted a more detailed review of Japanese Banks and REITs on December 8th.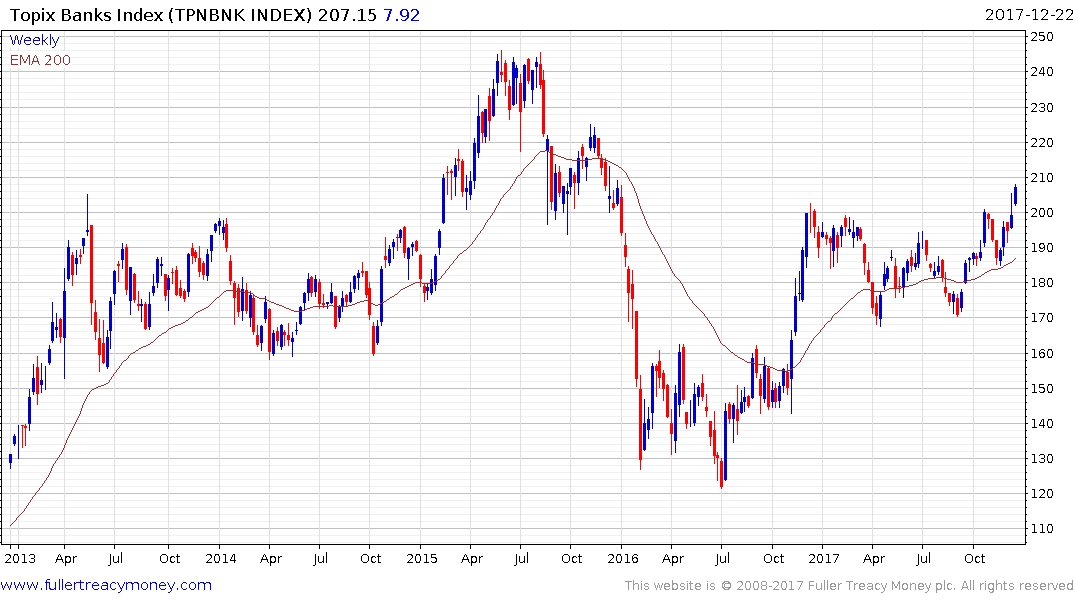 I agree there are no restrictions on European investors purchasing Japanese stocks but that is not true of everyone and particularly for US investors. Meanwhile UK spread-betters don't have access to the individual listing but can participate via ADRs. Thanks also for mentioning it the WisdomTree Japan Hedged Financials Fund which is a useful addition to the Chart Library but, right now, only has $28 million in assets. If the Index extends its break out in 2018 that should improve the ETFs liquidity as interest is attracted to the sector.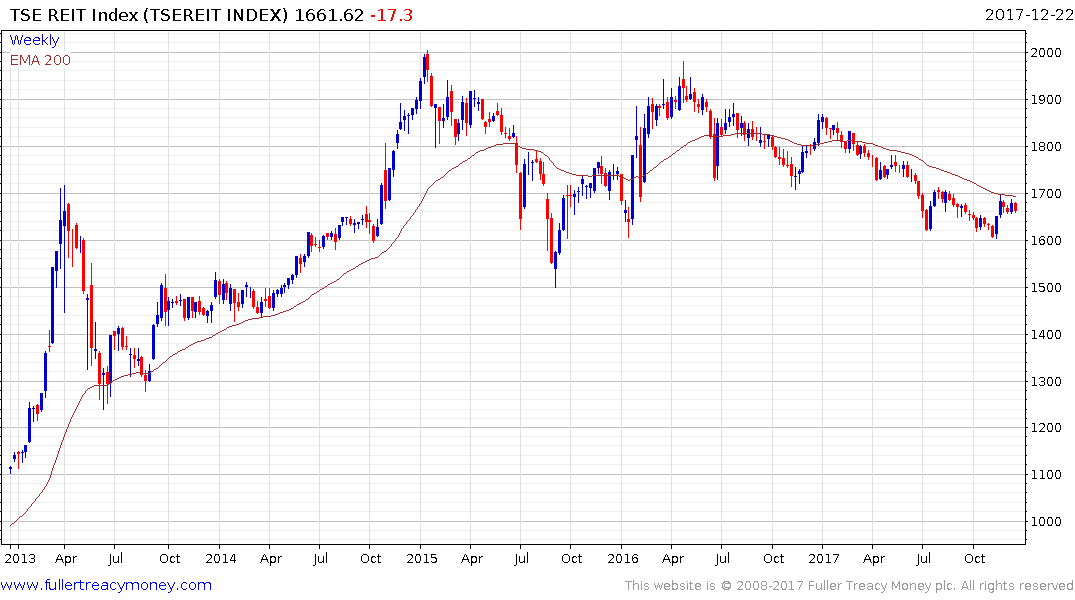 The TSE REIT Index does not have the same chart pattern as the banks. It continues to firm from the 1600 area but I would be a lot happier with its recovery potential if it were trading above the trend mean. The ability of REITs to benefit from a return to an inflationary environment will be influenced by how well they can pass on rent increases to leaseholders.
Back to top