China says direct trade talks with U.S. in January, pledges more opening
This article by Yawen Chen and Ryan Woo for Reuters may be of interest to subscribers. Here is a section:
China has also said it will suspend additional tariffs on U.S.-made vehicles and auto parts for three months starting on Jan. 1, adding that it hopes both sides can speed up negotiations to remove all additional tariffs on each other's goods.

Bloomberg, citing two people familiar with the matter, reported on Wednesday that a U.S. trade team will travel to Beijing the week of Jan. 7 for talks.

A person familiar with the matter told Reuters last week that talks were likely in early January.

In yet another reconciliatory sign, China issued on Tuesday a so-called negative list that specifies industries where investors - domestic or foreign - are either restricted or prohibited.

The unified list is seen as another effort to address concern among Western investors that there is no level-playing field in China. Investment in key Chinese sectors, however, is still prohibited.

Gao said China would "comprehensively" remove all market access restrictions for foreign investors by the end of March, in areas not included in a foreign investment "negative" list published in June.
China has a lot more to lose from a trade war than the USA. While it is difficult to get accurate statistics on the health of the economy the simple fact that car sales are declining at a rather rapid pace is a clear signal the Chinese consumer is at least holding off on making purchases. Here is a link to an article from the Wall Street Journal covering the story and here is a section:
In the frenzy, some companies became complacent, assuming growth would be endless and easy to capture, according to Mr. Gong and other analysts. Then the growth evaporated. Sales grew 3% in 2017 and declined 2% in the first 11 months of 2018.
China now has enough factories to build 43 million cars but will produce fewer than 29 million this year, according to consulting firm PwC. While foreign and domestic auto makers alike find themselves under pressure, the slowdown has hit those that misread the market hardest of all.

This is another story of massive Chinese overcapacity. The global market for automobiles in 2016 was 88 million which suggests China has capacity to supply half the global market. That was manageable when demand was growing but with demand shrinking it's another story entirely. The only way these industries can be kept busy is through global trade and growth. A trade war is the last thing China needs.
The repercussions of falling auto demand are being felt far and wide. I was talking with my brother in Ireland over Christmas and he reported the local Alps Electric factory in Ireland sent everyone home for a three-week holiday at Christmas because it has nothing for them to do. Ireland is not exactly known for its auto industry but it does offer a window into the stress the German sector is experiencing.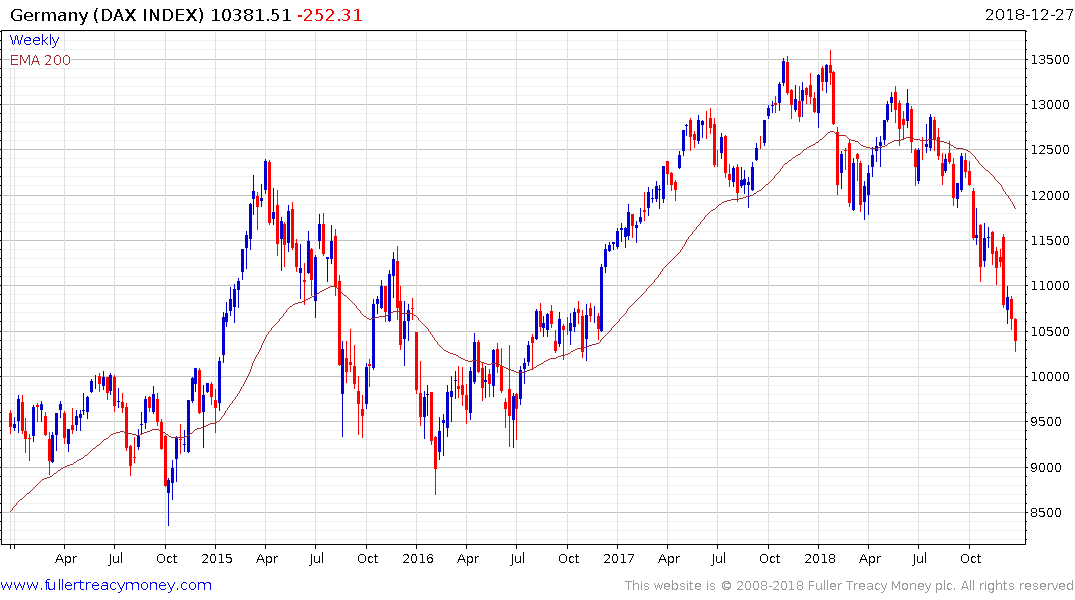 The DAX Index is developing a widening short-term oversold condition and while potential for a reversionary rally is improving there is scant signs of one taking hold just yet.
That suggests China may be more willing to make concessions, or least willing to mime concessions in return for an easing for trade restrictions. The trade war is the one thing many of the people working in markets, I have spoken to, have voiced as their chief concern so any improvement on this topic is likely to be good for sentiment.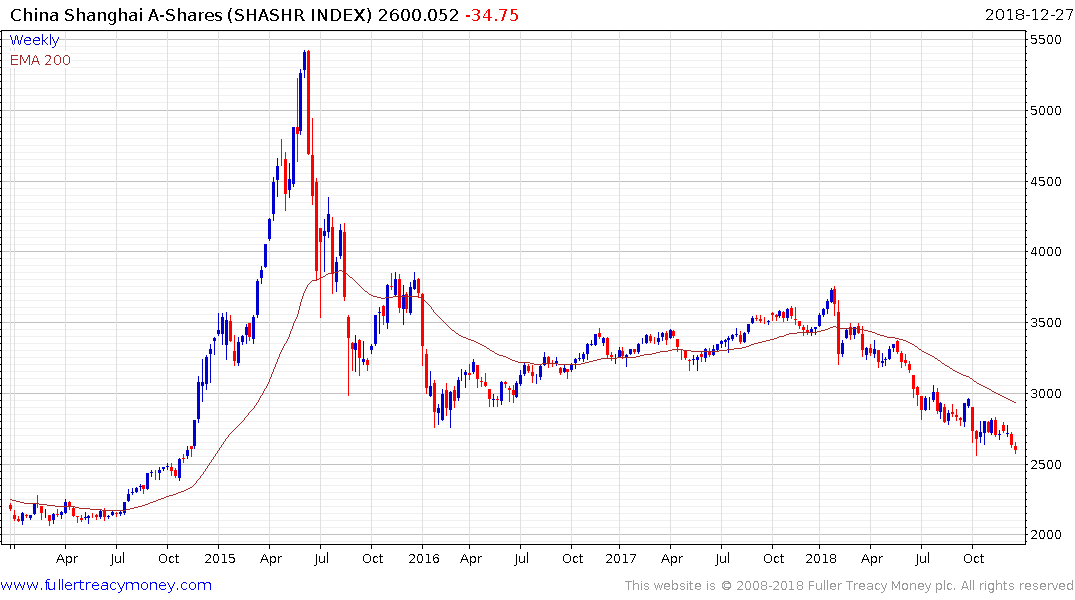 The Shanghai A-Share Index, meanwhile, remains in a medium-term downtrend.
Back to top