CalAmp and the Internet of Things
Thanks to a subscriber for this note from Canaccord Genuity on CalAmp which may be of interest to subscribers. Here is a section:
We hosted upbeat investor meetings with CalAmp CEO Michael Burdiek on April 29th, in the mid-Atlantic region. Following our meetings, we maintain our belief CalAmp is well positioned for solid long-term growth in the Industrial IoT market through both organic initiatives that include entering new markets and through potential acquisitions. In fact, we believe CalAmp's recent $150M low-interest rate convertible offering provides the company with increased financial flexibility for its M&A strategy focused on accretive acquisitions in targeted IoT verticals. We remain impressed with management's longer-term strategy to build upon its strong hardware portfolio and offer an increasing mix of higher-margin recurring revenue solutions. Finally, as evidenced by the strong Q4/F2015 results, we believe CalAmp's Wireless DataCom business is well positioned to drive strong F2016 and F2017 sales and earnings growth driven by ramping sales to Caterpillar, growing insurance telematics sales, ramping international sales, a growing product portfolio, an increasing list of new customer opportunities, and anticipated steady growth of higher-margin recurring revenue sales. We maintain our BUY rating and $26 PT.
Here is a link to the full report.

The Internet of Things represents a myriad group of themes often with little relation to one another. CalAmp for example focuses on automobile connectivity particularly for those with large fleets of vehicles they need to monitor. On the other hand Sensata Technologies produces the sensors that allow diesel vehicles in particular to run self-diagnostics. Both are leveraged to the auto sector and both are in the sensor and enhanced communication segments that contribute to the Internet of Things theme but they are not strictly related.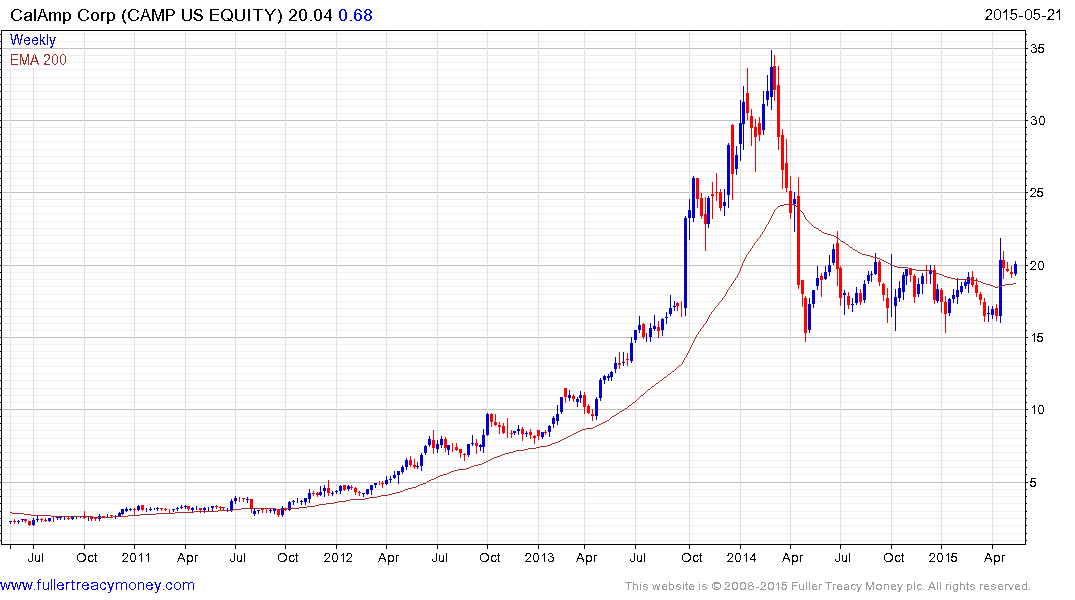 CalAmp pulled back sharply from its 2014 peak to range above $15. It rallied back above the 200-day MA in April and a sustained move below $19 would be required to question medium-term scope for additional upside.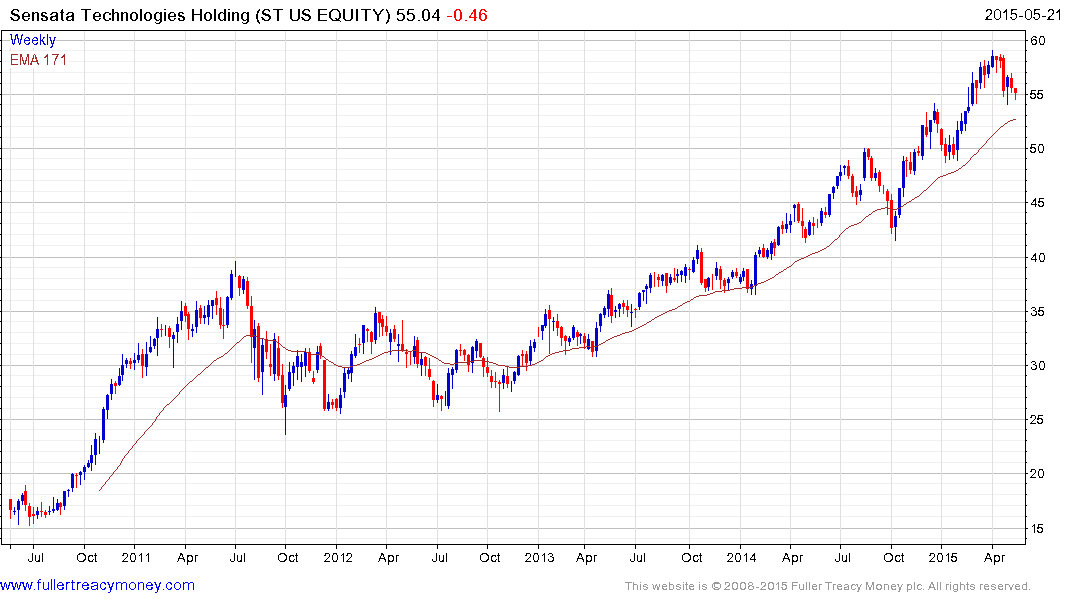 Sensata Technologies broke out of a two-year range in 2013 and continues to hold a medium-term progression of higher reaction lows. It is currently engaged in a process of mean reversion but a sustained move below $52 would be required to question the consistency of the medium-term uptrend.
Back to top