Breakthrough Cancer Therapy for Dire Cases Gets FDA Approval
This article by Michelle Fay Cortez, Anna Edney and James Paton for Bloomberg may be of interest to subscribers. Here is a section:
"We've never seen anything like this before," said Stephan Grupp, director of the cancer immunotherapy frontier program at Children's Hospital of Philadelphia, the first medical center to study Kymriah in children. "I believe this therapy may become the new standard of care for this patient population."

Novartis said that it's made an agreement with the U.S. government to pay for the drug only when paediatric or young adult patients with the cancer respond to treatment by the end of their first month. That agreement could have implications for other drugmakers developing expensive, specialized treatments, such as one-time therapies meant to cure rare genetic diseases. Novartis said its working on similar agreements with other payers.

Kymriah will carry a boxed warning because of the treatment's potential to cause deadly side effects, including neurological complications and what's known as cytokine release syndrome, a systemic reaction triggered by the destruction of the cancer cells. The FDA also approved Roche Holding AG's Actemra to treat patients with cytokine release syndrome, pointing to research that shows 69 percent of patients suffering from it improved completely after one or two doses.
It's been a busy week for the immuno-oncology sector with Gilead Sciences announcing a bid for Kite Pharmaceuticals over the weekend and Novartis getting the go ahead for its CAR T-cell treatment today. A point I have been making for more than a year is that the first place we are going to see personalised medicine evolve is in the oncology sector. Every cancer is genetically unique and the number of types they can be categorised into is mind boggling. Even with limited tools tailored treatment programs are already the norm so the evolution of better tools not least through re-educating the immune system is a logical progression.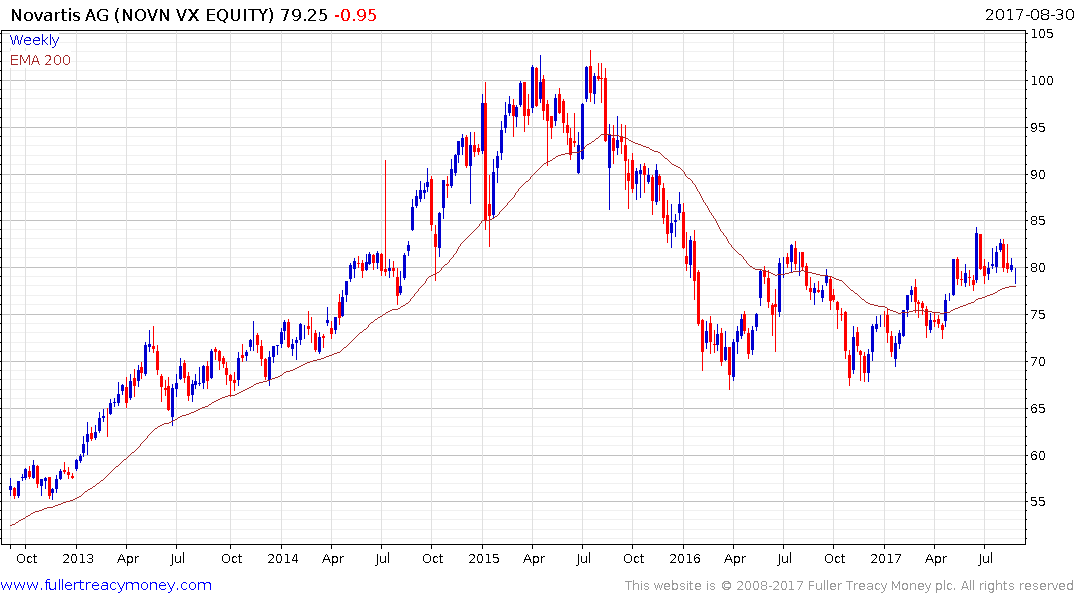 Novartis has firmed from the region of the trend mean. However, it needs immuno-oncology to become a major revenue stream to really move the needle for such a large company.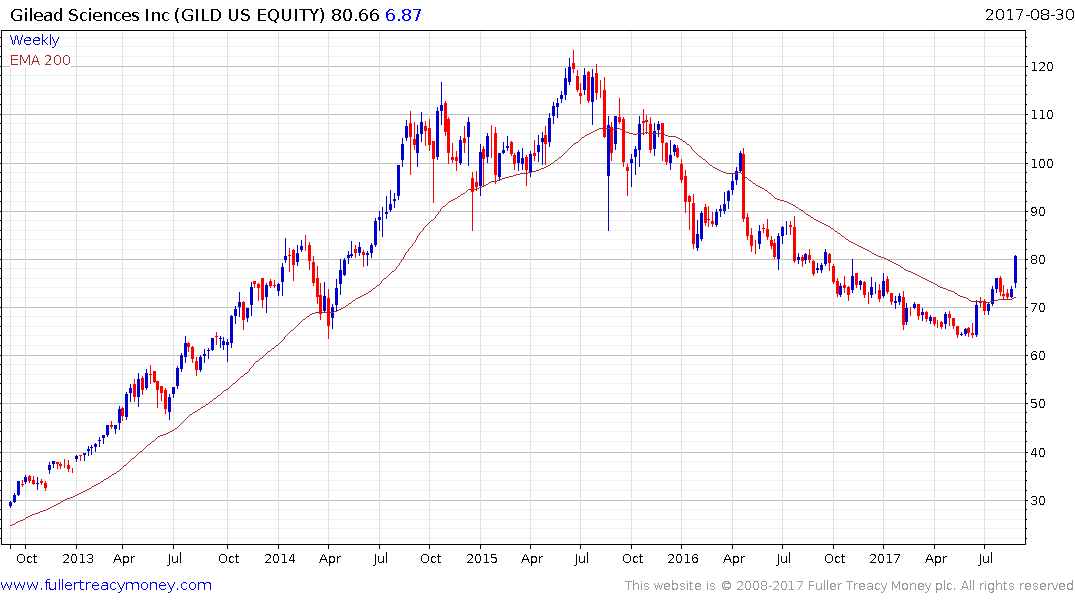 Gilead Sciences needed an additional revenue vector to fuel its recovery and Kite's CAR T-cell treatments could offer the kind of catalyst it needs. The share rallied in June to break the medium-term progression of lower rally highs and extended its rebound today.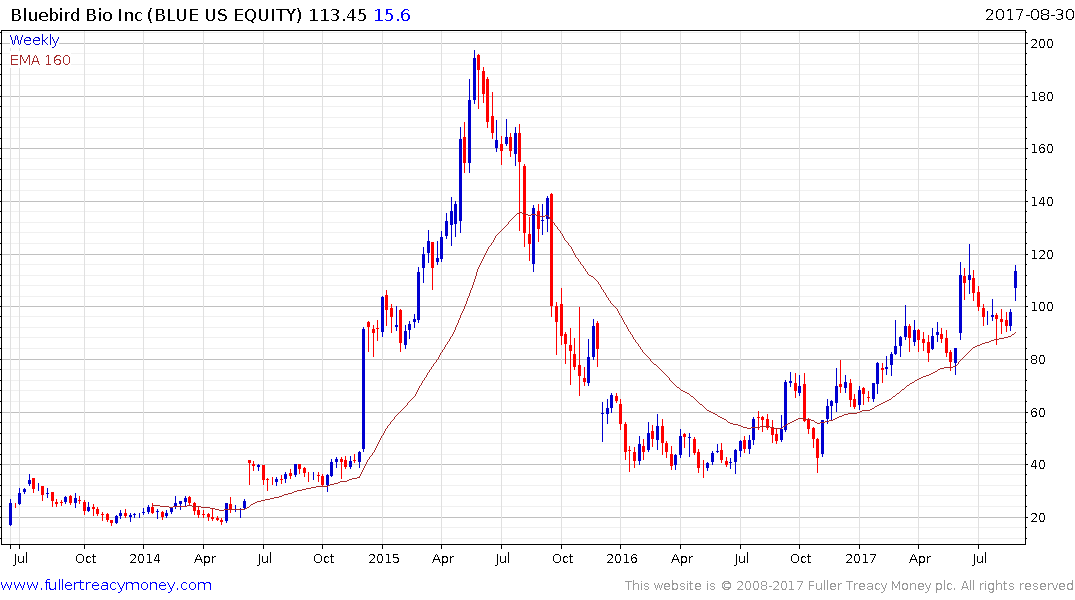 Bluebird has held a progression of higher reaction lows since late last year and a sustained move below the trend mean would be required to question medium-term scope for additional upside.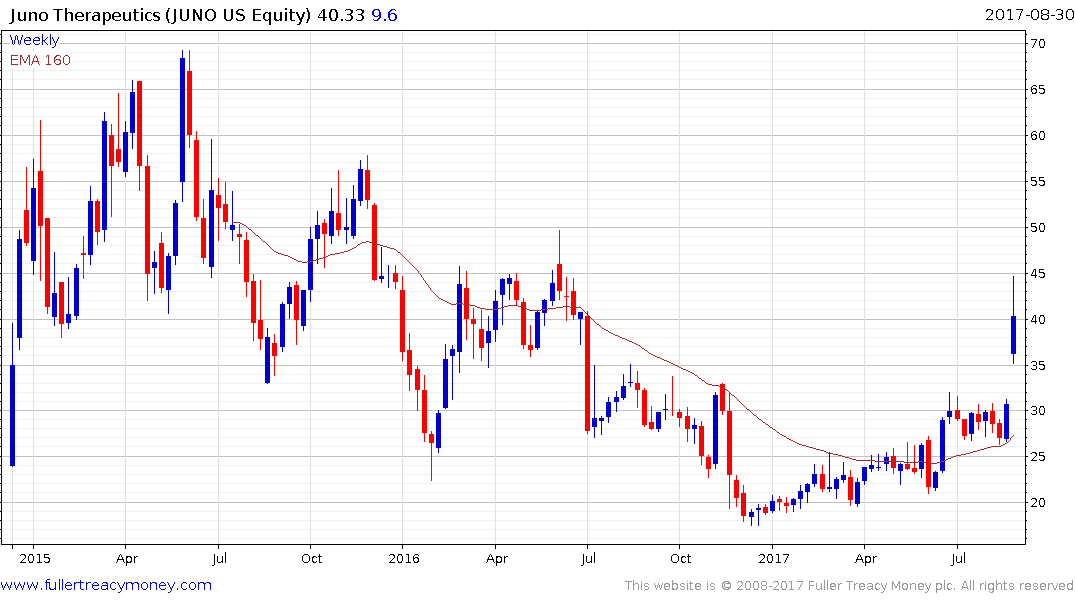 Juno Therapeutics surged higher on the Kite takeover news but eased somewhat today. Nevertheless, a sustained move below $30 would be required to question recovery potential.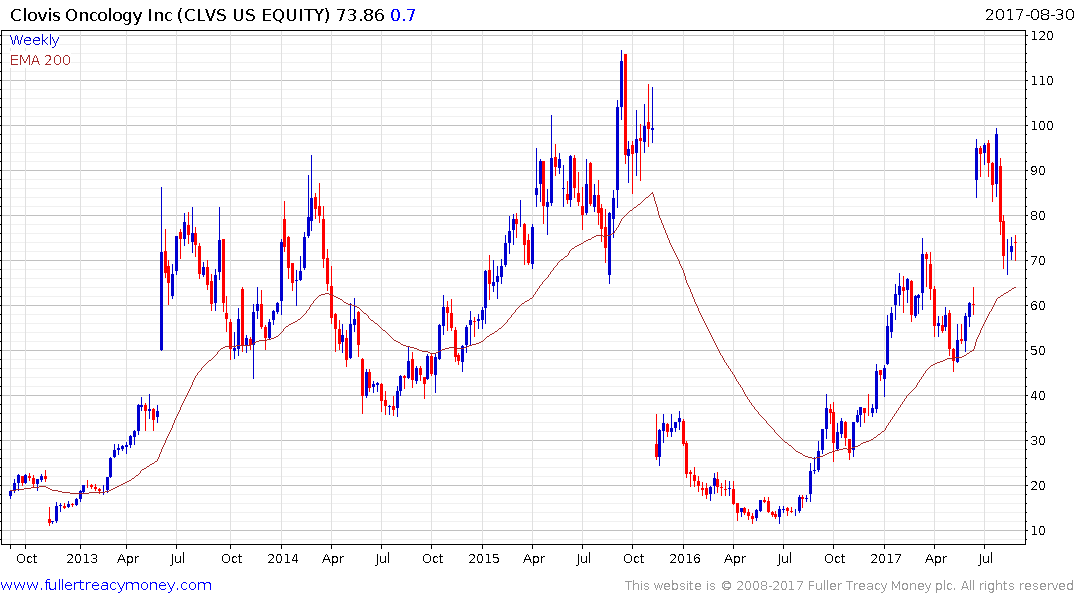 Clovis Oncology pulled back sharply from the $100 level this month but has paused in the region of the trend mean.
Immunogen hit a meaningful low at the end of last year and continues to extend its rebound.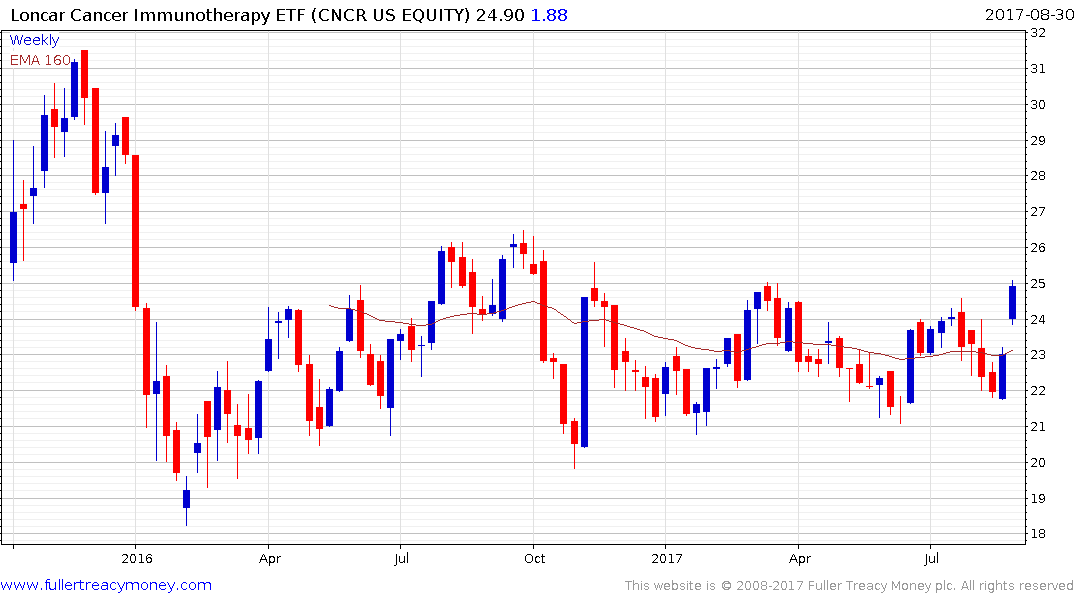 The Loncar Immunotherapy Cancer ETF is much more diversified and has been ranging for most of the year but has firmed over the last couple of weeks.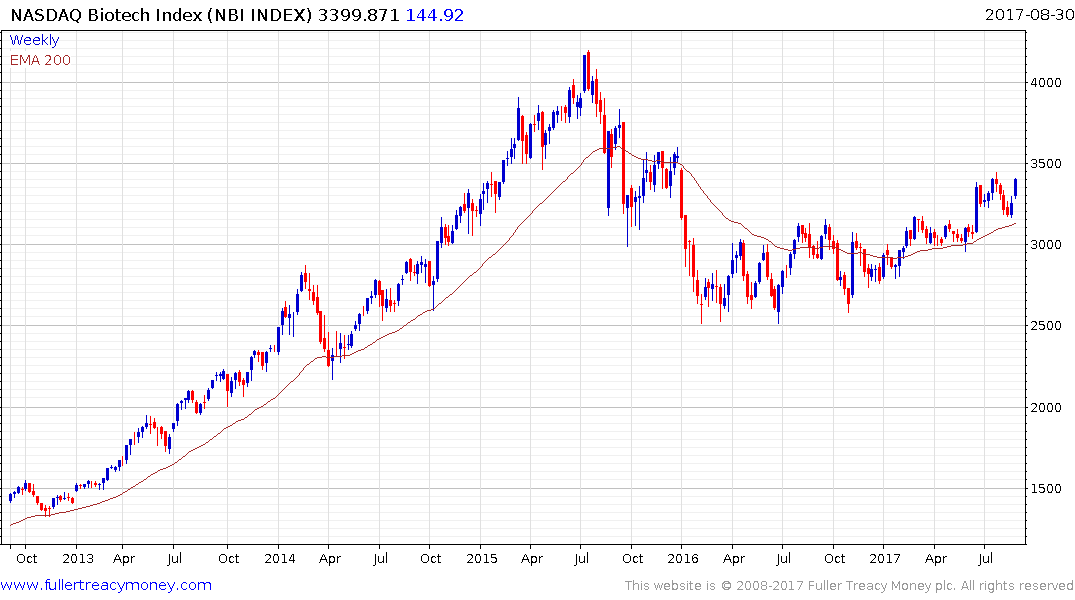 The Nasdaq Biotech Index broke out of a more than yearlong range in June and found support in the region of the trend mean last week. A sustained move below it would be required to question medium-term scope for additional upside.
Back to top