Email of the day - on my personal portfolio
Eoin, does it continue to be the case that these are your most recent trades? Having been through virtually unprecedented volatility over the last 6 weeks since these trades were made, I would have expected that you might have been fairly active in the market. If these are your last trades, does that imply that you are very much an "investor" rather than a "trader". I am relatively new to the platform, and less familiar with your personal approach to investing.
Thank you for this question which other new subscribers may also have an interest in. There are times when I am more active and there are times when I don't have any positions. The benefit of only trading for myself is I don't have to be active. The older I get the less pressure I feel to trade. I have tried to discipline myself to only participate in the most obvious opportunities, where the odds are clearly in my favour. A casual observer might ask "isn't that what everyone does?" but practice is very different to theory.
My positions are focused on precious metals and gold miners because they are the obvious choice when central banks and governments all over the world are competing with one another to spend money they don't have.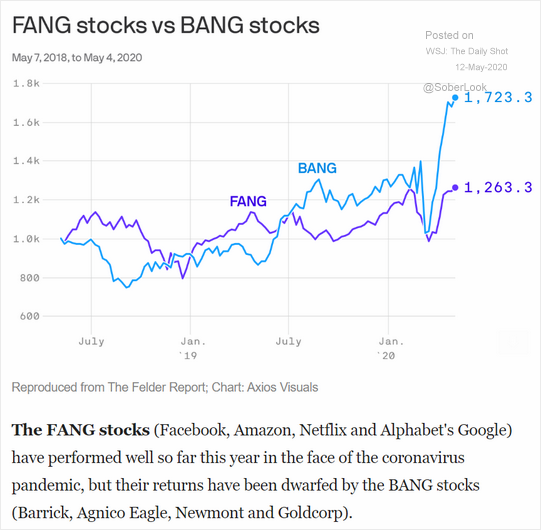 This graphic from the Felder Report highlights how gold shares in particular have more room to outperform than the FANG shares because they enjoy the base effect of lower prices and an underlying asset that is appreciating in value. Following a massive economic upset it is generally reasonable to expect a changing of the guard. Gold and gold shares are cheap which is a clear point in their favour.
Back to top