A Chinese Internet Giant Starts to Dream
This article from the MIT Technology Review focusing on Baidu may be of interest to subscribers. Here is a section:
Ng, who calls deep learning a "superpower," will build a new generation of such systems at Baidu. Services that may result remain in the brainstorming stage, but he will hint at what they may be. He dreams of a truly intelligent personal digital assistant that puts Apple's Siri to shame, for example. Looking further ahead, the technology could transform robotics, a pet subject for Ng—his engagement photos were taken in a robotics lab—and make autonomous cars and unmanned aerial vehicles much more capable. "We're going to do some cool things here," he says with a grin.

They'll have to if they are to compete: Google, Facebook, Microsoft, and others have been hiring lots of deep-­learning experts for their labs, sometimes even from each other. And Baidu still has a lot to prove. Fairly or not, it has the reputation many Chinese companies do for copying the products and business models of U.S. Internet leaders. It's a process cynics dub C2C—"copy to China." Baidu has seemingly tried to emulate Google in countless ways over the years, from its spare search homepage to a head-mounted computer, Baidu Eye, that looks a lot like Google Glass. Baidu has even begun working on self-driving cars. With its new star hire, it appears to be following Google's lead once again.

Ng insists that the C2C stereotype is no longer accurate, particularly for his new employer. "I used to work for the USA's Baidu," he jokes. Then he picks up his phone and says in English, "Please call a taxi for me." A moment later, Baidu's translation app utters the same phrase in Mandarin Chinese and shows the equivalent ideograms on the screen. It's slick—but is it better than Google's translation app, which appears to do the same thing? That's not clear. It's Ng's job to develop cutting-edge technologies that will leave no doubt who is ahead.
As a country develops, the logical path both in the governance and commercial fields is to look at what worked elsewhere and employ it at home. The more successful companies eventually branch out to create their own novel solutions to problems and compete on the international stage. China's companies are well capitalised and have a government willing do take major steps to promote their wellbeing. As high population countries in Asia, Latin America and Africa develop and their middle classes increase, the opportunity is ripe for internet companies to benefit. Chinese companies are well placed to compete in this environment.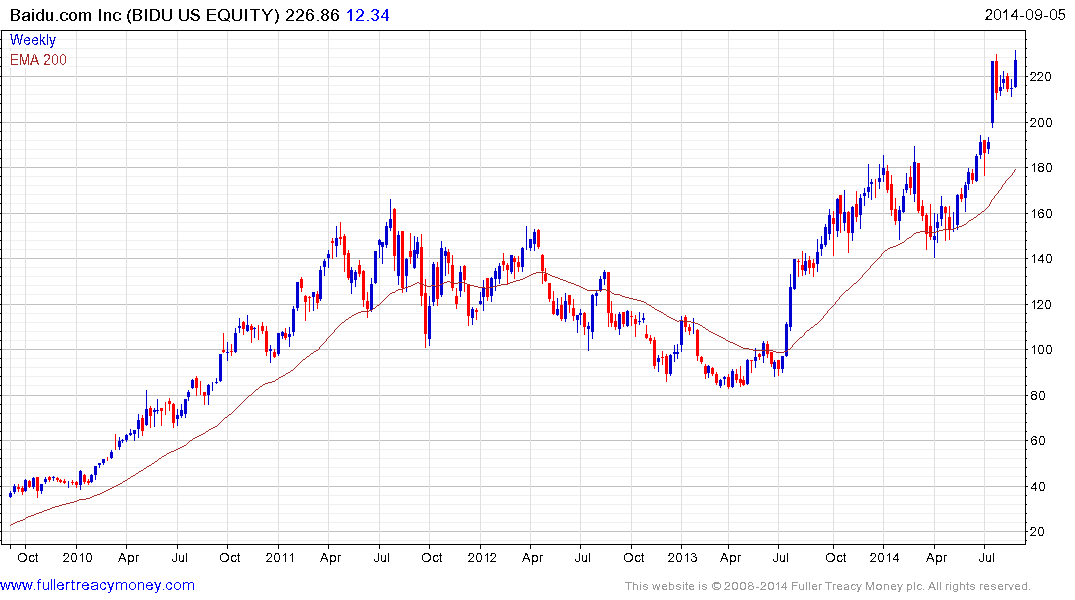 Baidu accelerated to its July peak and some consolidation of that gain has been underway. However a sustained move below the 200-day MA, currently near $180, would be required to question medium-term scope for continued upside.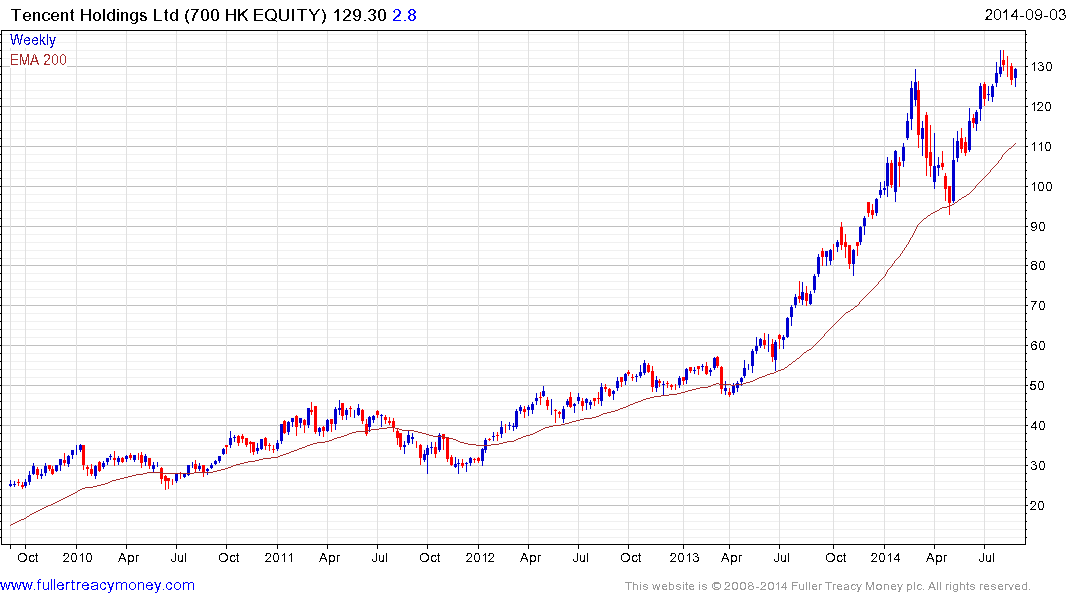 Hong Kong listed Tencent Holdings found support in the region of the 200-day MA from May and has rebounded to post a new high. Some consolidation of this gain is also underway.
Back to top