Wheat Prices Spike as US Sees War, Adverse Weather Hurting Crops
This article from Bloomberg may be of interest to subscribers. Here is a section:
From war to extreme weather, the world's wheat crops are under threat, a view that's being bolstered by a US report.

Production in Ukraine, one of the biggest growers, will fall by one-third compared to last year, according to a U.S. Department of Agriculture forecast. Other major producers are battling drought, floods and heatwaves. In all, global stockpiles in the coming season will dwindle to a six-year low.

The smaller wheat harvests and a slow start to the US planting season is risking more food inflation ahead. Hunger is already on the rise in many parts of the globe.
Food stockpiles are low after two years of pandemic lockdowns. The war in Ukraine is an additional complication and prices are already high. The wildcard in terms of supply is Russia where farmers have access to fertilizer and oil from domestic sources. No one is going to broadcast they are buying Russia grain but that supply will reach market as prices rise.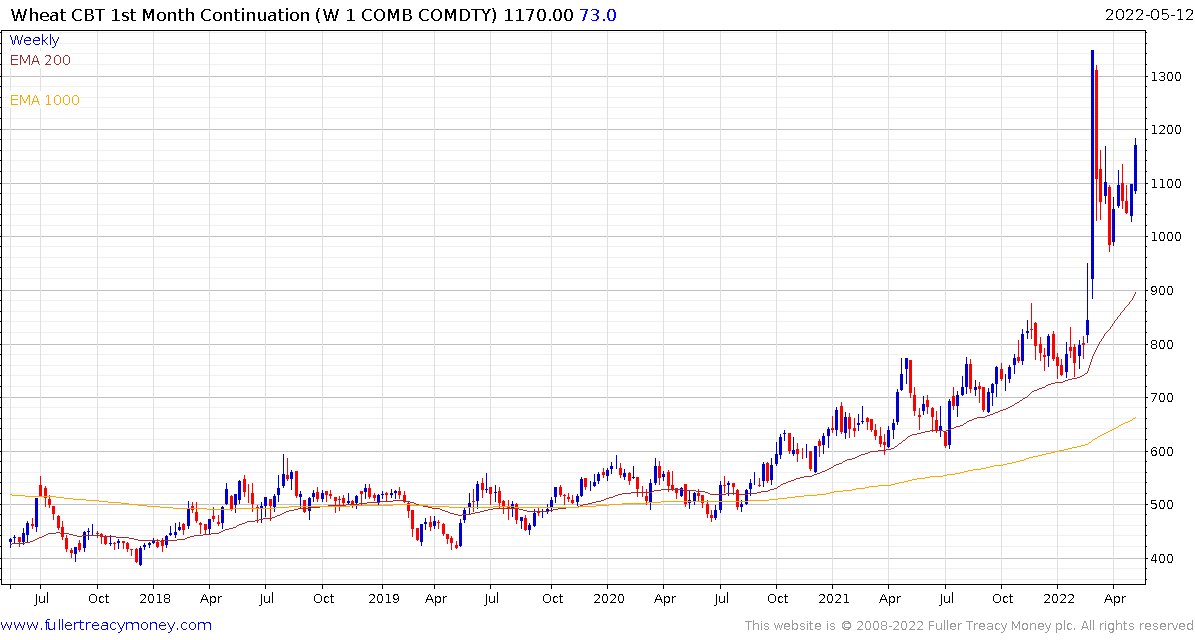 Wheat retested the early 2008 spike peak earlier this year, but is regrouping and pushing higher again. This is inevitably going to create serious issues in countries where the price of food is a major part of people's income.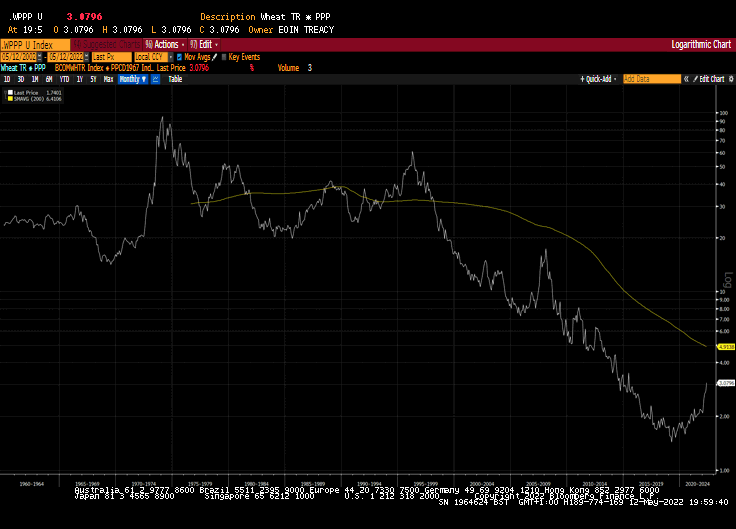 I created the above log scale chart by taking the total return on wheat futures and multiplying it by the purchasing power parity of the Dollar. It clearly demonstrates the fact commodities prices collapsed from 1996 which broadly coincides with the expansion of the GATT into the WTO.
The current rally might be starting from a lower level but the move is at least on par with that posted in 2008 which was the last time there were well publicized fears of a global food shortage.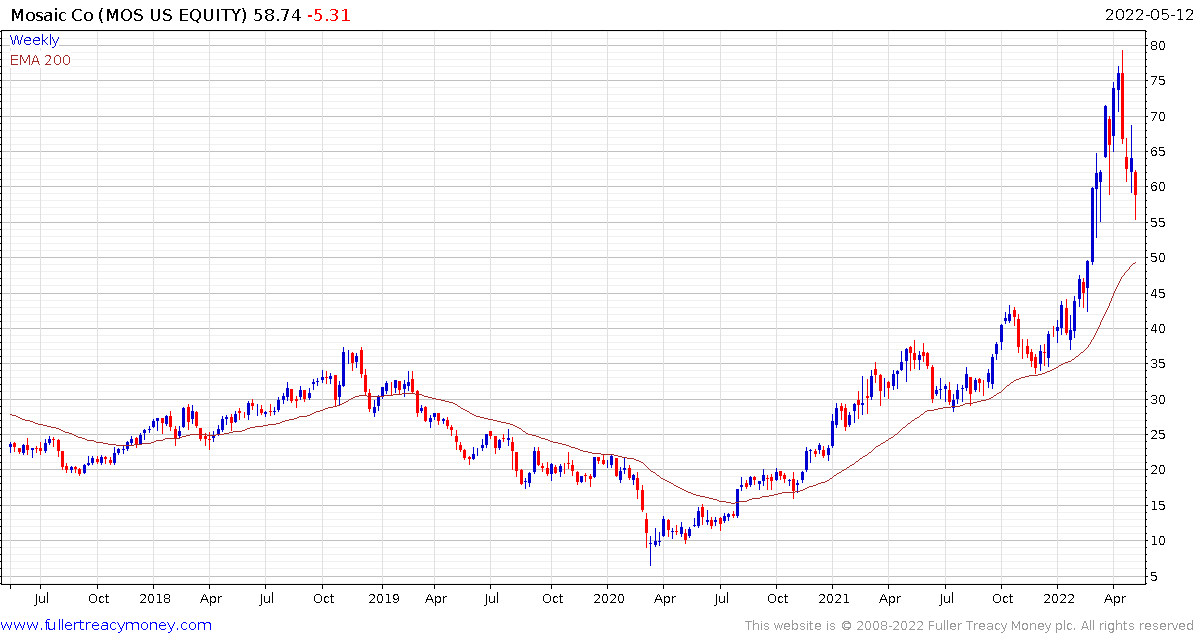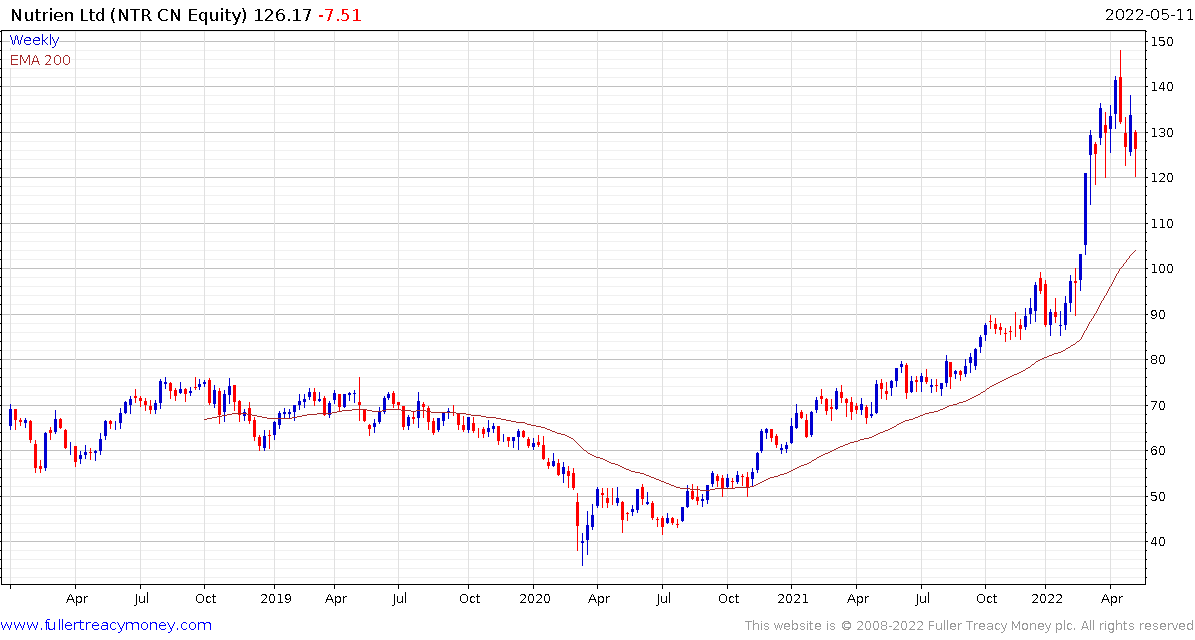 Mosaic and Nutrien have pulled back over the last month as natural gas prices have broken out and remain firm.
This article from Bloomberg is emblematic of the revolt against prices which will encourage consumers to eat less meat in a further hit to living standards.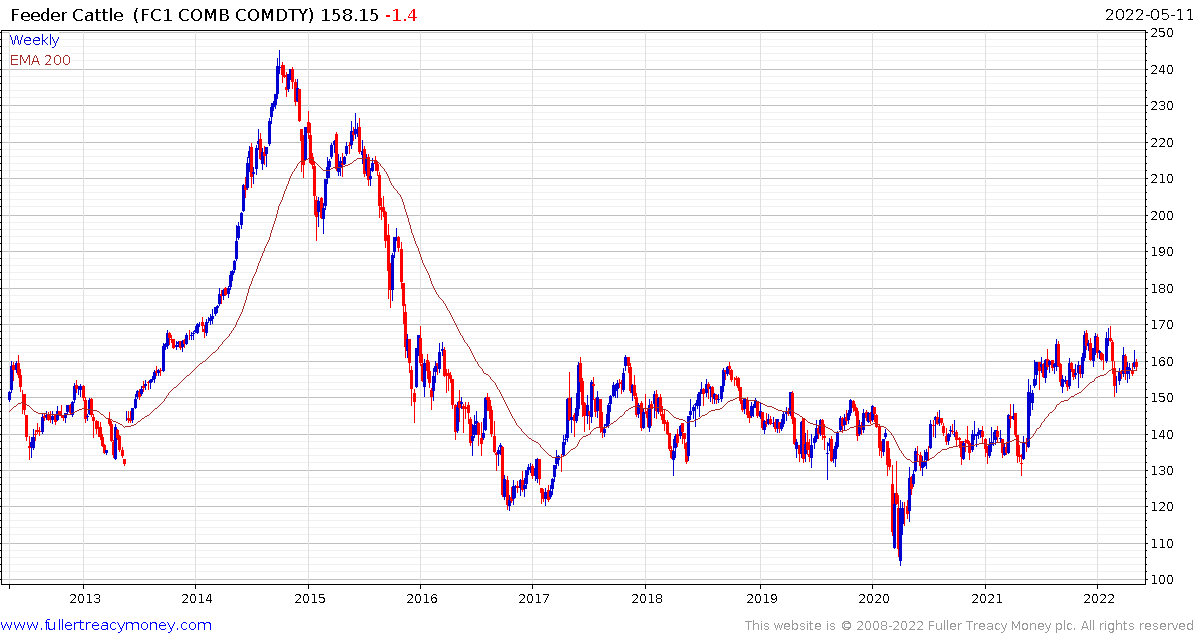 Livestock prices remain under pressure as rising feed costs tend to accelerate slaughter schedules.
Back to top