Wages Poised to Rise as Signs Emerge of Improved U.S. Job Market
This article by Richard Clough, Victoria Stilwell and Jennifer Kaplan for Bloomberg may be of interest to subscribers. Here is a section:
Jockeying for Houston workers goes beyond energy, according to Ray Perryman, president of Waco, Texas-based economic consultant Perryman Group. Construction and even restaurant employees have received signing bonuses, he said by e-mail.

?The dearth of pay raises since the recovery began has puzzled economists and surfaced as an issue in the midterm elections. Even as unemployment fell and the economy created jobs, inflation-adjusted compensation per hour rose by only 0.7 percent over the last five years, the weakest growth for any expansion of comparable length since World War II, according to Bureau of Labor Statistics data compiled by Bloomberg.

The most likely culprit, many economists said, was the continuing drag of millions of long-term unemployed people as well as those toiling part-time. That has allowed companies to staff without having to offer fatter paychecks.

Now, the strengthening economy is starting to tighten the labor market, putting pressure on some companies to offer more raises to retain and recruit workers.
Since the Fed doesn't look at energy or food prices in its measure of inflation, wages are an important arbiter of consumer health. The knock-on effect of lower labour force participation in an economy boosted by years of easy money, and more recently by lower energy prices, is that wages need to rise to encourage people back into the system. This now appears to be taking place.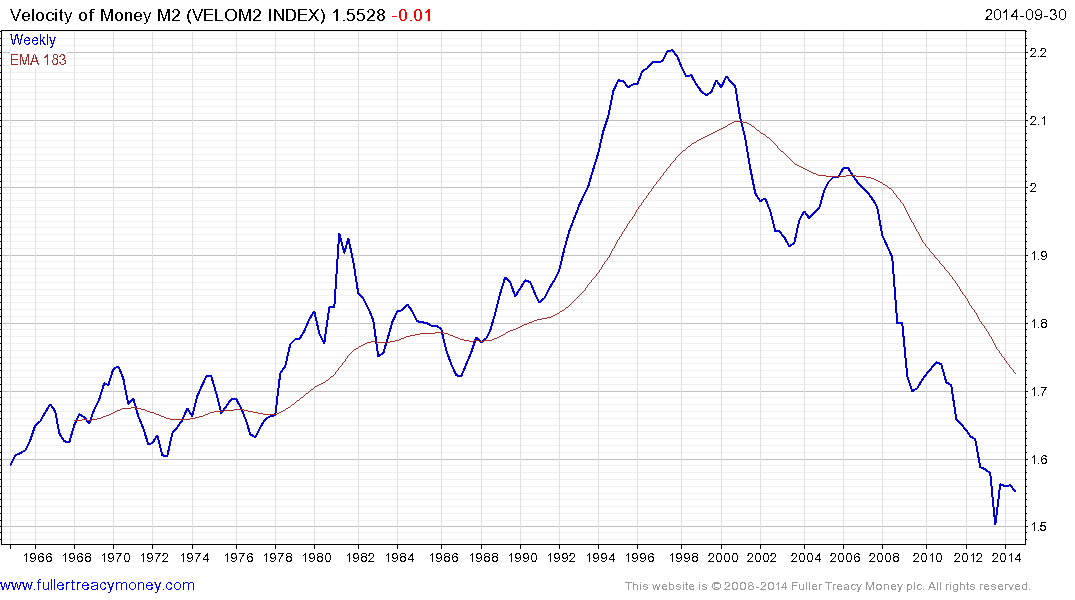 Anyone who has read Crowd Money will be familiar with the importance of the Velocity of Money which has been trending lower since 1997. This index is updated quarterly by the Fed and as long as it was trending downwards, the potential that extraordinary monetary accommodation would result in out of control inflation was minimal. The figures were revised at the end of October to show a bounce earlier this year which is the single biggest rally since the peak more than 14 years ago and from a 55-year low. This is not a lead indicator but with lower energy prices and a resurgent consumer, the Index can be expected to rally again at the next update.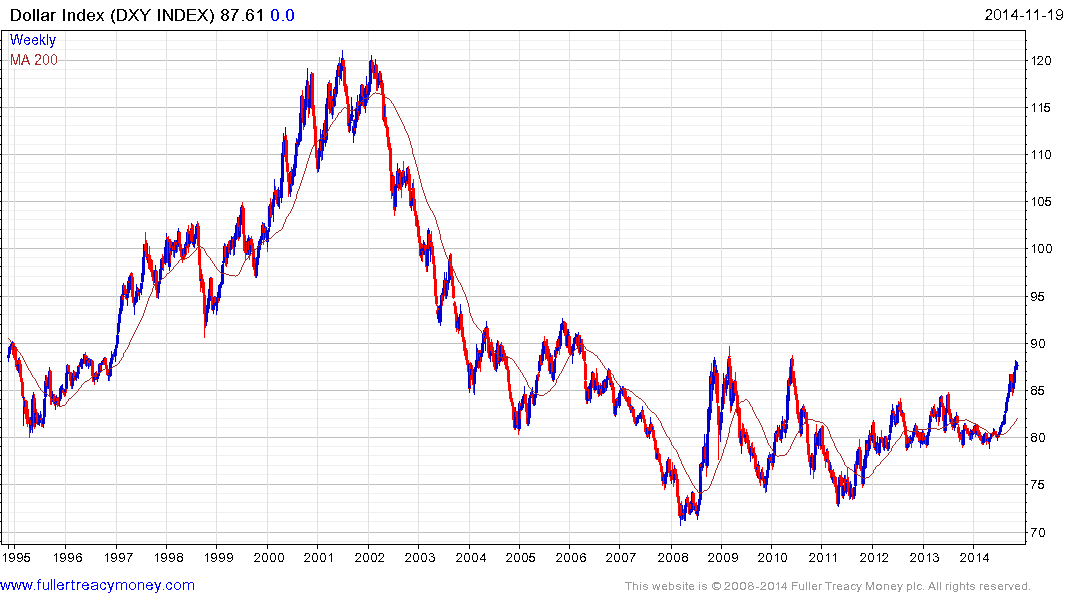 If the Velocity of Money has bottomed, there is less need for aggressive money supply growth. Additionally, this is a contributory factor behind the Dollar's strength not least as velocity is still trending lower elsewhere.
Back to top