Voters could legalize marijuana for quarter of all Americans
This article from Reuters highlights one of the more important decisions to be taken by US voters today. Here is a section:
In California, where medical marijuana has been legal since 1996, a recent poll by the Public Policy Institute of California showed 55 percent of likely voters supported a ballot initiative that would authorize the state to tax and regulate retail cannabis sales much like it does alcoholic beverages.

That was similar to the numbers favoring legalization from opinion polls in Massachusetts and Maine. Slimmer majorities or pluralities also point to legalization in Arizona and Nevada.

Approval by California alone, America's most populous state with 39 million people, would put nearly a fifth of all Americans living in states where recreational marijuana is legal, according to U.S. Census figures. That number grows to more than 23 percent if all five state measures pass.

Backers of legalized marijuana sales have tried for decades to win support at the ballot box, with little success until the past few years, starting with victories in Colorado and Washington state in 2012.

Experts say the latest initiatives include more sophisticated regulatory mechanisms aimed at keeping cannabis away from children and banning the involvement of criminal gangs and drug cartels. Public opinion has rapidly swung toward favoring legalization.

"It's changed in the minds of these voters from being like cocaine to being like beer," said University of Southern California political scientist John Matsusaka.
Time and again prohibition has been demonstrated as a failed strategy. There are of course very real side effects that result from smoking cannabis and most particularly for young people. The problem for those campaigning against legalisation is proving cannabis has no health supporting effects. Millions of people have personal experience to the contrary and that has helped drive wider acceptable of the plant's curative properties. This is especially true for ailments modern medicine is not a good fit for such as chronic pain, migraines and posttraumatic stress.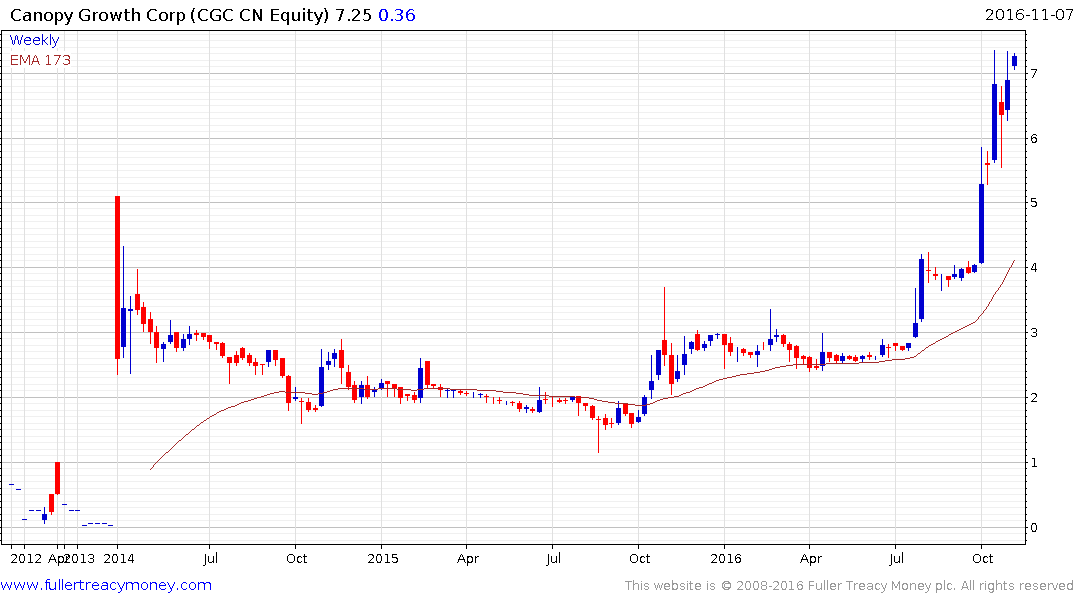 Perusing the cannabis/marijuana section of the Chart Library, the majority of shares are trending higher with Canopy Growth Corp breaking to new highs yesterday.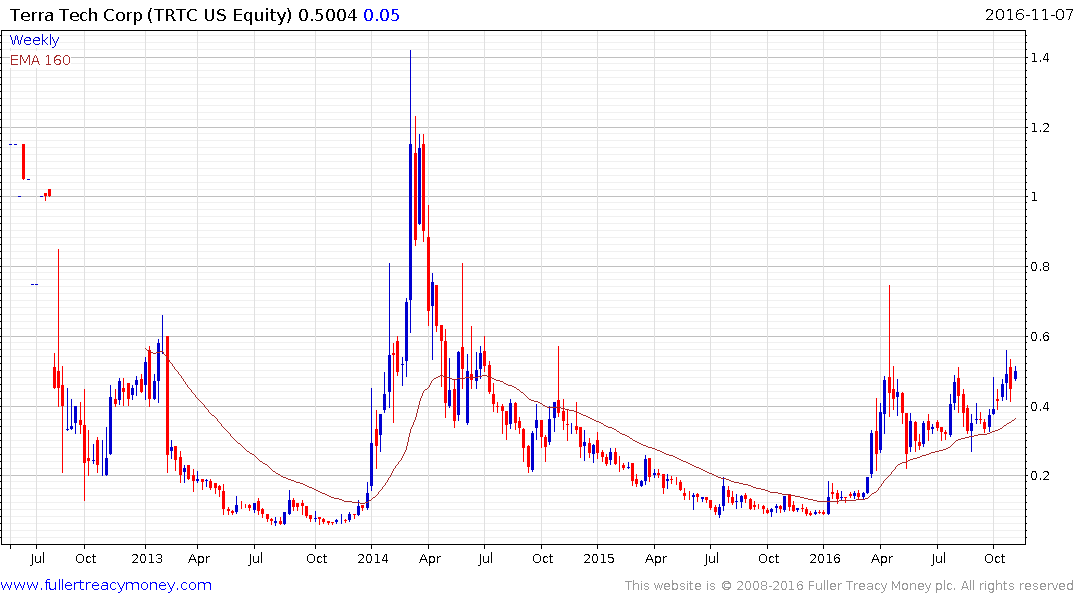 Terra Tech Corp appears to be in the process of completing a first step above its base.
Back to top