An incredibly crude form of virtual reality was proposed in 1963. When NASA and the Airforce tried to use it as a tool for training pilots they ran into a problem. The inner ear was getting disoriented and cadets were vomiting after only a few minutes using the headsets. It's been more than 50 years and the kinks are pretty close to being worked out.
Gaming now makes more than twice what Hollywood takes in at the box office; $70 billion in 2013 alone. If you're a 40-year old man you probably look back with fond memories at that Atari or Commodore 64 computer you had when you were a child. You might have upgraded over time or you're waiting for your kids to be old enough so you can justify buying the latest X-Box or PlayStation. Today cinemas host gaming leagues on their big screens where kids compete for prizes. The emerging virtual reality sector is aiming squarely at this demographic. 10 years from now they'll be in that attractive 18-34 year old consumer bracket.
In 2014 Facebook paid $2 billion for a start-up virtual reality company, Oculus Rift. Wall Street didn't like it at the time because investors asked what on earth is a social media company doing with a virtual reality hardware manufacturer? Then only a couple of months late Microsoft paid $2.5 billion for Minecraft. That might sound like a lot of money but it works out at $125 for each one of the franchise's 20 million tween customers and the promise of locking them into the company's ecosystem for life.
Microsoft then used Minecraft to showcase its Halolens hologram based virtual reality system in June 2015. The release of Windows 10 in July 2015, for free to existing customers represented a clear decision by the company to become a technology hub affecting every area of our lives.
Virtual reality gaming systems are due to ship from March 2016 and game developers are racing to get titles out in time to ride that initial wave of optimism. This is a big deal for the gaming industry. It could easily be the greatest sensation to hit the sector since the Nintendo Wii almost a decade ago. Why you might ask?
Virtual reality gives you a completely immersive experience. Anyone who has tried it is lost for words and compares it to the escapism of illicit drugs but without the side effects. Most important of all is that it gives you a feeling of being somewhere else you just can't get with another technology and because of that it defies gender boundaries. The logical endgame for virtual reality is a fully immersive shopping experience.
Google, with Samsung, is already testing applications that will run virtual reality on your Android phone. All you will need to do is pop the phone into a headset, lean back and stroll through your favourite boutique from the comfort of your armchair. No more struggling with finding parking, slogging through traffic or lugging around heavy bags. However you will get the ambiance of shopping, the ability to browse through shops, stroll through a beautiful place replete with sensory experiences designed to make you feel good. One click purchasing will ensure you get what you want delivered on the same day and it might even be delivered by drone.
You will set up dates, shopping trips and mini adventures via the virtual world. It is even possible that you will have real life sales assistants ready to greet you within the virtual world when you enter stores.
In the most inspiring application of the internet experience virtual reality will further enable social interaction and collaboration and as such it has the capability to enhance further the pace of technological innovation driving the Third Industrial Revolution.
If you doubt people can be inspired to participate in an online world consider World of Warcraft which has 5.6million subscribers as of 2015 and 100 million accounts have been created since its release in 2004. People already trade in virtual goods and services via this game so it is only a small leap for consumers to do the same with real world goods and services and the potential for growth is mindboggling.
The credit crisis took a heavy toll on main street. Vacant stores are evident on the primary arteries of most cities. The businesses that survive are service oriented. Restaurants, hair dressers, nail salons, dentists, doctors, florists etc. have survived and even thrive but mom and pop resellers are gone. The future of physical locations is in customisation and service, everything else is moving online and will soon be available in the virtual world.
A few months ago I created a section in the Chart Library for virtual reality related companies.

Facebook, Sony and Valve Corp/HTC are going to be the first to market with hardware. As is its wont, Apple will probably wait and see what works before trying to make it better so watch for their product over the next few years.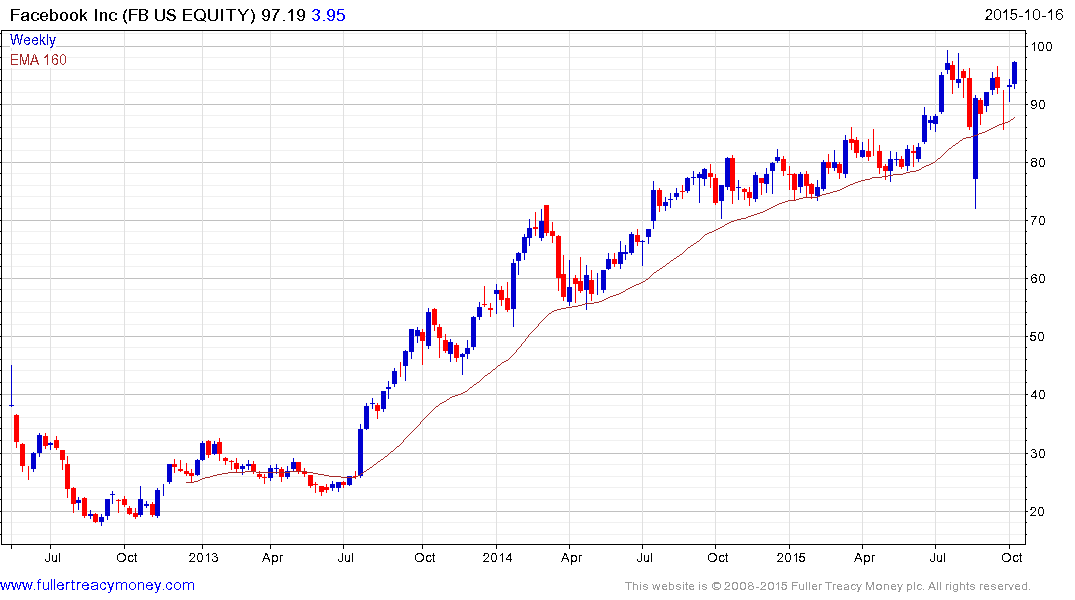 Facebook continues to hold a progression of higher reaction lows and bounced back impressively from the August lows.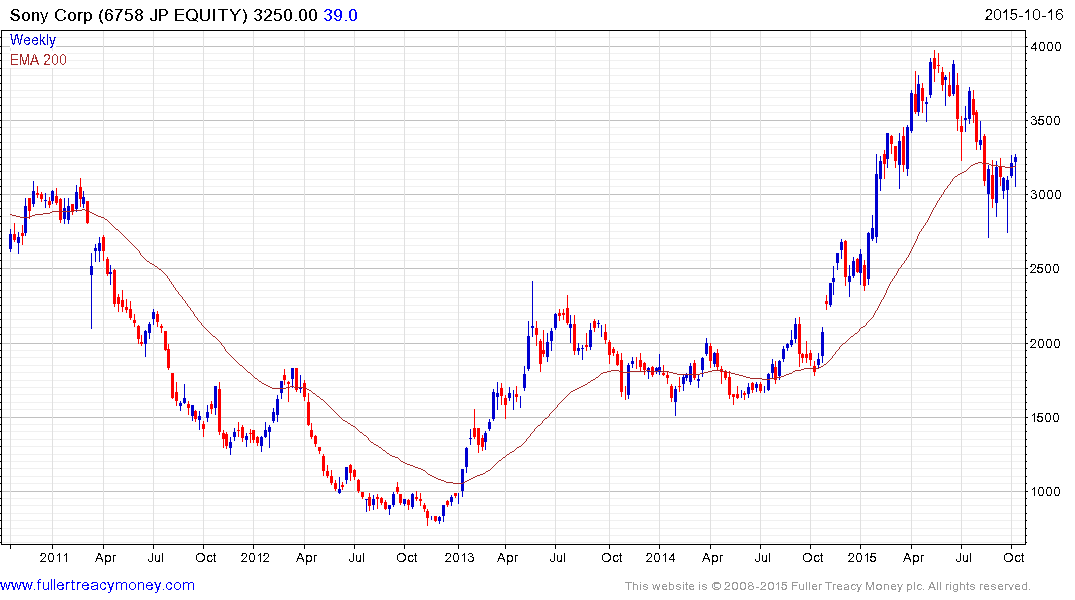 Sony has found support in the region of its 200-day MA and moved to a new two-month high today.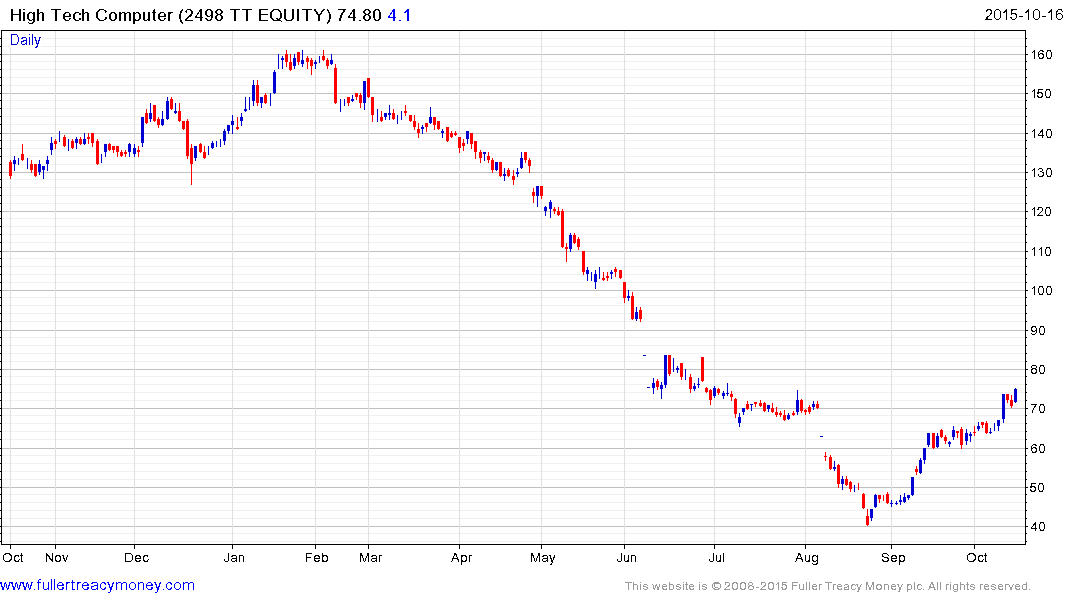 Taiwanese listed HTC almost went bust trying to compete with Apple's iPhone so virtual reality is a one-way bet for the company. It might just have a chance because its partner, privately held Valve Corp, represents close to a monopoly in the $4 billion per annum PC game downloads market. This represents tens of millions of potential customers for its solution. The share found support in late August following an accelerated decline and a reversionary rally remains in evidence.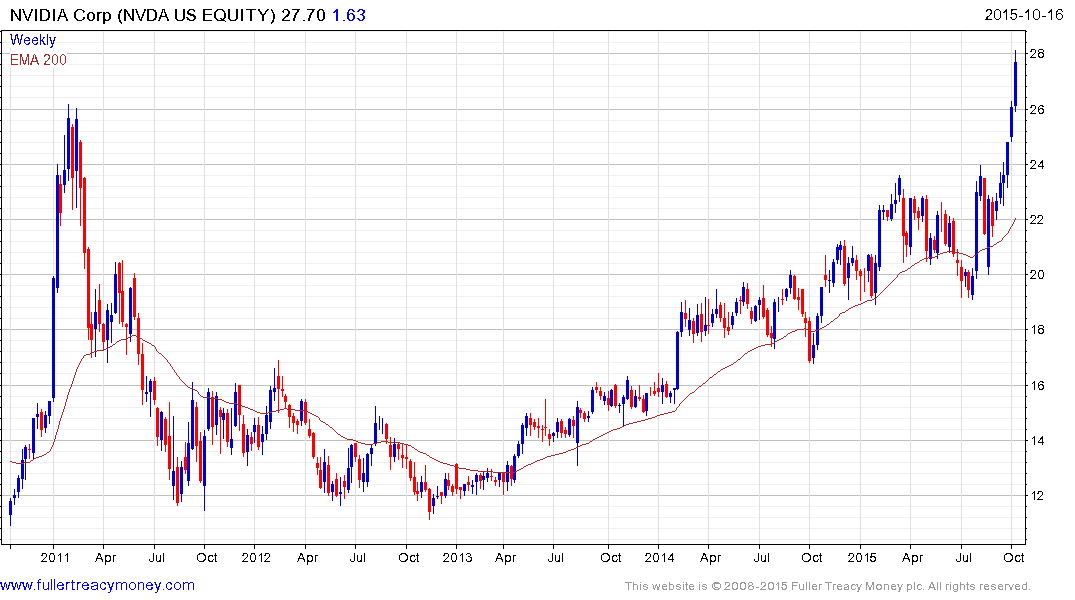 Nvidia produces the best graphics cards in the world and virtual reality processors are incredibly demanding on PC architecture. The share moved to a new 7-year high this week following an impressive short-term rally. Some consolidation of this powerful move is looking increasingly likely but a sustained move below the trend mean would be required to question medium-term scope for continued upside.
Virtual reality means competition in the retail sector is only going to intensify as the differentiation between the physical and virtual shopping experience blurs.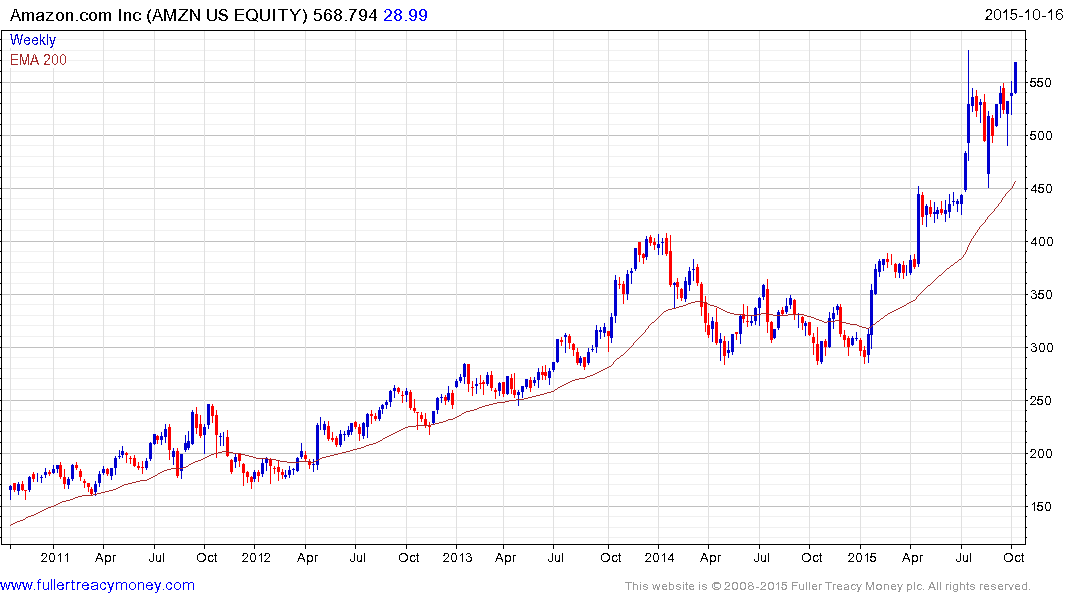 Amazon is in pole position to be the number one retailer globally and will be among the first to debut a virtual reality shopping experience. The share moved to a new closing high this week and a break in the medium-term progression of higher reaction lows would be required to question medium-term uptrend consistency.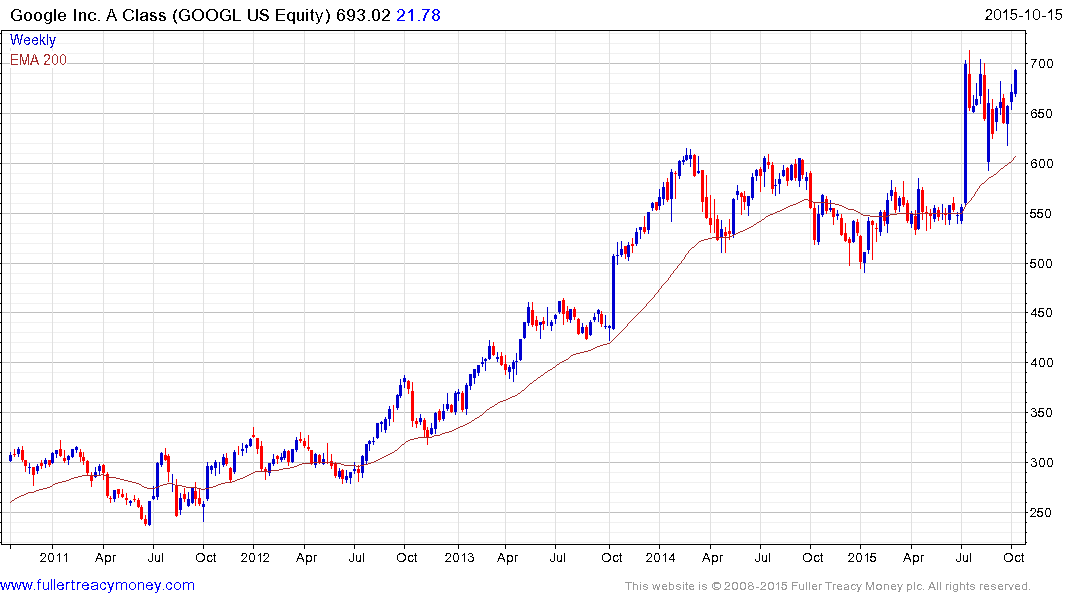 Google has been ranging above $600 in a reasonably orderly fashion since July and a sustained move below the trend mean would be required to question potential for continued upside.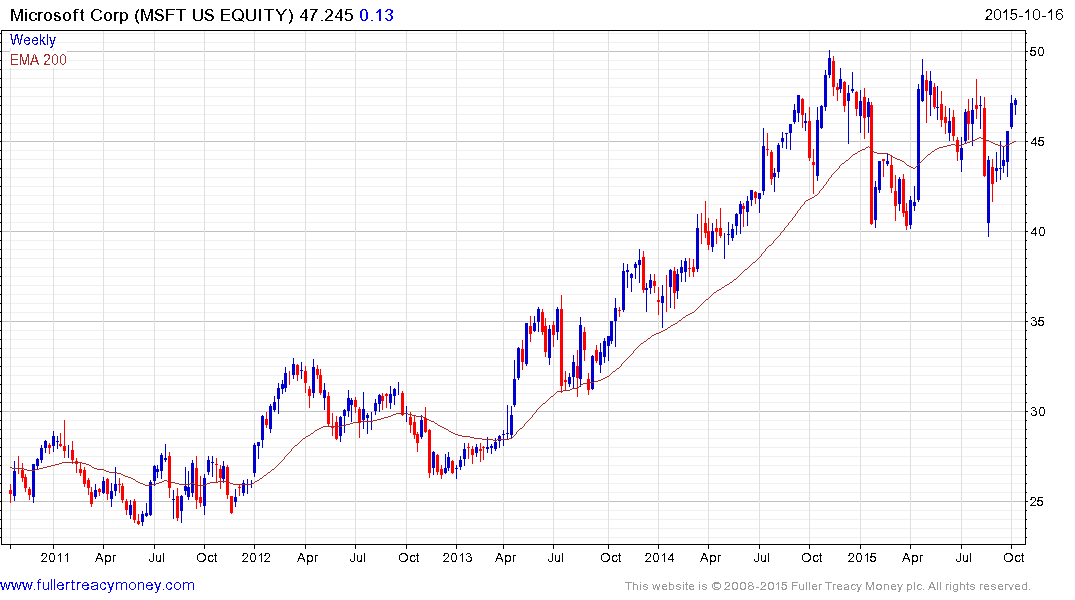 Microsoft is taking a completely different tack to the rest of the sector with its interactive holograms. The share has been ranging above $40 for most of the year and a sustained move below that level would be required to question medium-term scope for a successful upward break.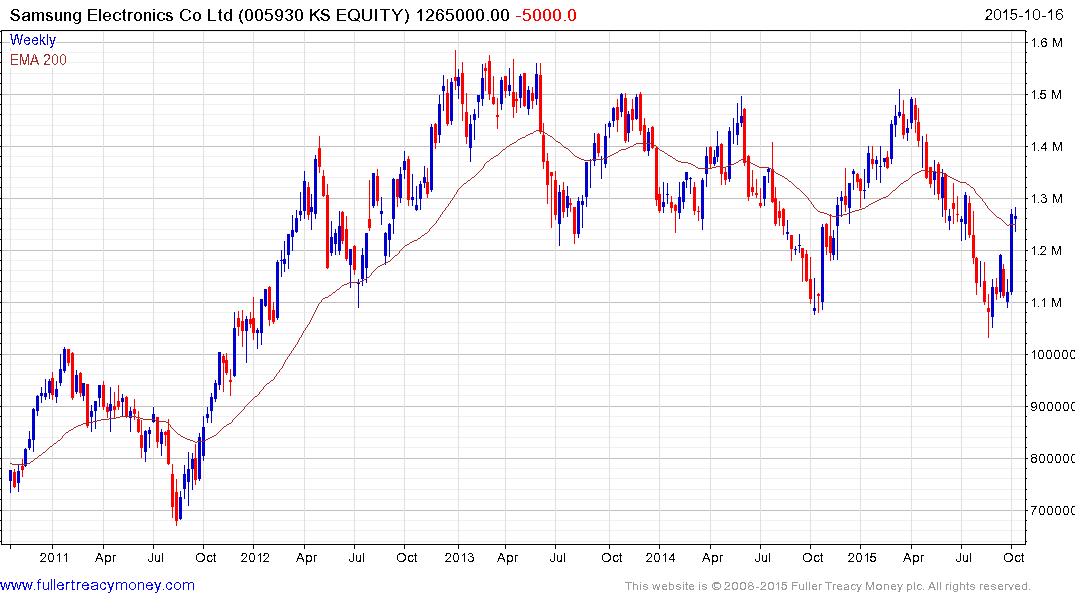 Samsung Electronics has been ranging with a downward bias for two years. It is currently bouncing from the lower boundary but will need to sustain a move above KRW1.5million to signal a return to demand dominance beyond the short term.
Back to top