U.K. Plans New Energy Law to Enable Renewable, Nuclear Build Out
This article from Bloomberg may be of interest to subscribers. Here is a section:
The U.K. will introduce new laws for energy to enable a fast build out of renewables and nuclear power stations as set out in the government's energy security strategy last month.

An energy bill will be included in the Queen's Speech on May 10, according to a person familiar with the matter who asked not to be named because the information isn't public.

The last significant set of energy legislation was in 2013 and the government has accelerated its push toward net zero significantly since then. Britain is targeting a tripling of installed nuclear power capacity by 2050 and plans to build 50 gigawatts of offshore wind farms this decade. The nation has also increased its ambition on hydrogen, solar power and measures to spur North Sea oil and gas projects.

"This country now has a raft of ambitious targets in place and the focus must now be on delivering these," said Dhara Vyas, director of advocacy at EnergyUK. "A new Energy Bill should create a framework for a low carbon future. The energy industry is ready to deliver."
North Sea oil allowed successive UK governments the leeway to avoid thinking seriously about energy policy. In the 15 years since the UK became a net energy importer, social cohesion has deteriorated, taxes have risen, debt has become problematic and social services have suffered. That's not all because of energy imports but it is a factor at the margin.
European energy security is likely to remain front of mind for much of this decade. Every form of alternative energy is likely to benefit from the requirement to reduce reliance on Russian exports. Accelerating the construction of nuclear reactors and championing small modular designs is central to that policy.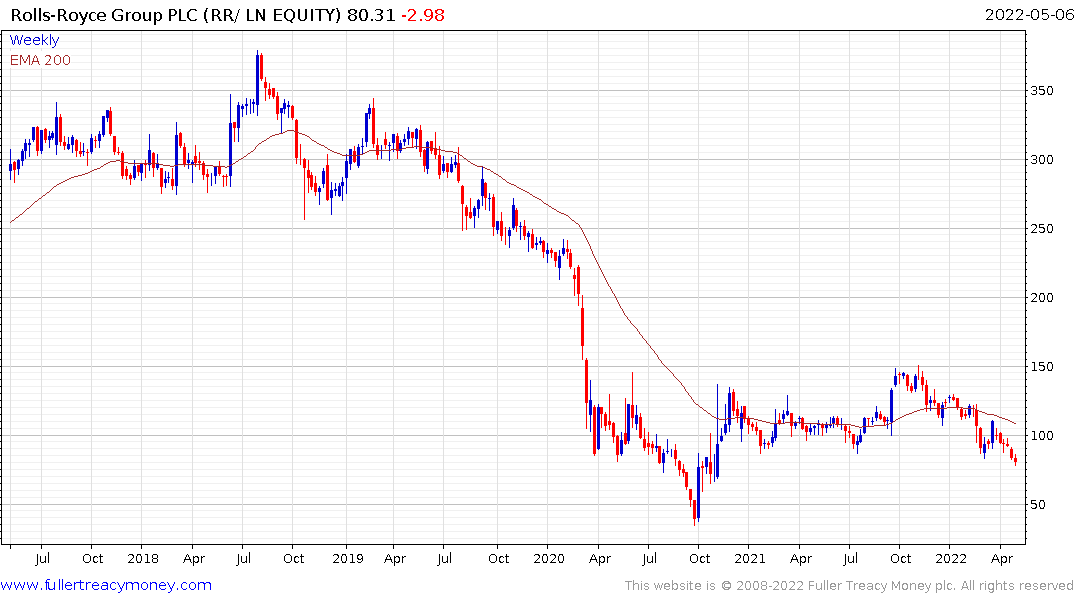 Rolls Royce continues to sell off in line with the wider market and a clear upward dynamic will be required stem the slide.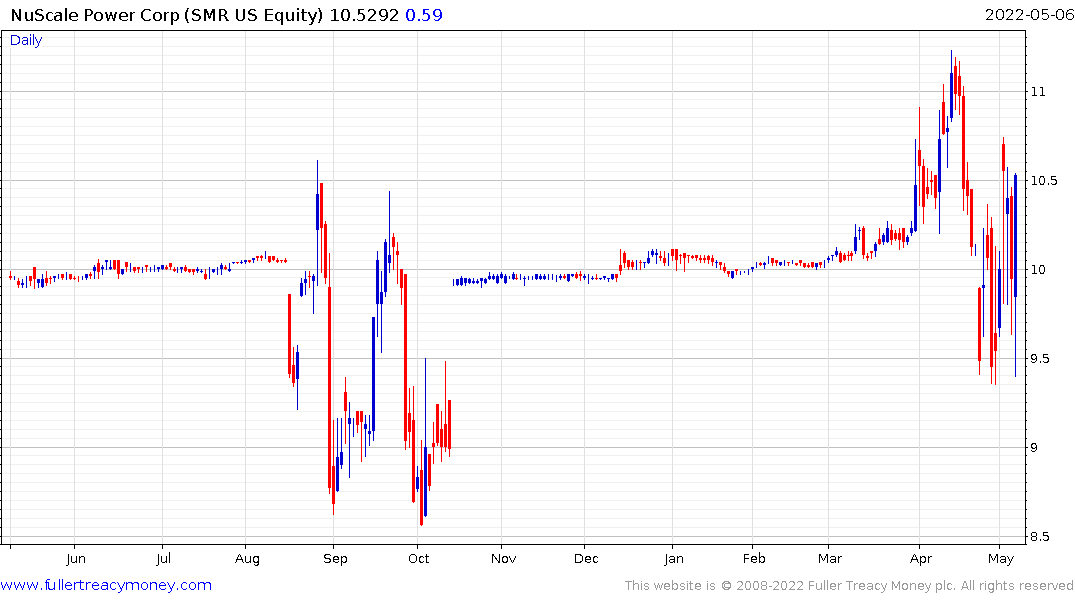 NuScale Power went public this week through a SPAC. The share has been reasonably steady since.
New technologies for drilling geothermal wells are also likely to gain traction. Here is a section from an article by newaltas
Military experiments in the late 90s showed promising results indicating that laser-assisted drilling could get through rock 10-100 times faster than conventional drilling, and you can bet this was of great interest to oil and gas companies.
A direct-energy drilling process, wrote Impact Technologies president Kenneth Oglesby in a 2014 MIT report for the US DOE's Geothermal Technologies Program, would offer some huge advantages: "1) no mechanical systems in the wellbore that could wear out or break, 2) no temperature limit, 3) equal ease penetrating any rock hardness, and 4) potential for replacing the need for casing/cementing by a durable vitrified liner."
That last point is interesting – a direct-energy drill would effectively cauterize the rock it cut through, melting the bore shaft as it goes and vitrifying it into a glassy layer that would seal out fluids, gases and other contaminants that have caused problems in previous ultra-deep drilling projects.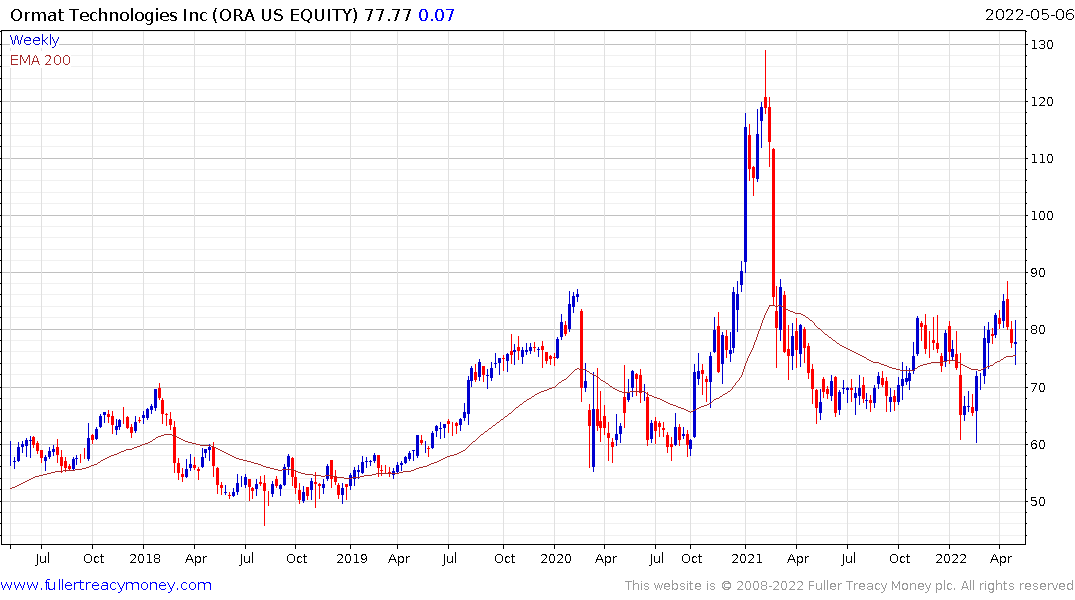 Ormat Technologies is the only pureplay in the geothermal sector I know of. The company has utility and construction projects all over the world and a steady pipeline to boot. The share is currently holding the region of the 200-day MA.
Construction of Europe's largest offshore wind farm began this week. When completed in 2026 it aims to supply enough power for 6 million homes. NKT is laying the cables for the operation and GE is manufacturing the turbines.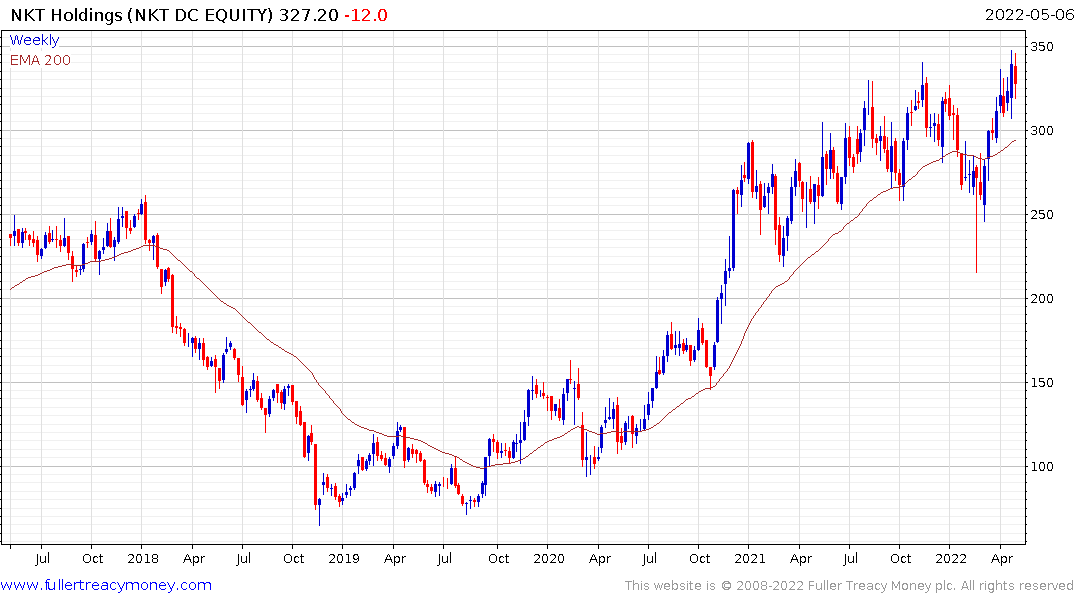 NKT is holding the breakout to new highs from last week.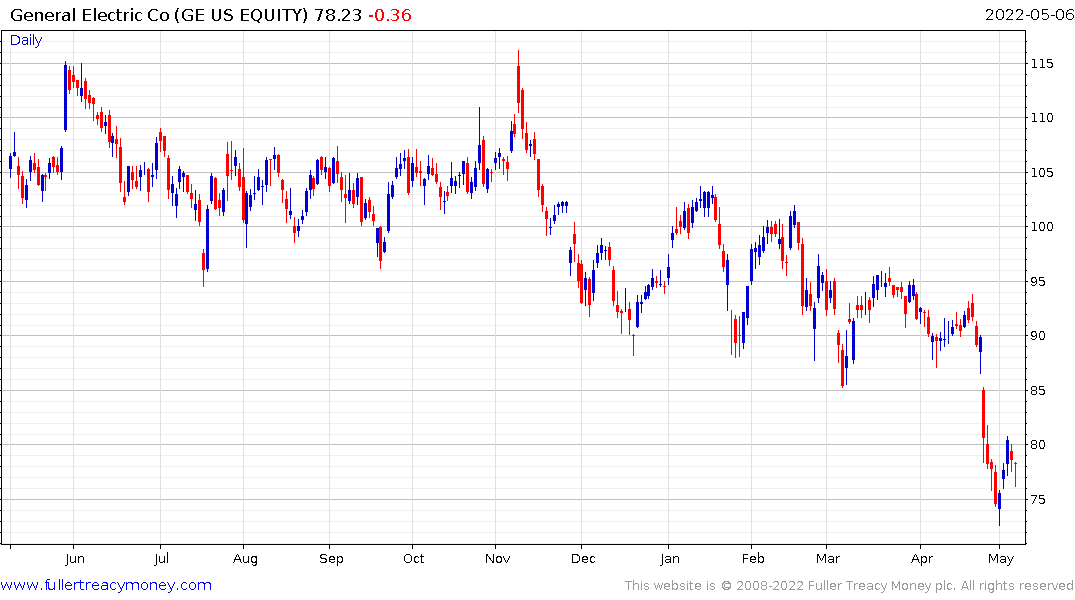 GE is showing initial signs of steadying following last week's plunge.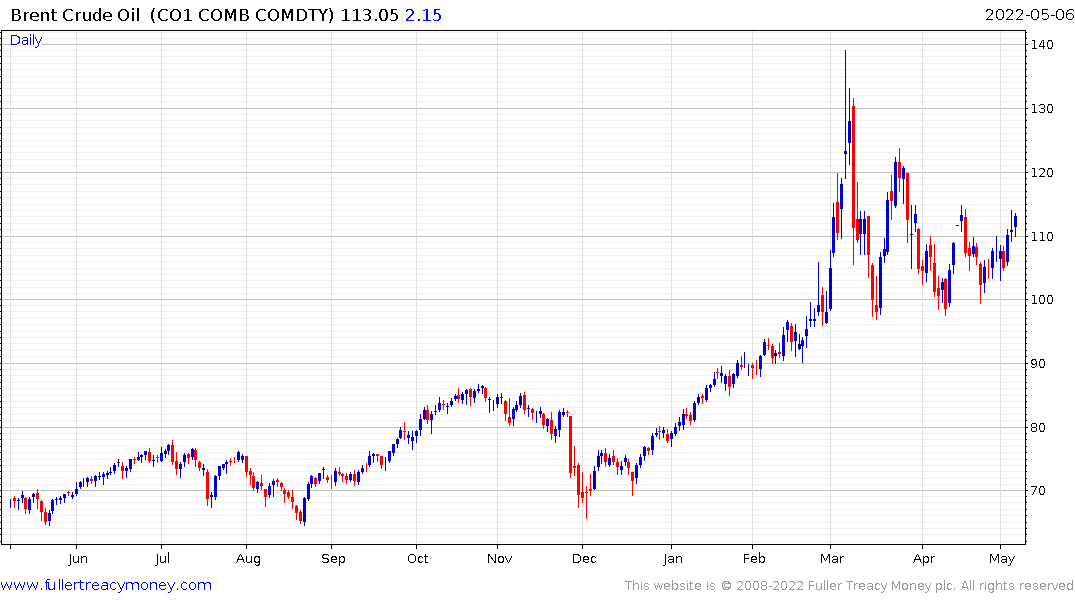 Meanwhile crude oil continues to firm from the psychological $100 level but has not quite yet broken the two-month sequence of lower rally highs.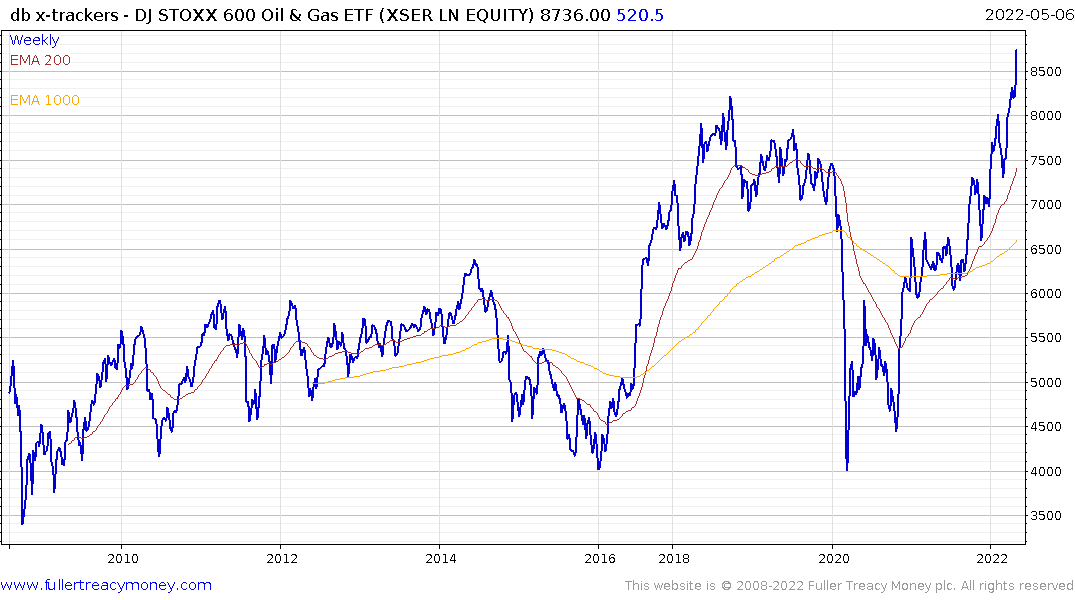 The Xtrackers MSCI Europe Energy ESG Screened UCITS ETF (XSER LN) broke out to new all-time highs this week as oil companies recover.
Back to top