Toyota opens fuel cell patents to drive "hydrogen society"
This article by C.C. Weiss for GizMag may be of interest to subscribers. Here is a section:
Toyota hopes to help jumpstart this future hydrogen society by sharing its intellectual property. This week's announcement represents the first time that it's sharing patents free of charge. The automaker helped to grow the gas-electric hybrid market in a similar manner, but those licensed technologies didn't come free.

"At Toyota, we believe that when good ideas are shared, great things can happen," said Bob Carter, senior VP of automotive operations at Toyota Motor Sales, USA Inc. "The first generation hydrogen fuel cell vehicles, launched between 2015 and 2020, will be critical, requiring a concerted effort and unconventional collaboration between automakers, government regulators, academia and energy providers. By eliminating traditional corporate boundaries, we can speed the development of new technologies and move into the future of mobility more quickly, effectively and economically."
I wonder if falling oil prices had any impact on Toyota's decision to open its patent portfolio for hydrogen-fuelled vehicles to the masses? After all one of the most compelling reasons for considering alternative fuel vehicles was the high cost of gasoline. The technology has come a long way in the last twenty years and governments are now more amenable to emission free technologies because of environmental concerns. However the total cost of ownership is likely to continue to be the primary arbiter for the majority of car buyers.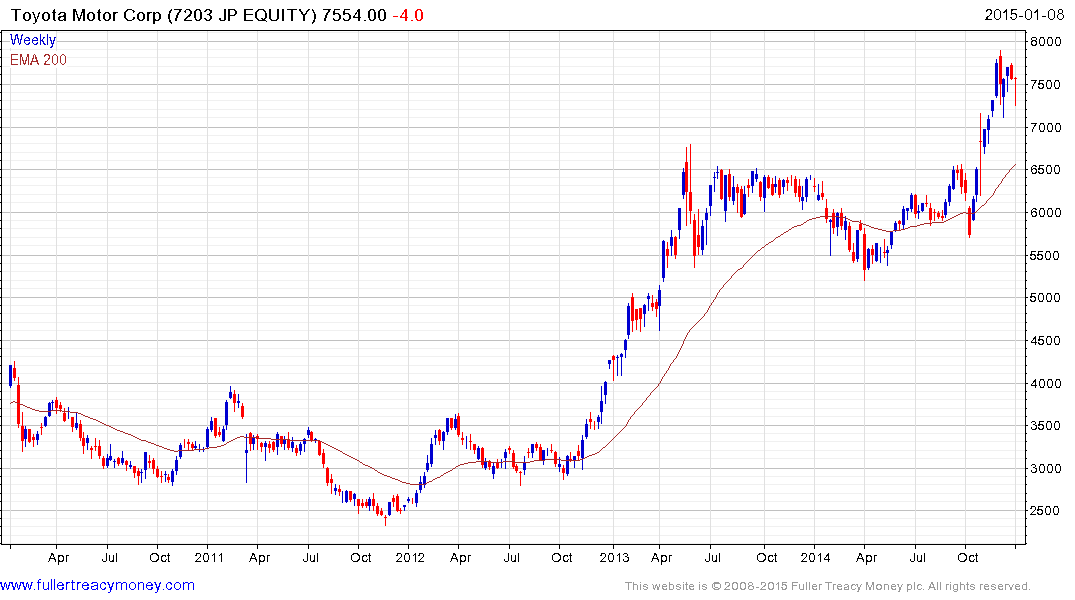 As a pioneer in the electric vehicle sector Toyota is presumably seeking the same success with the Mirai that it had with the Prius. Regardless of the footprint hydrogen fuel cells have in future, the release of the technology is a positive development and helps raise the company's profile. The share has been consolidating its late 2014 rally for the last month and a sustained move below the 200-day MA would be required to question medium-term scope for additional upside.
Back to top