I compiled this spreadsheet of the Nasdaq-100's constituents this morning when the Index was down 50 points and flirting with the region of the 200-day MA and the February lows. It reversed the entire decline in the last hour of trading suggesting at least some traders are betting the short-term oversold condition will be at least partially unwound.
Ranking the spreadsheet by the companies with the highest historic P/Es those which have had the deepest pullbacks are grouped towards the top and represent the biotech and new tech sectors. These shares have now pulled back by enough that some value oriented investors are beginning to look for opportunities. However, since they still trade on highly speculative valuations the best that can be expected is that we see some ranging as support is found and confidence gradually rebuilt.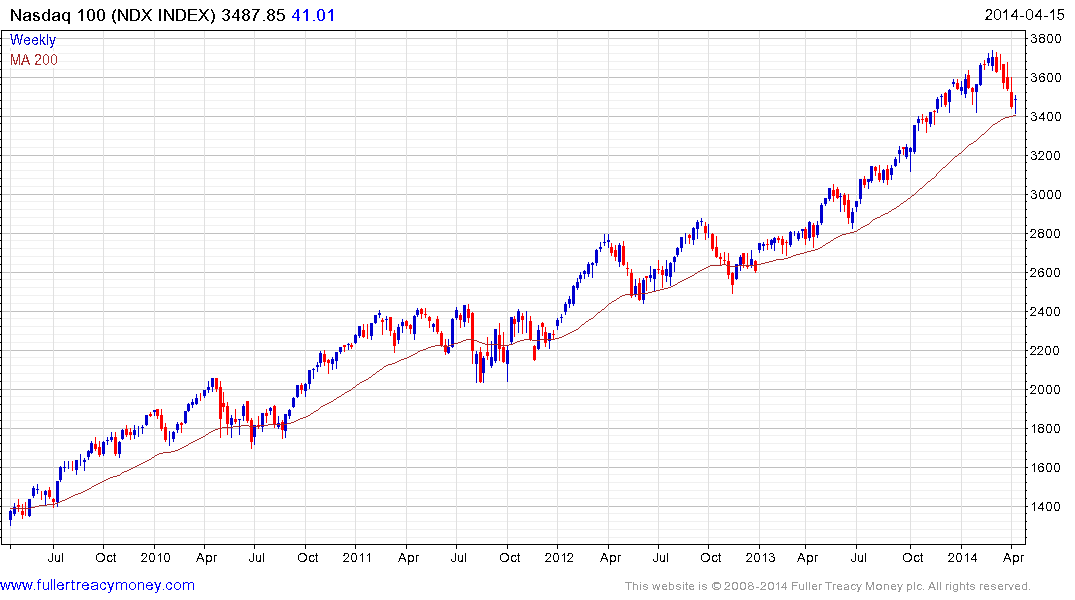 At the other end of the scale, companies with reasonably attractive valuations and solid records of dividend increases have been less subject to volatility. I reviewed a number of companies relating to the growth of big data in a piece posted on April 8th and these companies also are not as expensive as some of the more recent high fliers.
It is now evident that investors have refocused on value rather than growth and that over extensions relative to the trend mean are being viewed as opportunities to take profits rather than increase leverage.
Back to top