The Continuum of Disruption
Thanks to a subscriber for this report from the team at Raymond James focusing on the revolution in the retail sector. Here is a section:
Reflecting on the past and examining the continuum, it was and is totally logical that that Amazon first attacked "media" (books, etc.) as its entry into eCommerce. Books are typically small, easily shipped and not damaged in shipping, require little additional selling by the vendor (other than recommendations from friends, families, or acquaintances), require no imagination to understand the form, and have an indefinite shelf life.

Nearby, we then positioned electronics – particularly consumer electronics including televisions, computers, and other similar electronic accessories. While some of these items are outsized, the form factors for most of these have become smaller as technology has advanced, thereby becoming easier to ship. Additionally, there is now so much online literature on the various alternatives available that make human selling interaction less necessary (or helpful or trusted). And finally, while the technological life of many of these products may be limited, the physical lives are longer, sometimes infinite.

At the other end of the continuum, we position heavy building materials such as gypsum, bags of cement, cinder blocks, and lumber. These items tend to be irregularly packaged and often not acceptable for shipment by UPS and/or Federal Express and subject to damage if shipped over-the-road by truck. Accordingly, Home Depot and Lowe's, each of which has be developing their own eCommerce capabilities, have, to date, been less intermediated by the pure e-tailers than a host of other brick and mortar retailers.
Here is a link to the full report.

The big box departments stores have collapsed. The fact they had posted some of the most consistent uptrends from their respective 2008 lows; bouncing so early following the credit crisis is a testament to just how quickly the market is changing.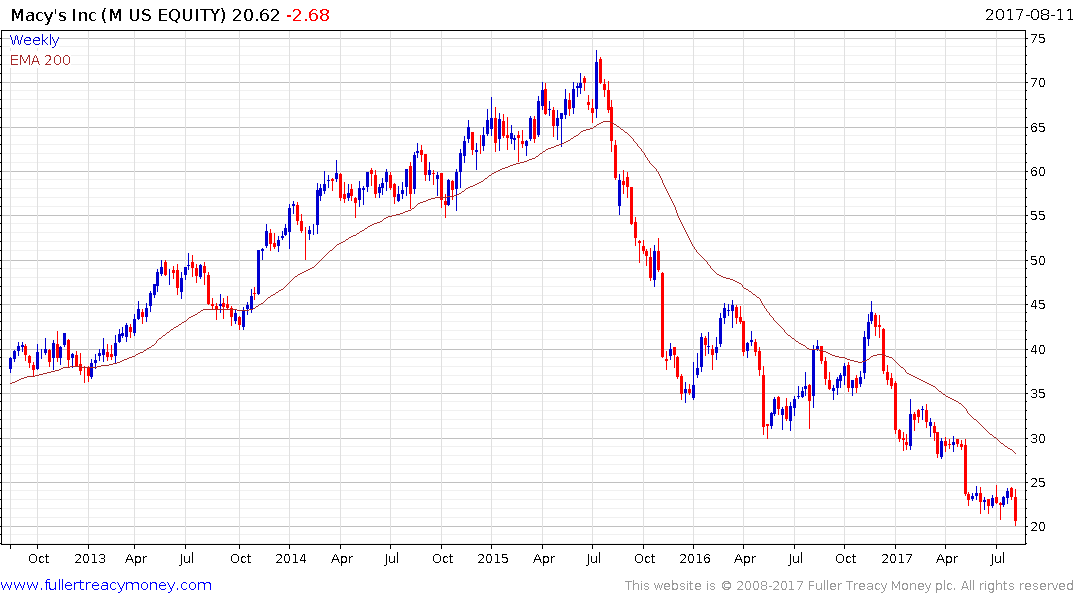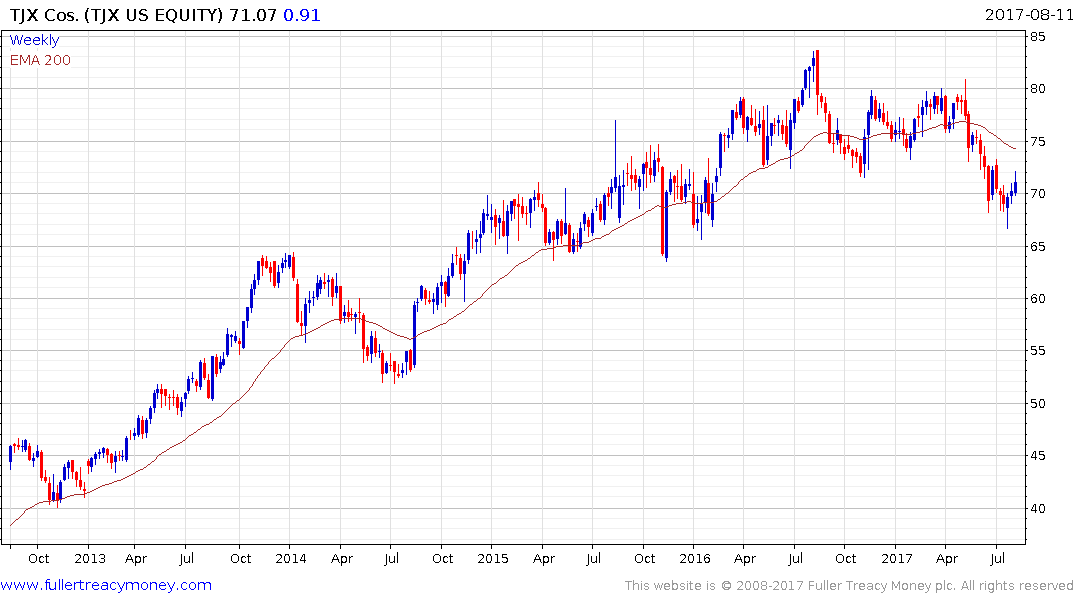 TJX has the same high street locations as MACY's but competes on price and tends to focus on shelf stackers and check-out staff rather than sales people. The question now is whether the retrenchment of brands like Ralph Lauren, Coach and Michael Kors will restrict supply of their wares to discounters like TJX and Ross Stores. Considering their sales pitch is brands for less that is an important question.

TJX posted a downside weekly key reversal from its peak a year ago and dropped in June to break the medium-term progression of higher reaction lows. Having bounced over the last few weeks, it pulled back today and will need to sustain a move above the trend mean to question potential for additional downside. There is real potential the share is completing a medium-term top formation.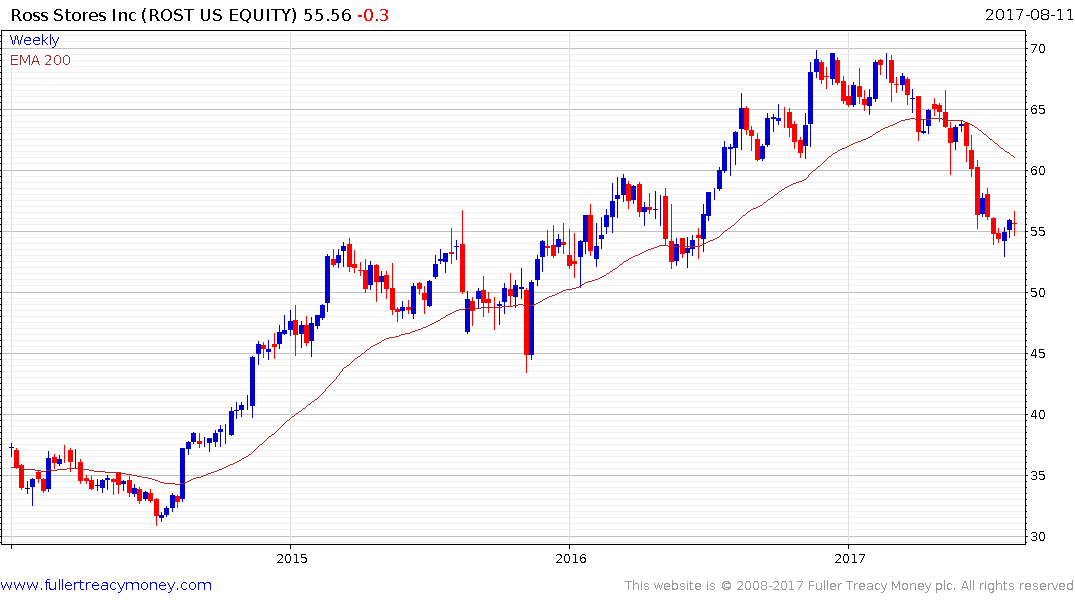 Ross Stores experienced a deeper pullback in June and has so far rallied less.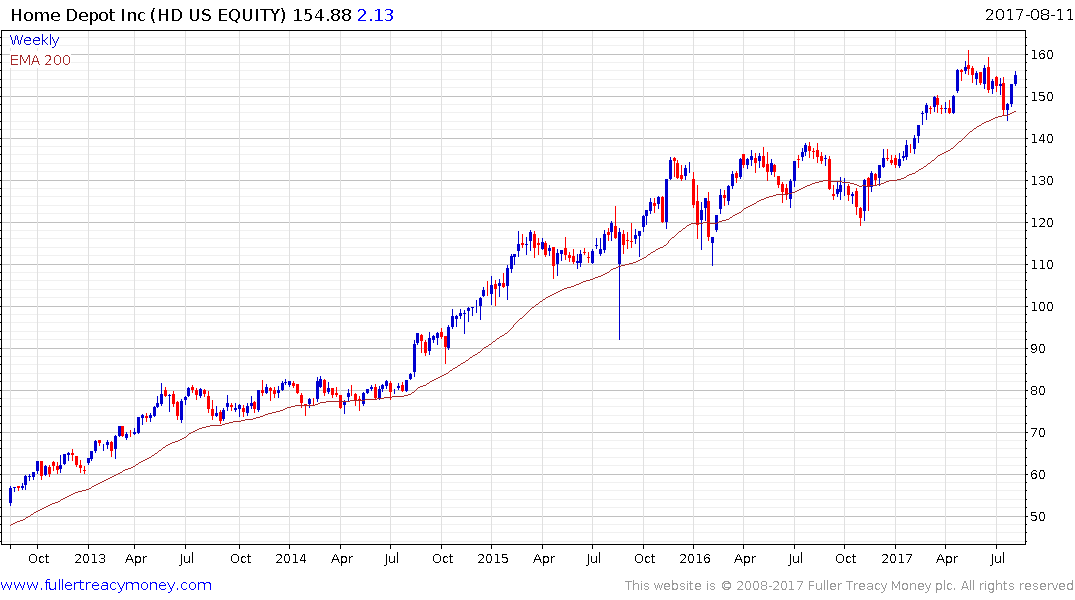 Meanwhile as the above report identifies, companies selling large bulk items like Home Depot have been comparatively unaffected by the e-tailing transition. However, Lowe's has experienced a significant loss of momentum over the last two and half years and will need to sustain a breakout to new highs to confirm a return to demand dominance.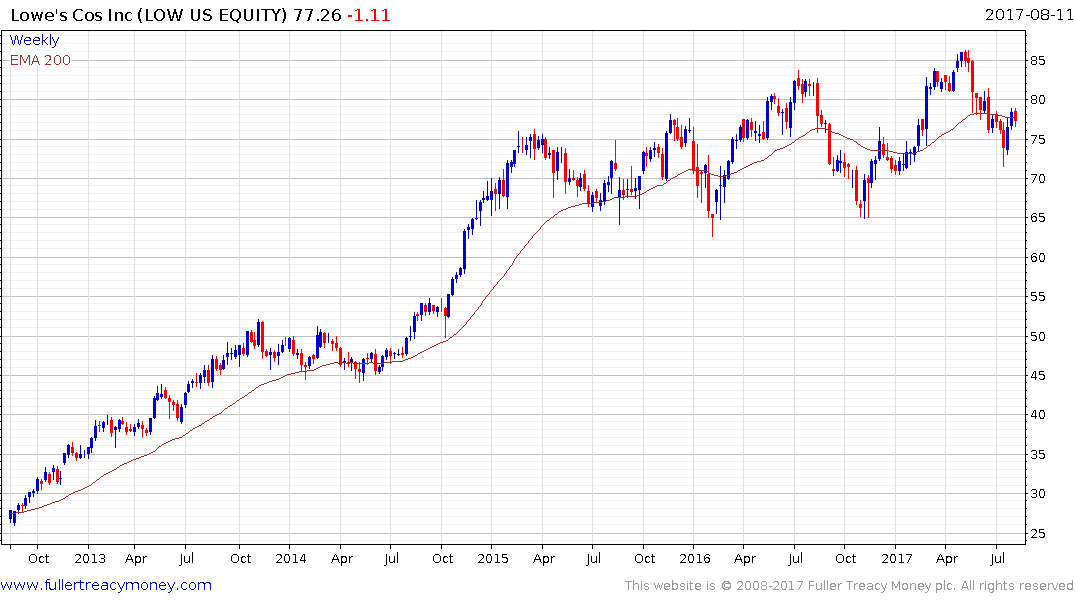 Back to top