The Chinese scientist who claims he made CRISPR babies is under investigation
This article by Antonio Regalado for the MIT Technology Review may be of interest to subscribers. Here is a section:
He said the girls had been conceived using IVF but that his team had added "a little protein and some information" to the fertilized eggs. That was a reference to the ingredients of CRISPR, the gene-editing technology he apparently employed to delete a gene called CCR5.

The claim set off a wave of criticism in China and abroad from experts who said the experiment created unacceptable risks for a questionable medical purpose. Feng Zhang, one of the inventors of CRISPR, called for a moratorium on its use in editing embryos for IVF procedures.

Documents connected to the trial named the study's sponsors as He along with Jinzhou Qin and said it was approved by the ethics committee of HarMoniCare Shenzhen Women and Children's Hospital.

On Sunday, the Shenzhen City Medical Ethics Expert Board said it would begin an investigation of He's research and released a statement saying that HarMoniCare "according to our findings … never conducted the appropriate reporting according to requirements." The former medical director of the private hospital, Jiang Su-Qi, told Southern Capital News he had no recollection of approving He's research while he was on its ethics committee.

"These two children are the guinea pigs. They will go through their whole maturing process having not understood the risks ahead of time," said Liu Ying of Peking University's Institute of Molecular Medicine.
Has He been suspended because he went ahead with live human experiments of CRISPR gene editing or because he went public with the news? I have never doubted that China would be the first country to embrace a no-holes-barred approach to genetic editing, including in humans.
The Communist Party has long demonstrated a lack of regard for the sanctity of human life whether that is forced terminations or harvesting organs from prisoners. Biotechnology is a major field of endeavour and forms part of the Made in China 2025 platform for government support. China has every expectation of being the leader in biotechnology within 20 years because it is ploughing ahead with investment, research and engaging in experimentation with abandon.
The choice of trying to treat HIV with genetic editing is an interesting one because it gives us a clear perspective on the way researchers are thinking. The only reason to bring babies to term is to harvest blood in sufficient quantities that it can be tested for resistance to HIV across a broad range of scenarios and stimuli.
However, HIV incidence is declining steadily so it is arguable whether this is a useful use of researchers' time. On the other hand, it makes a sufficiently big headline to attract interest and begs the question of what else is possible.
There are three primary aims behind genetic editing, synthesis and regulation. They can be broken down into medicinal, cosmetic/enhancement and military. Today we have designer babies, and it is only a matter of a few years before it will be possible to choose hair colour, height etc. Intelligence is harder but by no means an insurmountable challenge.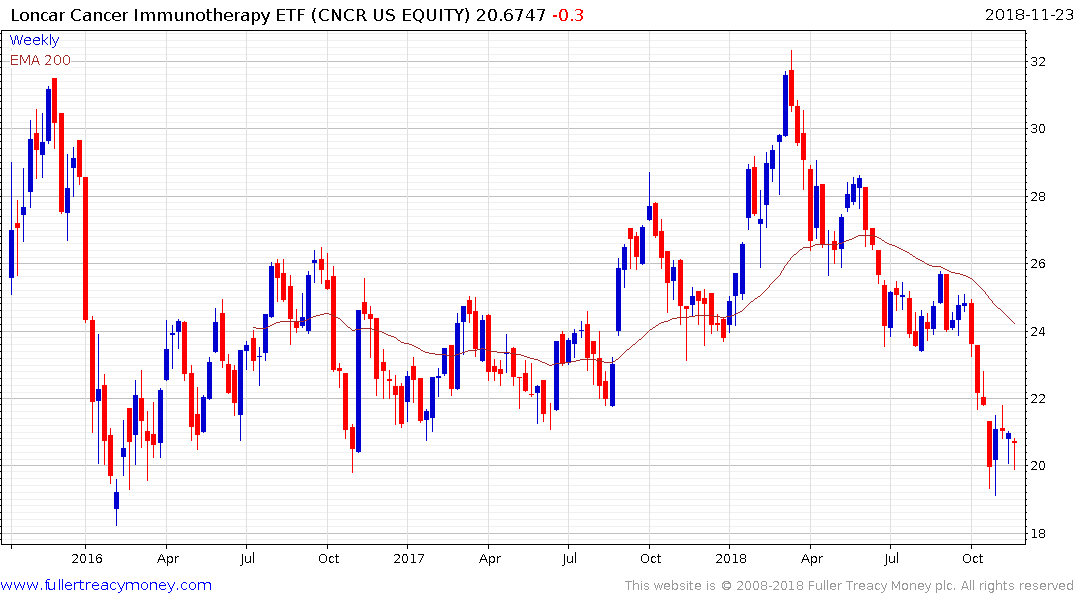 The medicinal attributes of the field have been most clearly explored in oncology. The Loncar Immunotherapy ETF and been falling all year, in line with other interest rate sensitive sectors. It is now testing the region of the 2016 lows but will need to break its sequence of lower rally highs to question the downward bias to trading.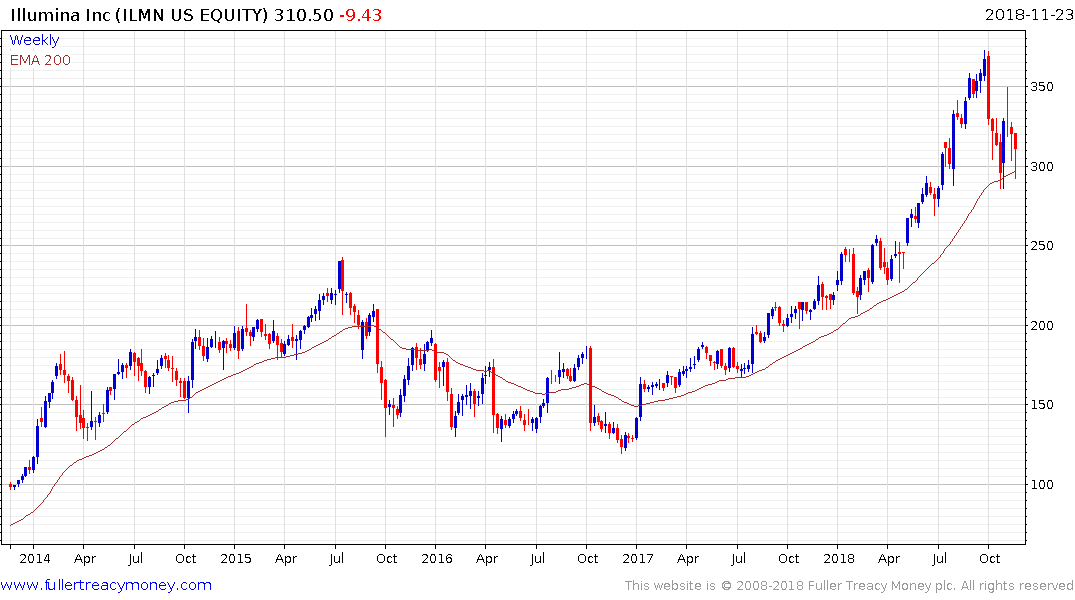 Illumina is the world leader in genetic sequencing machines and is currently testing the region of the trend mean.
Genetic warfare is a growing threat and only a global moratorium could possibly stop development of potential weapons.
Back to top