Tencent Drops After Warning Spending to Weigh on Profit Margins
This article by Lulu Yilun Chen for Bloomberg may be of interest to subscribers. Here is a section:
Tencent's business revolves largely around its vast social networks WeChat and QQ, the twin platforms through which more than a billion people consume games, news and online entertainment while paying for a plethora of real-world services. Chief Executive Officer Ma Huateng is now angling to grab a larger slice of an advertising pie dominated by Alibaba Group Holding Ltd., while investing in new areas such as financial, retail and computing services.

"Tencent needs to invest in new business, it would help the company build a better ecosystem infrastructure to support growth, but it will hurt margins in the short term," said Benjamin Wu, an analyst at Shanghai-based consultancy Pacific Epoch.

Analysts at Credit Suisse Group AG and Citigroup Inc. lowered their earnings estimates for Tencent after the results.

Tencent's quarterly profit included gains in the quarter of 7.9 billion-yuan thanks mainly to the initial public offerings of Sea Ltd., Sogou Inc. and Yixin Group Ltd. Those are just three of the 600 companies the company has invested in.
I don't know a Chinese person, either by birth or heritage, that does not use WeChat. That fact alone means it is going to be more expensive to gain new customers.
The fact that Naspers used today to announce its sale of its stake in Tencent also weighed on the share price. The trend was steep but consistent until November when it posted a large pullback. Following the acceleration in the early part of the month that represented a trend inconsistency.
With powerful uptrends we often see a loss of consistency at the penultimate high as some investors use the acceleration to liquidate positions while there are still some, mainly retail investors, willing to step in and buy the dip. However, institutional investors often become shy about committing capital after a large pullback, opting instead to wait and see, and that removes a potent source of demand from the market.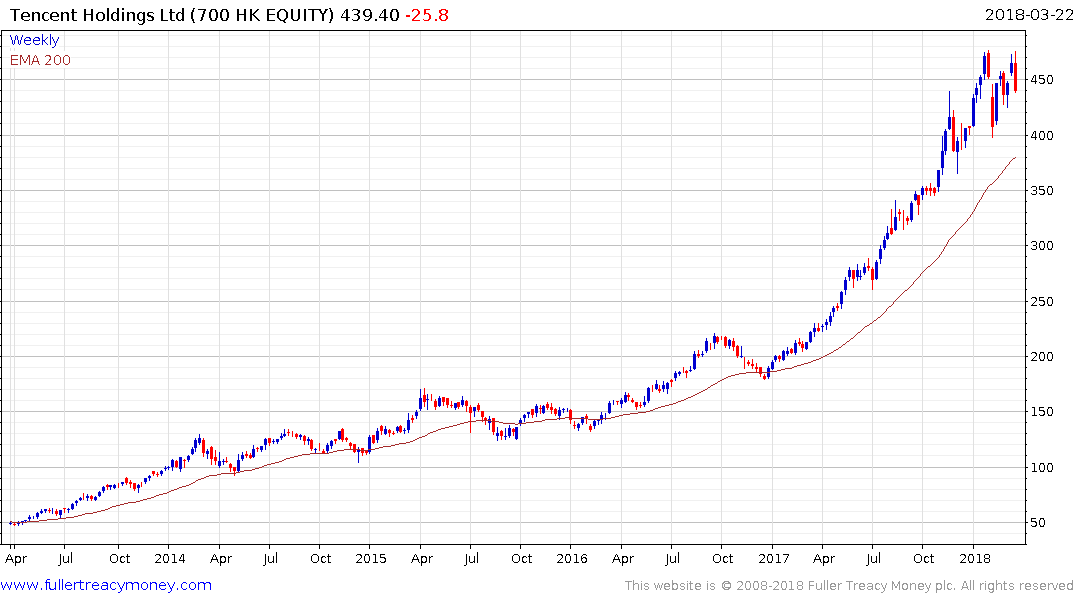 Tencent moved on to new highs in January but the breakout was not sustained and this week's failure below that high confirms a peak of more than short-term significance. A reversionary process is now underway and the progression of higher major reaction lows, currently near HK$400, will need to hold if the medium-term advance is to be given the benefit of the doubt.
Back to top