Ten countries scour sea for Malaysia jet lost in 'unprecedented mystery'
This article by Eveline Danubrata and Nyugen Phoung Linh for Reuters may be of interest to subscribers. Here is a section:
The disappearance of a Malaysian airliner about an hour into a flight to Beijing is an "unprecedented mystery", the civil aviation chief said on Monday, as a massive air and sea search now in its third day failed to find any trace of the plane or 239 people on board.

Dozens of ships and aircraft from 10 countries scoured the seas around Malaysia and south of Vietnam as questions mounted over possible security lapses and whether a bomb or hijacking attempt could have brought down the Boeing 777-200ER which took off from the Malaysian capital, Kuala Lumpur.

The area of the search would be widened from Tuesday, Azharuddin Abdul Rahman, the head of Malaysia's Civil Aviation Authority, told reporters.
2014 has been an active year so far in terms of news flow that has the capacity to move markets. While the disappearance of flight MH370 is undoubtedly a tragedy its impact has had little effect on airline shares with the obvious exception of Malaysian Airlines.

From a broad perspective, the US and European sectors went through a process of rationalisation following the credit crisis, where a price war gave way to mergers and increasing margins. Asian carriers have not taken part in this process because the sector remains largely fragmented along national lines. Malaysian Airways has been among a group of serial laggards and has lost more than 90% of its value since 2007. It remains in a consistent five year downtrend but steadied today near MYR0.20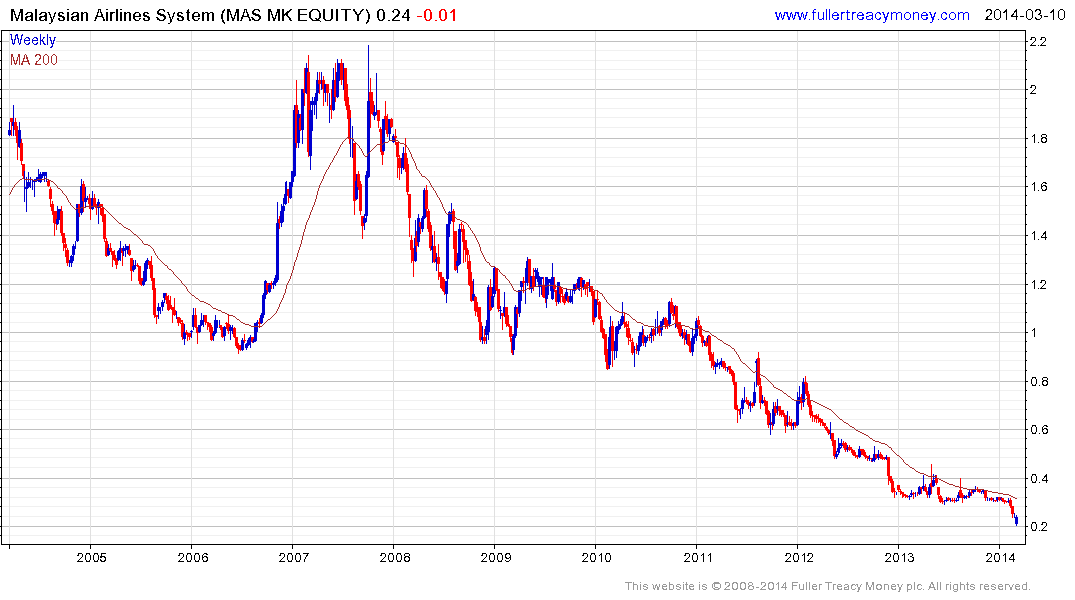 Boeing is susceptible to a loss of confidence in its products if the reason for the crash is deemed to be mechanical rather than intentional. The share posted a downside weekly key reversal in January, capping an impressive advance, where it had become overextended relative to the 200-day MA. It pulled back sharply the subsequent week to confirm the signal and the best case scenario now is that it holds mostly above $120 as last year's impressive advance is consolidated. At least some investors will be concluding that discretion is the better part of valour as we wait for the wreckage to be found. (Also see Comment of the Day on January 24th).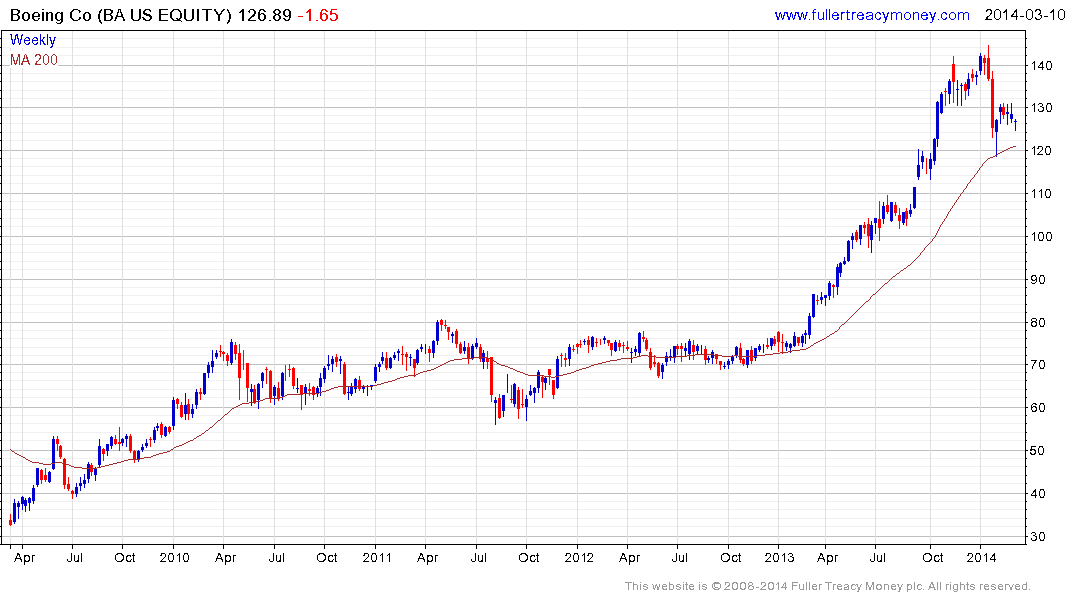 Back to top