Technology Was Supposed to Transform Insurance Pricing. It Hasn't.
This article from the Wall Street Journal may be of interest. Here is a section:
At first, the insurance pricing process -- heavily reliant on algorithms and mathematical modeling -- seemed ripe for upending, thanks to advances in the sheer amount and variety of data digitally-native companies could suddenly collect on customers.

But the Silicon Valley axiom to move-fast-and-break-things hasn't been enough to transform an industry built on centuries of observed human behavior, massive marketing budgets and a savvy grasp of the regulatory environment.

Founded in 2015, Lemonade initially aimed to sell renters and homeowners insurance. It was worth $9.87 billion at its peak in 2021; it's now worth $1.23 billion. Root Insurance, also founded in 2015, began with the idea of using telematics -- or in-car data -- to offer personalized auto insurance based on how people drive. In 2020, it was worth roughly $6.8 billion, and has since swooned to about $67 million. Property and casualty insurance startup Hippo went public at a $5 billion valuation in 2021. It is now worth around $425 million.

So far, the insurtechs have been slow to gather and contextualize enough data to actually build better models. Regulations have restricted the use of some of their data and differentiated pricing. And it has been difficult to chip away market share from established industry giants.
I have been a beneficiary of the insurtech market, so perhaps I am more positively disposed towards the sector than others. As a user of MyFitnessPal, I was provided with a life insurance policy (at my peak pre-pandemic fitness point) at a rate that was far below anything available elsewhere. The home insurance premium I pay Lemonade is half what other companies have quoted. The big question is whether these companies can achieve profitability before they run out of money.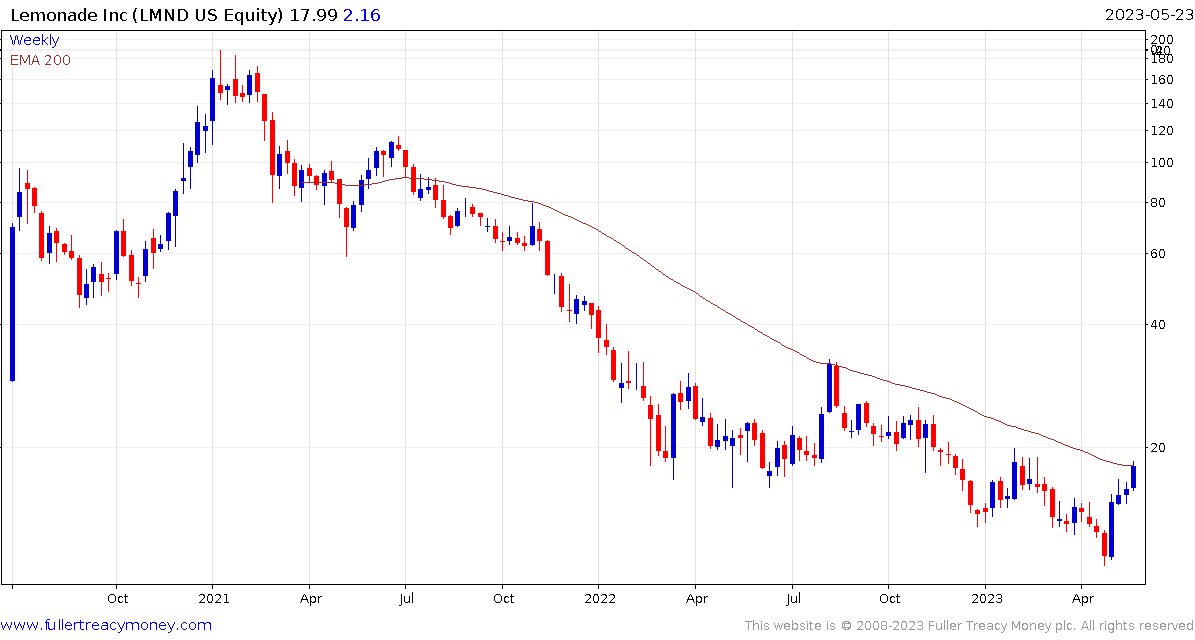 Lemonade has rebounded over the last couple of months to test the region of the 200-day MA and the medium-term sequence of lower rally highs. This is the first area of significant potential resistance so some consolidation is possible.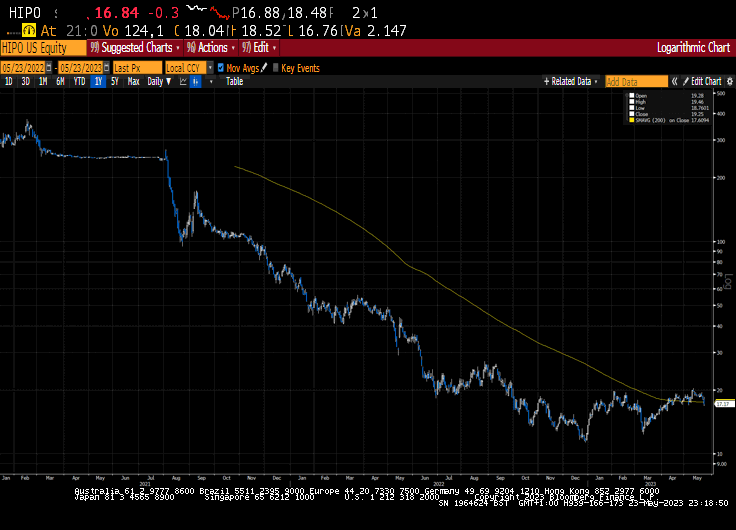 Hippo is currently easing back from the upper side of a 9-month range.
Back to top