Surprising Airbnb Adoption Slowdown in US/EU, and What It Means for Hotels and OTAs
Thanks to a subscriber for this report from Morgan Stanley which may be of interest to subscribers. Here is a section:
Two Reasons Adoption Is Slowing... First, the benefits of growing awareness among online consumers in the US/Europe are slowing/topping out, as Airbnb awareness among our survey respondents increased by only 800bps to 80% in '17 (vs. a 2,000bps increase in '16). We see awareness as a smaller driver going forward. Second privacy/safety are material and growing barriers to adoption, as the percent of non Airbnb users citing these factors to not use it increased by ~700bps/400bps, and the absolute number of people concerned about these issues increased by 10%/25% Y/Y. This, in our view, could speak to two potential truths: 1) How Airbnb/sharing lodging could be more niche than previously expected, and 2) How the lobbyists/opponents of Airbnb may be gaining traction.

...Causing Us to Lower Our Airbnb Forecast...This slowing adoption causes us to reduce our forward user/room night forecast for the US/Europe, now expecting ~12% '16-'20 room night growth, vs 29% previously. We now model Airbnb to grow to 6% of lodging demand across US/Europe by '20, vs. 9% previously.

...Making Us Incrementally More Bullish on the Lodging Space... While surveyed hotel cannibalization inched up slightly to 51% from 49% (and expected to be 54% in '18), a slowing user adoption curve suggests Airbnb is less of a threat to hotels. We estimate that Airbnb had a 50bps impact to '17 RevPAR growth across US/Europe, down from our prior estimate of 90bps. We now forecast it will have another 50bps impact on '18 RevPAR growth, down from our prior 80bps impact. As such, we expect US RevPAR to be relatively stable at +2.3% and +1.6% growth in '18 and '19, respectively.
Here is a link to the full report.

The travel sector is likely to get a boost from the expansion in the number of airlines, signalled by impressive sales at the Dubai Air Show. That should be positive for hotels and particularly so if AirBnb's penetration is peaking. Personally my experience with AirBnb has been mixed and I suspect many people have had similar experiences.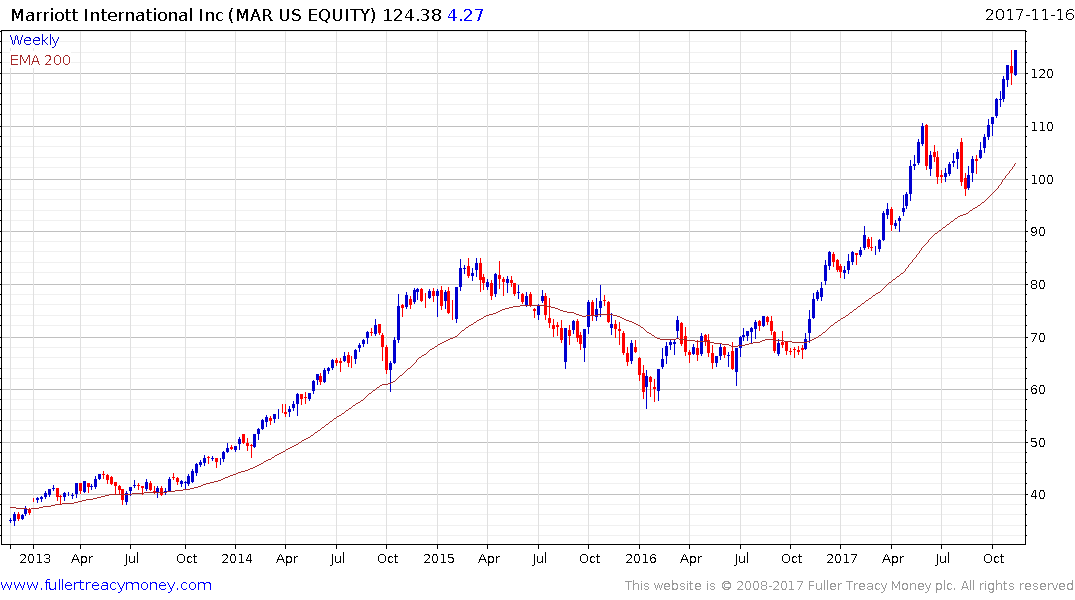 Marriott has more than doubled this year from the January lows and a reaction of more than $10 would be required to question the consistency of the advance.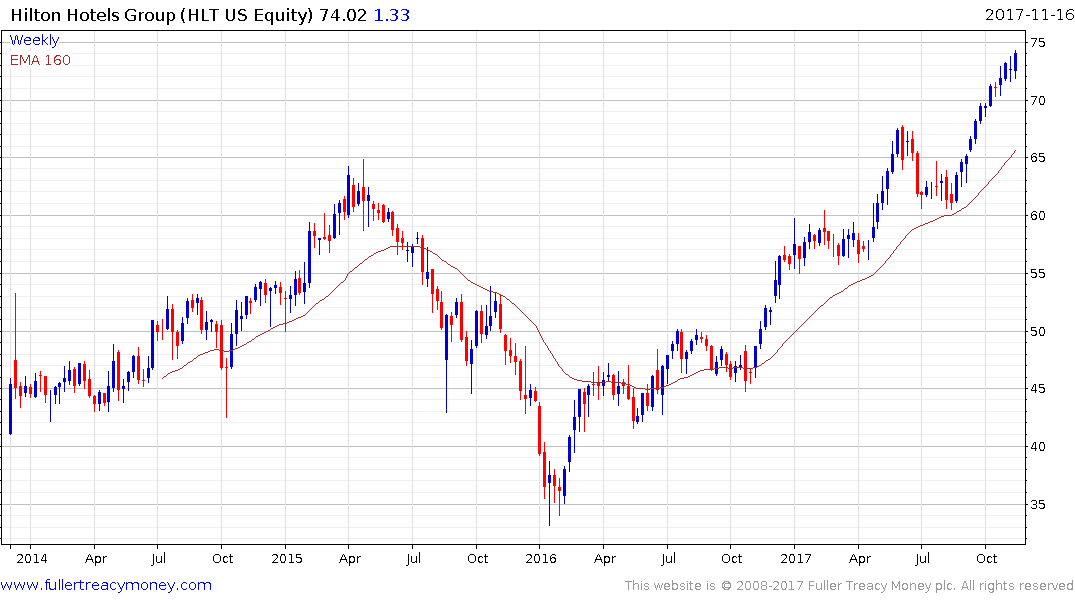 Hilton has been trending particularly consistently since August and will need to hold its progression of higher reaction lows if the benefit of the doubt is to be given to the upside.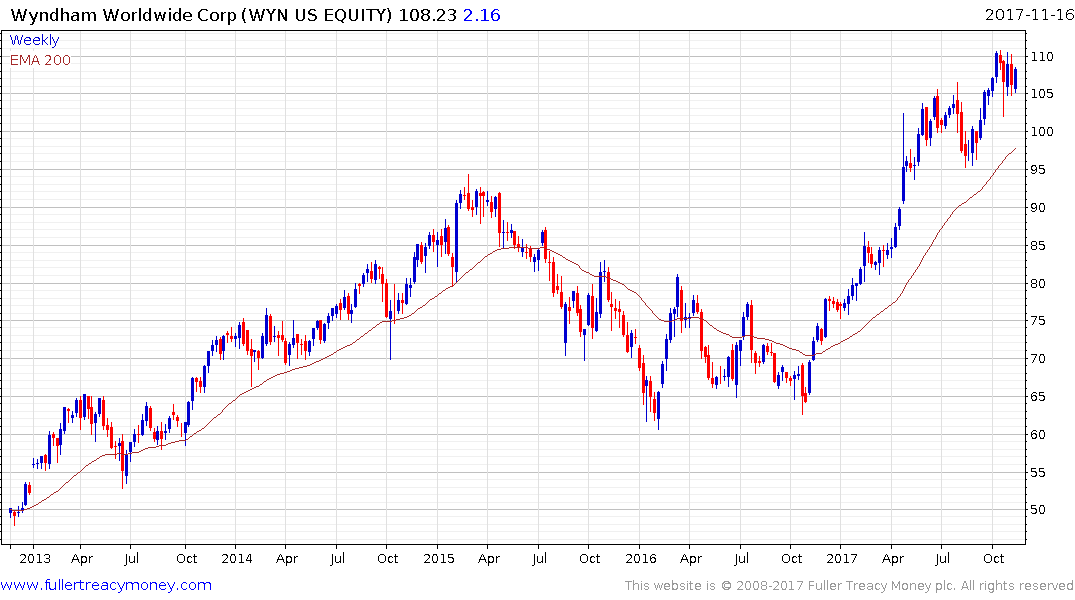 Wyndham Worldwide has a similar pattern.
Back to top