Strong Luye Pharma debut boosts prospects for 'China orphan' firms
This article by Stephen Aldred for Reuters may be of interest to subscribers. Here is a section:
Morgan Stanley Private Equity Asia (MSPEA) delisted Sihuan from Singapore in late 2009 at a valuation of around $500 million, before relisting it in Hong Kong a year later with a market cap of around $3.7 billion, according to a source with direct knowledge of the matter.

?Sihuan's market value has since grown nearly 80 percent to $6.7 billion, not too far off China's biggest listed drugmaker - Shanghi Fosun Pharmaceutical Holdings Group Ltd (600196.SS) which has a market cap of $7.2 billion.

MSPEA has not fully exited its investment but expects to make around eight times its initial investment when it does, said the source, who declined to be identified as details of the investment have not been made public.

Luye's shareholders sold $253 million through the offering while the rest of the proceeds went to the company. For CDH the successful Luye debut is a welcome relief after the IPO of pork giant WH Group Ltd was canceled as mismanaged pricing and other woes led to weak investor demand.

Investors in both Sihuan and Luye are also buying into strong growth prospects for China's drug market, although the sector remains underdeveloped and highly fragmented.
The industry grew at a compounded annual growth rate of 19.3 percent in the five years to 2012 to be worth $69.7 billion and is expected to grow at a similar pace to reach $166 billion by 2017, according to consultancy firm Espicom.
The Chinese domestic healthcare sector represents a significant growth trend as standards of living improve. The pharmaceutical sector has ambitions to compete on the international stages which is at least part of the reason companies are seeking additional capital overseas. However the issues relating to corporate governance raised early in the above article are non- trivial which is at least part of the reason investors tend to favour Hong Kong listings because of the tighter regulations imposed on companies before their IPO.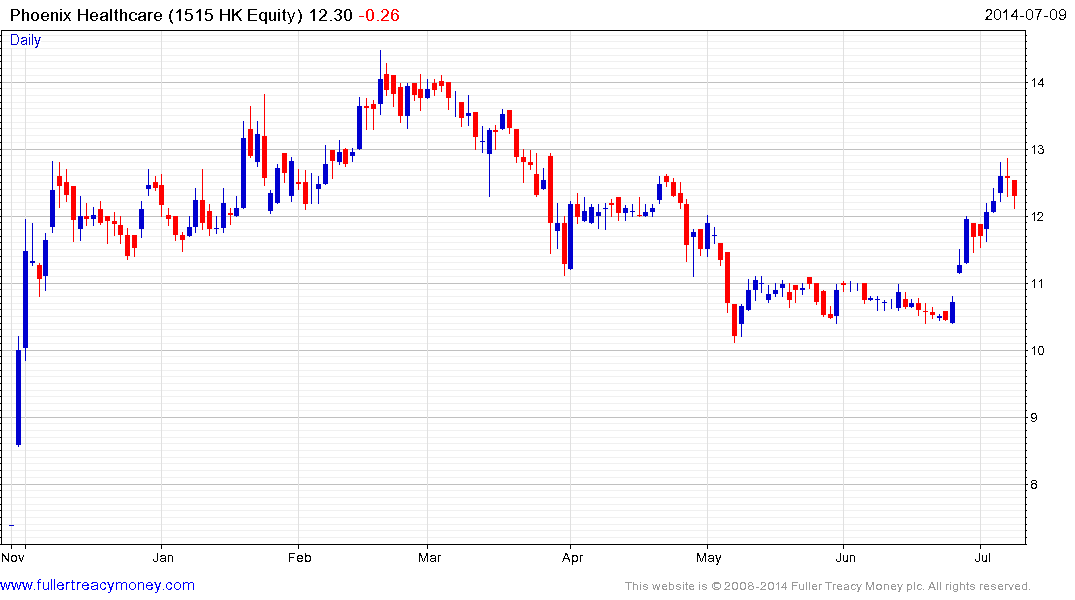 Phoenix Healthcare found support near HK$10 in May and a sustained move below that area would be required to question potential for additional upside.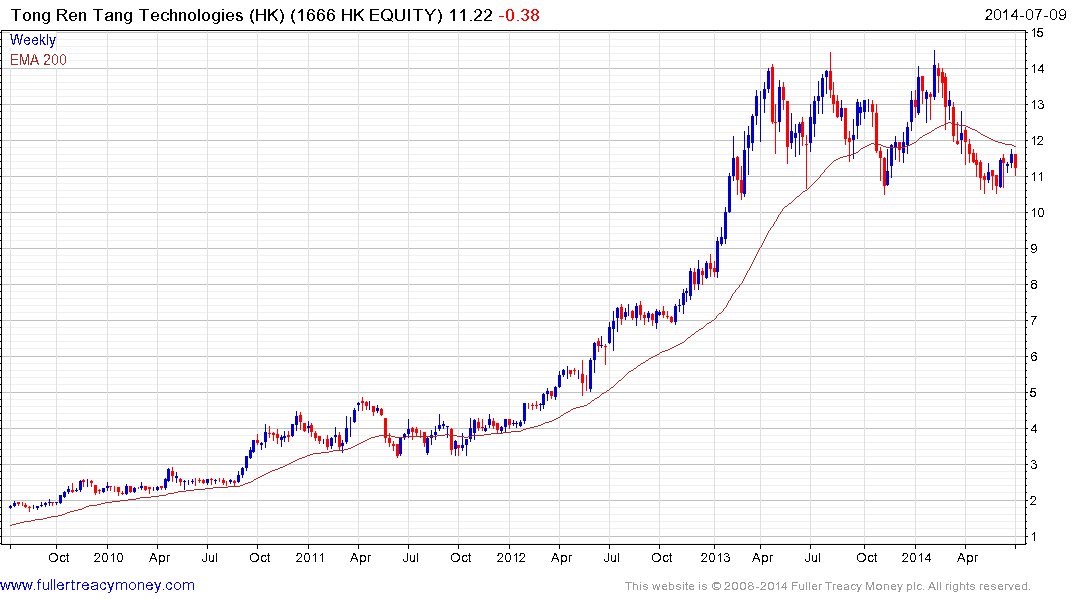 Tong Ren Tang Technologies accelerated to a peak near HK$14 in early 2013 and has been ranging below that level since. It will need to continue to hold above HK$10.50 to avoid Type-3 top formation completion.

I've added Luye Pharma to the Chart Library and the review of the some of the better performing Chinese healthcare companies posted on the 4th may also be of interest.
Back to top