SoftBank Cuts Back Spending, Leaving Startups Desperate for Cash
This article from Bloomberg may be of interest to subscribers. Here is a section:
Hurt by plunging tech valuations, SoftBank is walking away from some of its loss-making portfolio firms to comply with stricter investment criteria, said the people, who asked not to be identified because the matter was not public. Many of the two Vision Funds' portfolio of 300-plus companies are loss-making.

The Japanese investment firm offered to contribute money if Light could find another investor to lead the next fundraising round, one of the people said. But with its biggest backer offering only a token amount, other investors were wary about stepping in, the person said. The Redwood City, California-based startup has hired a consulting firm to explore options, including winding down operations.

"Their purse strings are tight as they have ever been," the person said.

A Vision Fund spokesman and Light Chief Executive Officer Dave Grannan declined to comment.

The adoption of prudence at SoftBank's Vision Fund -- which rewrote the rules of venture capital by deploying billions of dollars from the sovereign wealth funds of Saudi Arabia and Abu Dhabi into startups -- is an about-face from its past freewheeling largess.

For years, SoftBank's founder and Chief Executive Officer Masayoshi Son persuaded startup founders to accept Vision Fund money by encouraging them to think bigger and promising continued support to help them expand. He would often invest more money than founders were looking for if they would try to accelerate growth.

Before approving the investment in Light, the billionaire made clear to Grannan that his interest was predicated on the startup's ability to adapt its depth-sensing imaging technology for self-driving cars -- something Light's founders never considered before.
Ambitious startups with big ideas and no path to profits are finding the Vision Fund is a fair-weather friend. That only increases the pain they experience as yields rise. The startup sector is most acutely sensitive to tighter liquidity. Some will not survive this correction.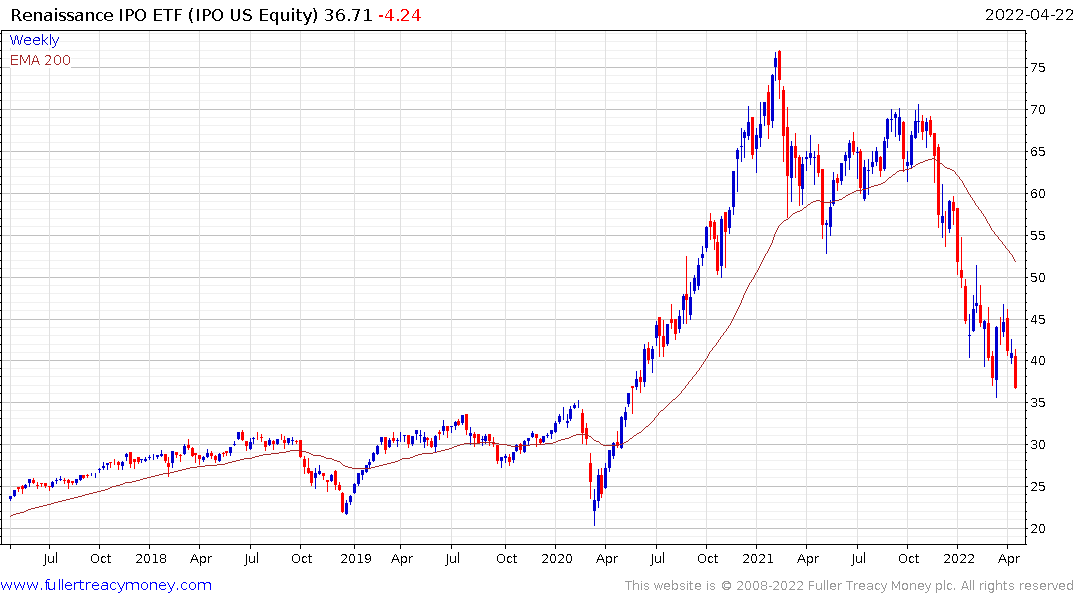 The Renaissance IPO ETF is actively managed in much the same way as the ARK funds. It's biggest weighting is Uber despite the fact it IPOed three years ago. The fund steadied today but remains in a medium-term downtrend.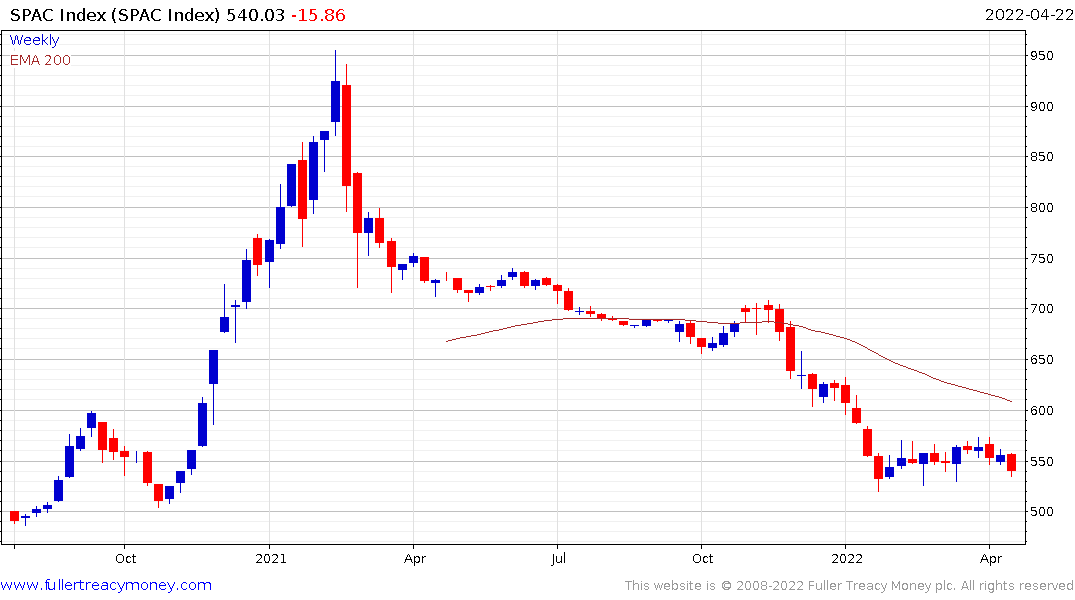 The SPAC Index is barely steady.
Back to top