Ride is not over after Uber catalyst
Thanks to a subscriber for this report from Deutsche Bank focusing on ride sharing investments. It's dated July 14th, but the points made are equally relevant today. Here is a section:
Yandex.Taxi and Uber announced they will combine their ridesharing business in Russia and five other eastern European countries to form "NewCo," which will be owned Yandex (59.3%), Uber (36.6%) and employees (4.1%). Tigran, CEO of Yandex.Taxi, will remain the CEO of NewCo and the board will consist of four Yandex elected Directors and three Uber elected Directors. NewCo is valued at $3.725B on a post-money basis - $325m of which is cash contributions by Uber ($225m) and Yandex ($100m). We make no changes to our formal core Yandex estimates pending a close of the transaction.

Specific financial disclosures around the new JV are limited, but management did note that NewCo will 1) be able to enter new markets outside of the current six country region, 2) the new entity has a current gross bookings run rate of $1.578B and a 5-6% penetration rate of the taxi market across the six markets and 3) that UberEATS and other logistical opportunities will be a part of this new operation. Assuming no unforeseen regulatory hang-ups, management anticipates they will have regulatory approval for the deal in 4Q17 and commence operations as planned shortly thereafter.

We believe the new venture which Yandex will provide the tech stack and Uber will provide operational experience is a very exciting opportunity. Furthermore, given the scarcity of publicly traded ride sharing companies, we believe investors will increasingly seek out Yandex shares to gain exposure to the ride sharing economy.
Here is a link to the full report.

Ride sharing is one of the largest emerging new sectors but has so far been difficult for regular investors to participate in. Low interest rates, abundant liquidity and a dearth of yield have resulted in private companies managing to stay private much longer than anyone would have expected a decade ago. The result is that when they do eventually seek a listing what is being sold to investors is a much more mature company with less potential upside from growth.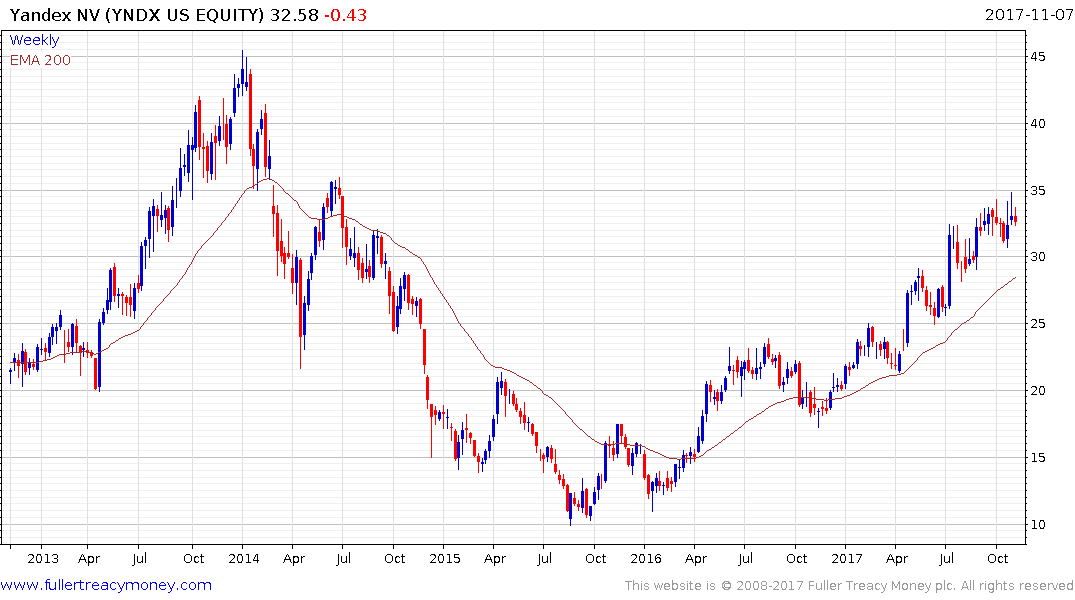 Yandex is a Russian search engine business with a business model similar to Google or Baidu. Therefore, it represents a tangential play on ride sharing in much the same way that Google does for autonomous vehicles.
Yandex has held a progression of higher reaction lows since late 2015.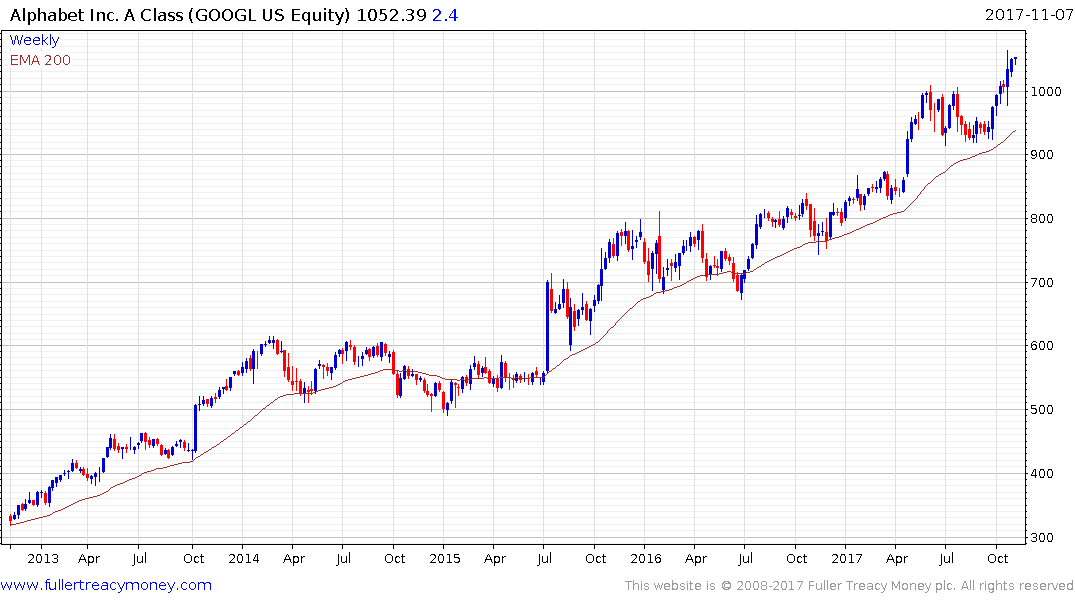 Google remains in a staircase step sequence uptrend and successfully broke above the psychological $1000 level late last month. A sustained move below the trend mean would be required to question medium-term scope for additional upside.
Back to top