Retail Industry Meltdown Hits Women Hard; Men Remain Unscathed
This article by Laura Colby for Bloomberg may be of interest to subscribers. Here it is in full:
As embattled U.S. retailers shed jobs over the past year, women have borne the brunt of the losses. Men, on the other hand, have made steady gains in the retail workforce.

Women lost 129,000 retail positions in the last year, according to Bureau of Labor Statistics data analyzed by the Institute for Women's Policy Research. Men gained 106,000 positions.

The report found that general-merchandise stores -- mainly department stores -- accounted for the largest share of both jobs lost and jobs gained. Women at those retailers lost 161,000 positions while men gained 87,800 from October 2016 to October 2017.

At other types of retailers, including auto dealers, garden supply stores and furniture stores, women and men both gained a comparatively small number of jobs.

Retail employment for both men and women had been growing since 2007, IWPR said. But about a year ago, the trend for women reversed. It's not clear exactly why, said Heidi Hartmann, president of the IWPR. Women could be moving to higher-paying jobs, or men could be doing better because they tend to sell big-ticket durable goods such as cars and appliances, where sales are strengthening.

The uneven distribution of job losses could have repercussions for the U.S. economy as a whole, because the vast majority of American families rely on women's earnings, Hartmann said.
The first wave of automation and offshoring primarily affected men working in factories, steel mills and coal mines. The second wave of automation led by robotics and the disintermediation of the internet means women are likely to be inordinately affected. This is unlikely to be an issue confined to the first world as the process of automating the manufacturing of garments becomes progressively more sophisticated.
In many families when one spouse lost their job the other went out to work. However, the next round of automation is likely to put pressure on the classical sources of income for both men and women which is likely to affect a great many families.
Fiscal profligacy may delay the denouement for many retail operations and it is noteworthy that companies which have been trending lower for most of this year are beginning to turn the corner.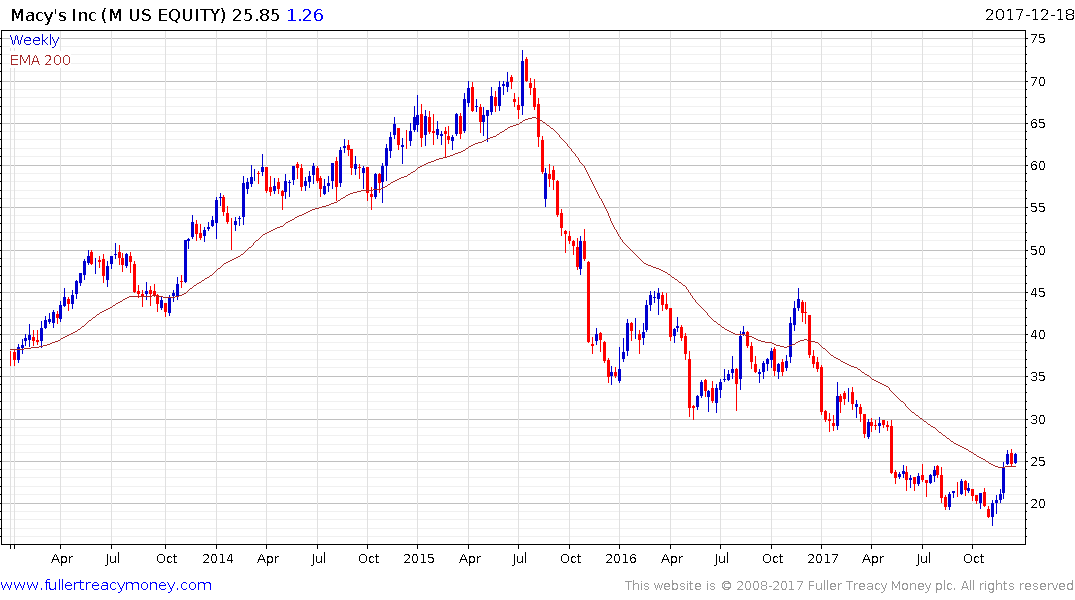 Macy's firmed today from the region of the trend mean.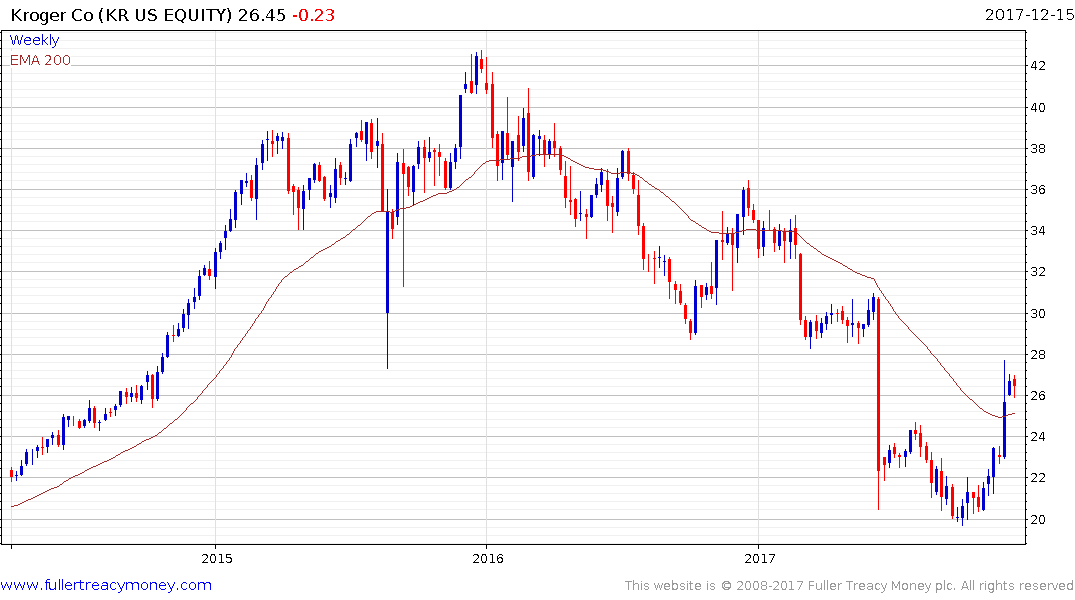 Kroger has also bounced from the region of the trend mean.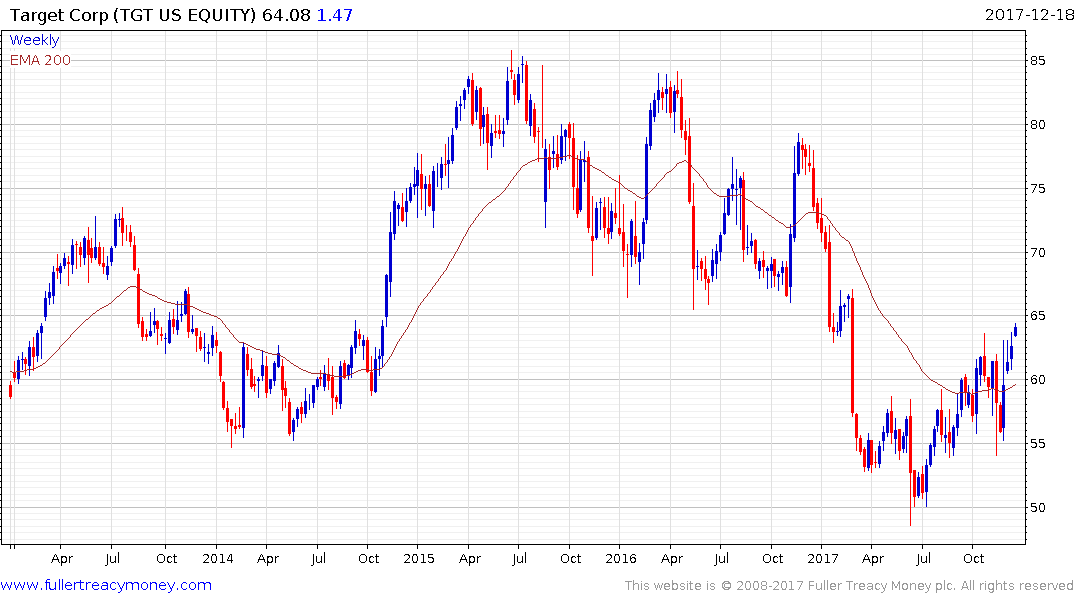 Target fell less but is also firming from the MA.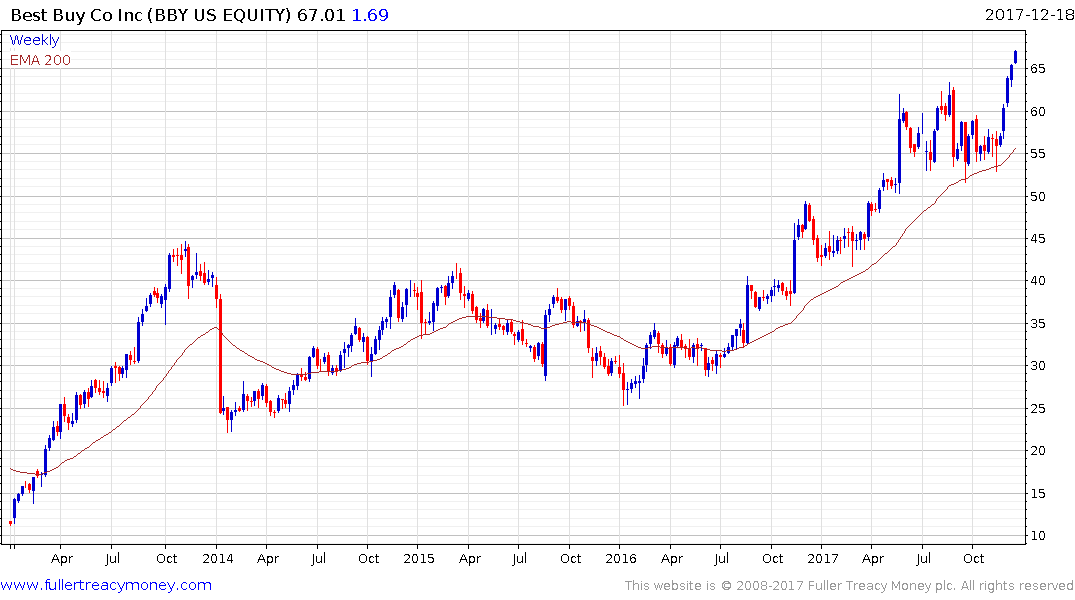 Best Buy has rallied for five consecutive weeks to break out to new all-time highs.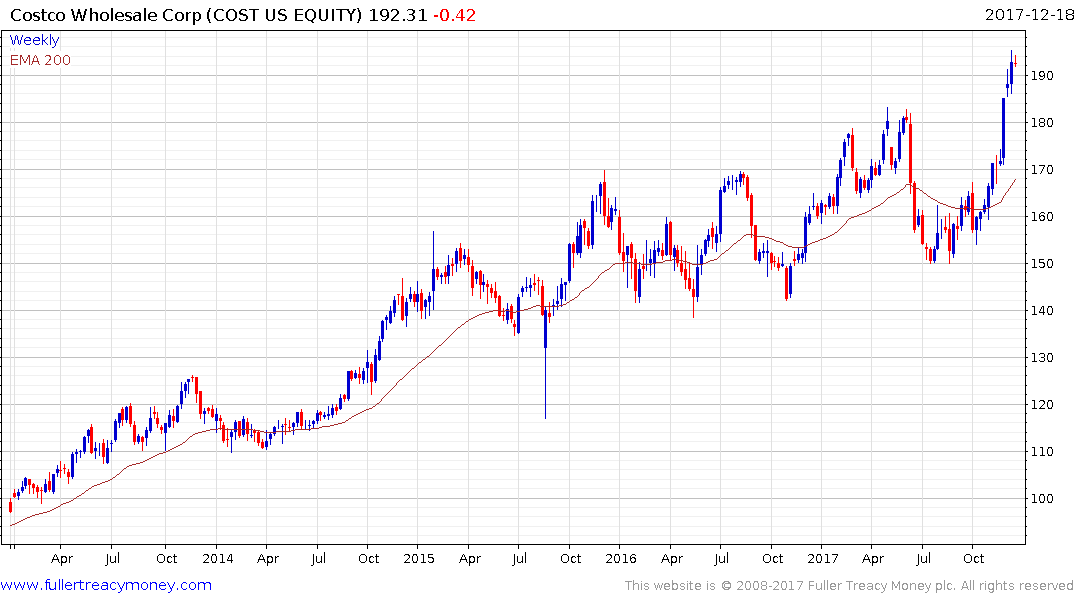 Costco is also at new highs and is now somewhat overbought and at risk of some consolidation.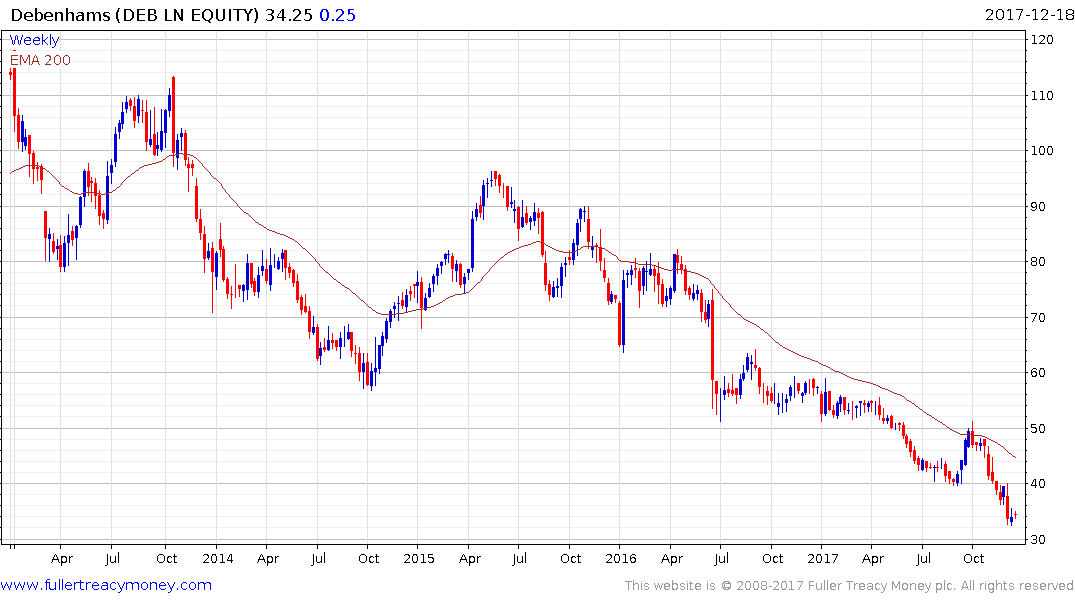 In the UK, Debenhams has yet to demonstrate a meaningful low has been found.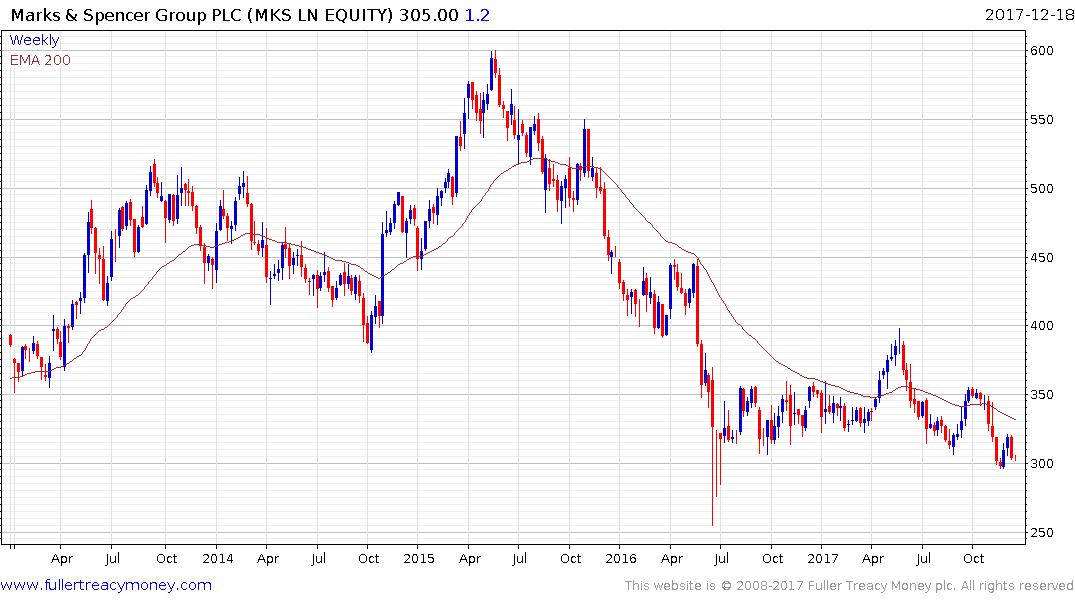 Marks & Spencer will need to hold the 300p level if support building is to given the benefit of the doubt.


Sport Direct has been subject to some acute volatility over the last couple of weeks but continues to hold the region of its trend mean as it forms a first step above its base.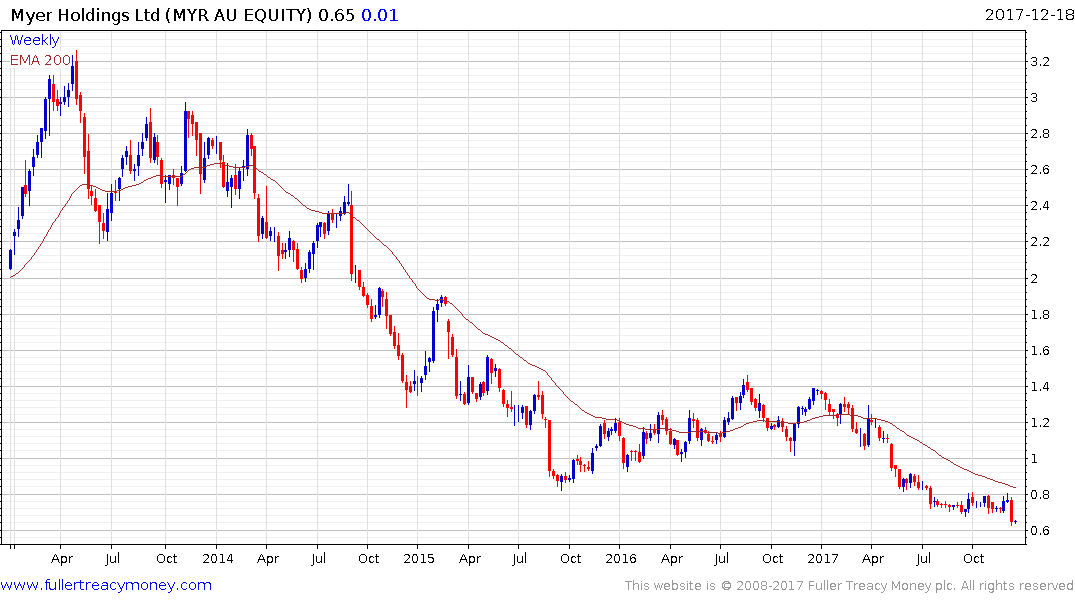 Australia's Myer remains under pressure.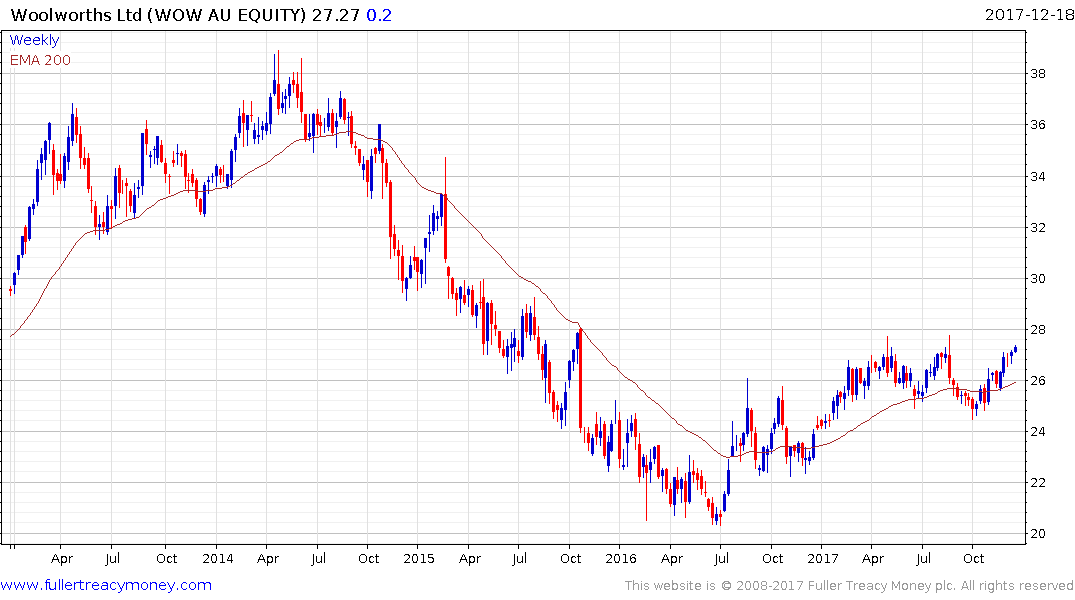 Woolworths is firming from the region of the trend mean.
The question is whether the USA represents a lead indicator for what retailers in other countries can do to mitigate the challenges represented by online retail? The shares of companies in the UK and Australia are probably now worth monitoring.
Back to top