Rally Restored? Bitcoin Is Up 75 Percent from 30-Day Lows
This article by Omkar Godbole for Coindesk may be of interest to subscribers. Here is a section:
Fresh off setting a new all-time high this morning, bitcoin is once again increasing its 2017 gains.

Yet for those just tuning in, it might not be immediately obvious how strong the cryptocurrency's recent performance has been or the conditions under which it's seen the boost. After all, as recently as mid-September, bitcoin's perceived bubble had all but burst when the price fell from $5,000 levels to below $3,000.

Yet, out of this doom and gloom, bitcoin has seen a phenomenal rally, delivering more than 70 percent returns in under 30 days.

Further, it's done so in the face of powerful headwinds – China, the world's largest market had just banned ICOs, throttling a thriving use case, and there is still the silent specter of yet another upcoming fork that could split the network, this time more acrimoniously.
In a bull market prices will advance on both good and bad news. What are the trend's consistency characteristics?

Right now, bitcoin is mostly unleveraged, so a log scale chart is probably the most appropriate way of looking at the price. When we look it from that perspective we are presented with a staircase step sequence uptrend.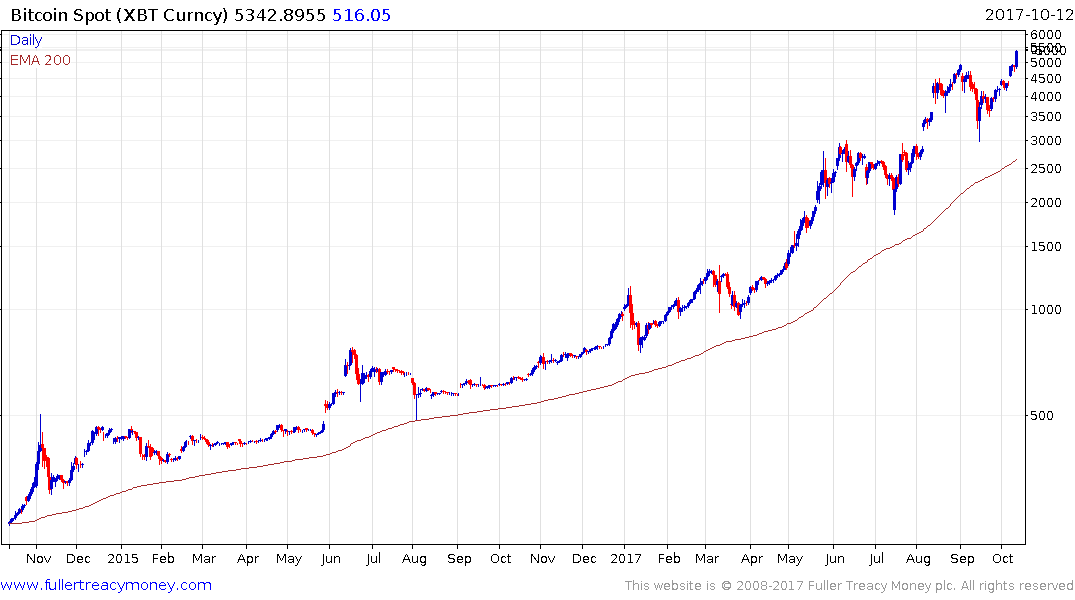 The consistency characteristics of the trend are explosive breakouts, followed by swingeing declines that bottom in the region of previous peaks with clear upward dynamics. If that pattern continues we can expect this breakout to be sustained. A failed upside break would signal a change to the trend's broad consistency.
Back to top