Pound Falls as Drop in Core Inflation Adds to Brexit Concerns
This article by Manisha Jha and Chiara Albanese for Bloomberg may be of interest to subscribers. Here is a section:
Sterling dropped to a two-week low against the dollar and sank versus all but two of its 16 major peers before a crucial European Union summit in Brussels where the British government will try to reach a deal altering the terms of its membership.

While the U.K.'s headline inflation rate for January quickened to 0.3 percent, that's still a fraction of the BOE's 2 percent target, suggesting officials won't be able to tighten policy for some time.

"The picture for prices in the U.K. continues to show that there is no great pressure," said Roberto Mialich, a senior foreign-exchange strategist at UniCredit SpA in Milan. "Clearly the market would be even more convinced that the Bank of England is in no hurry to start the tightening process," he said.

Investors can expect further volatility in sterling as uncertainty around Brexit builds, Mialich said. "Once the whole machine has been kicked off, the market would become very sensitive to polls suggesting who is leading the race, as it happened in the case of the Scottish referendum in the past," he said.
The question of the UK's membership of the EU tends to evince a similar emotional response to any discussion of climate change. It's a very polarised discussion, with questions of democracy, sovereignty and tradition all relevant. However in the end I suspect it will come down to the question of whether the City of London is best served by being within the EU. That's not something I've seen covered very well in the media but that should change as the details of what's on offer emerge.

Germany champions is auto sector. Anyone seeking proof of that should be referred to the light touch Volkswagen received from Europe compared to the US when the emissions scandal broke despite the fact it sells a lot more cars in Europe. France champions its agriculture sector, Spain its fishing sector and the US its financial sector. All for good reason and the UK can ill afford to lose the City. If the country does in fact decide to vote for an exit, a clear and well-defined plan will be required to incentivise firms to support London if it is to remain the preeminent global centre for financial services.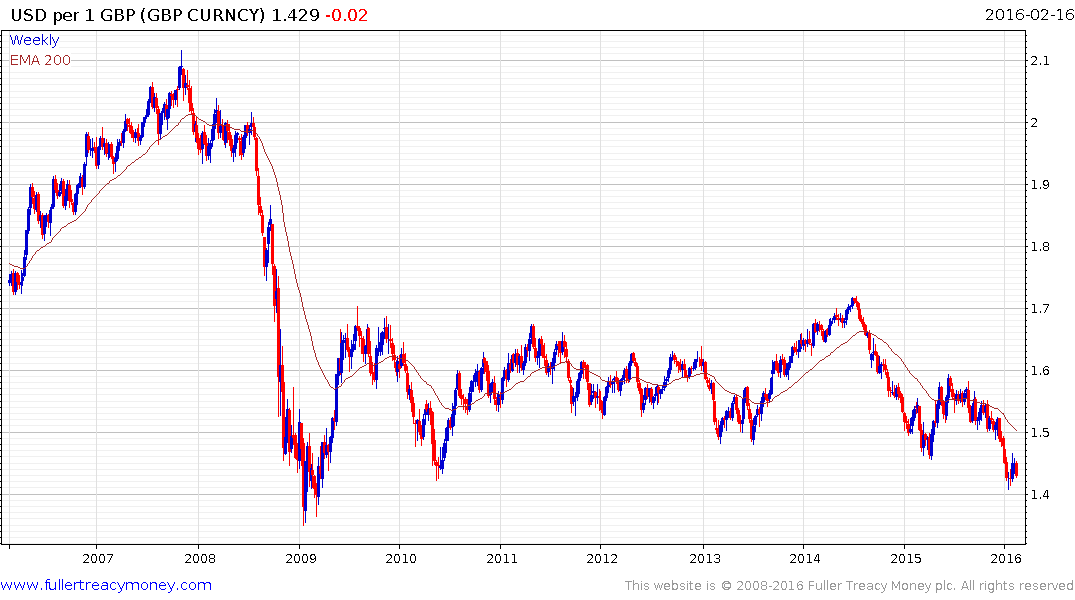 The BoE is unlikely to raise rates while the EU is engaged in QE but the Brexit question is a wildcard and represents a headwind until a decision is known. The Pound tested the psychological $1.40 area in January and pulled back today to break the short-term progression of higher reaction lows. It will need to hold the $1.40 area is support building is to be given the benefit of the doubt.
Back to top