Holcim-Lafarge Seek Disposals for $40 Billion Merger Backing
This article by Patrick Winters and Francois de Beaupuy for Bloomberg may be of interest to subscribers. Here is a section:
Holcim Ltd. and Lafarge SA (LG) agreed to form the world??£¤s largest cement maker as they prepare to sell assets with 5 billion euros ($6.9 billion) in revenue to win regulatory approval for the biggest European deal this year.

About two-thirds of the divestments will come from Europe, according to Lafarge Chief Executive Officer Bruno Lafont, who will lead the merged company. The new entity, with $40 billion in annual revenue, may also sell assets in Canada, the U.S., Brazil, India and China, he said on a conference call today.

Combining Jona, Switzerland-based Holcim and Paris-based Lafarge will let the cement producers unite operations after the global recession eroded demand for building materials and pushed some of the industry's kilns to run at a loss. More consolidation may follow, said Christopher Kummer, president of the Institute of Mergers, Acquisitions and Alliances in Vienna.
The last decade has seen a large number of companies pay record prices to acquire access to resources or to take over their competitors. This has seldom been of benefit for the shareholders of these companies and has succeeded in exposing a buy-high-sell-low tendency which is far from encouraging. The timing of the proposed merger between Lafarge and Holcim is therefore notable. The cement sector has been forming a base for more than two years. Prices are no longer at elevated levels and the rationalisation of excess Chinese supply should be net positive for the global sector. (Also see Comment of the Day on February 19th).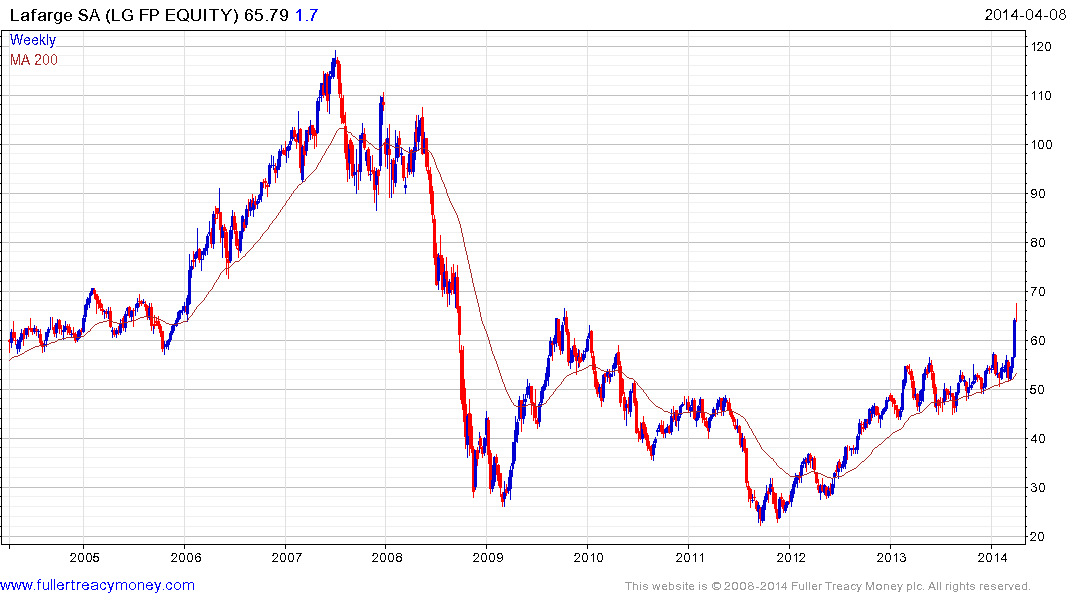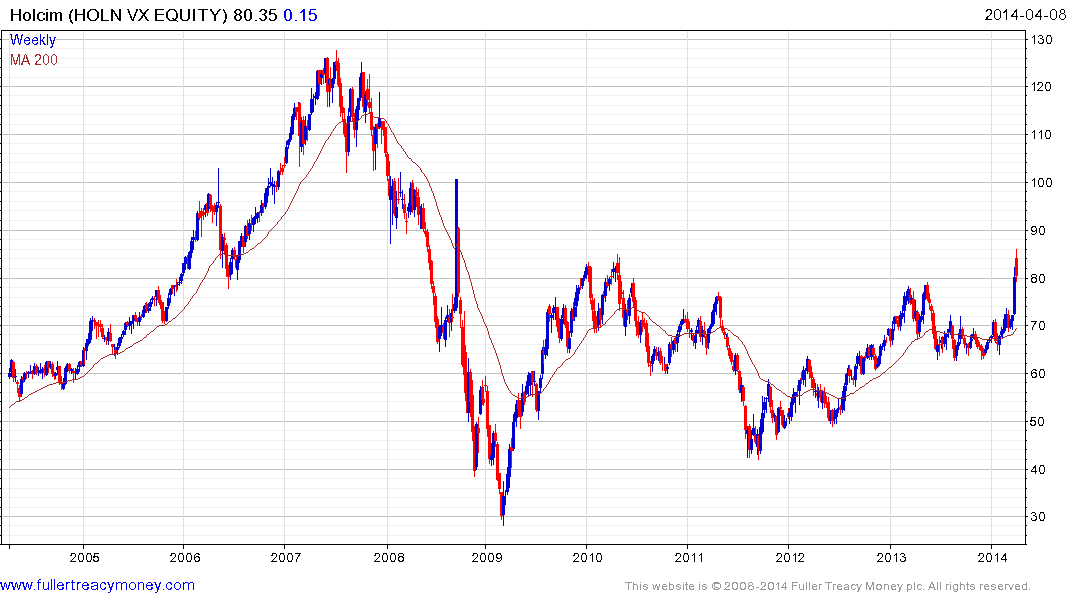 Last week Lafarge popped up in some research I have been doing on companies with sizeable operations in Africa. Through its acquisition of Orascom Cement in 2008, Africa and the Middle East are Lafarge's most significant regions by revenue. Holcim's largest markets are in Asia. Through disposals in Europe the combined company would represent a more concentrated play on emerging growth trends in the world's major population centres. Both shares eased back from their post announcement peaks today but sustained moves below their respective 200-day MAs would be required to question medium-term scope for additional upside.
Back to top