Fund Manager Diary by Iain Little
Thanks to the author for this edition of his note. This section on the Middle East caught my attention:
Our love of Global Autonomies, global consumer businesses that long since outgrew their domestic markets, is well recorded. But the cutting edge modernity of these "corporate empires" is often overlooked. I find it intriguing that our major client holding Unilever (ULVR: LN) has announced a partnership with UAE firms to tap the growing online market. Despite the accessibility of its 25-brand products, Unilever has joined hands with online retailer Souq.com, a minnow by comparison, though one that has 52% of the UAE online retail market. Since July Unilever has started collaborations with Tejuri.com, and the online ops of Carrefour and Lulu. It expects to partner 6 more firms next year, including e-commerce companies and brick-and-mortar stores with an online presence. Although all its products are available online, Unilever expects online sales to be skewed towards personal care products, now only available as packages online. Few people know that the Arabian Gulf has the highest internet penetration in the world, and online commerce in the Middle East and North Africa is to reach USD 13bn in 2014 and USD 15bn by 2015. There has been a massive jump in the Middle East's online commerce population, as well as a flood of local retailers coming online with products that they could only have found outside the region before. There are bags of potential if Unilever is successful: only about 5% of the UAE's retail sales is said to be via the internet by 2020, with electronic products, clothing and high-end consumer goods accounting for much of the sales. Culturally, Arabs prefer to go out with family members to shop and eat. Shopping online is not yet "retail-tainment" as in the West. So Unilever's strategy is to encourage consumers to "e-shop" for products on which they seek advice and solutions (a handy role since online prices of healthcare, home and beauty products can be 10-30% lower than those in the shops). This might prove the consensus wrong. Next in line? Saudi Arabia and Kuwait in Q1 2014. My, how the world is changing.
Easing tensions between Iran and just about everyone and increasingly optimistic rhetoric about the prospects for an agreement between Israel and the Palestinians has resulted in sentiment towards the region improving following what has been a particularly unsettled period not least as a result of the Arab Spring.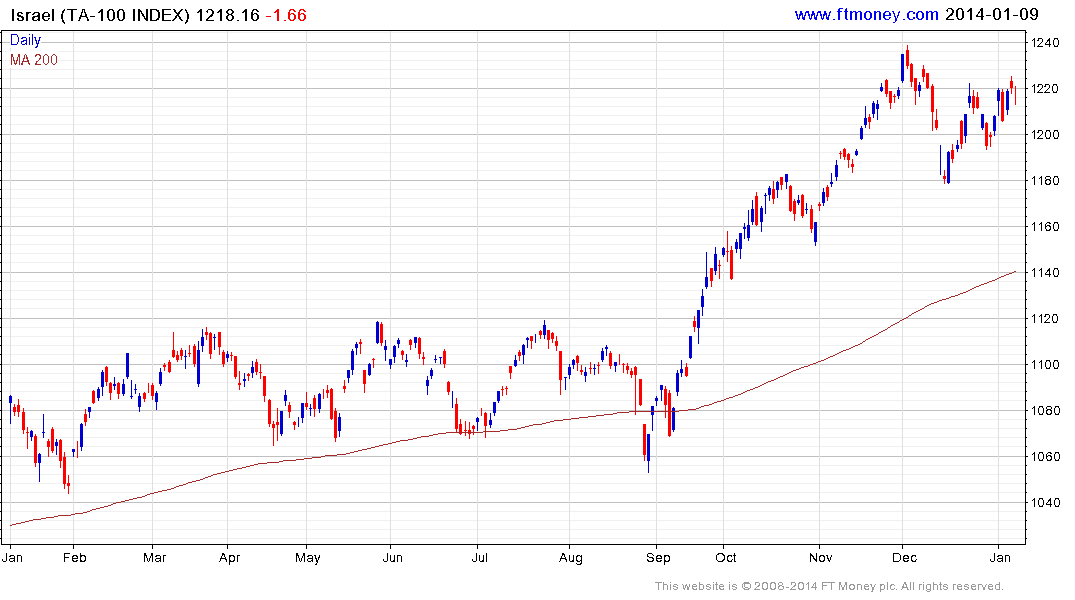 The Tel Aviv-100 Index continues to consolidate its earlier advance in the region of the 2011 and 2007 highs. This pause has the appearance of a reversion towards the mean and a sustained move below 1150 would be required to question medium-term scope for additional higher to lateral ranging.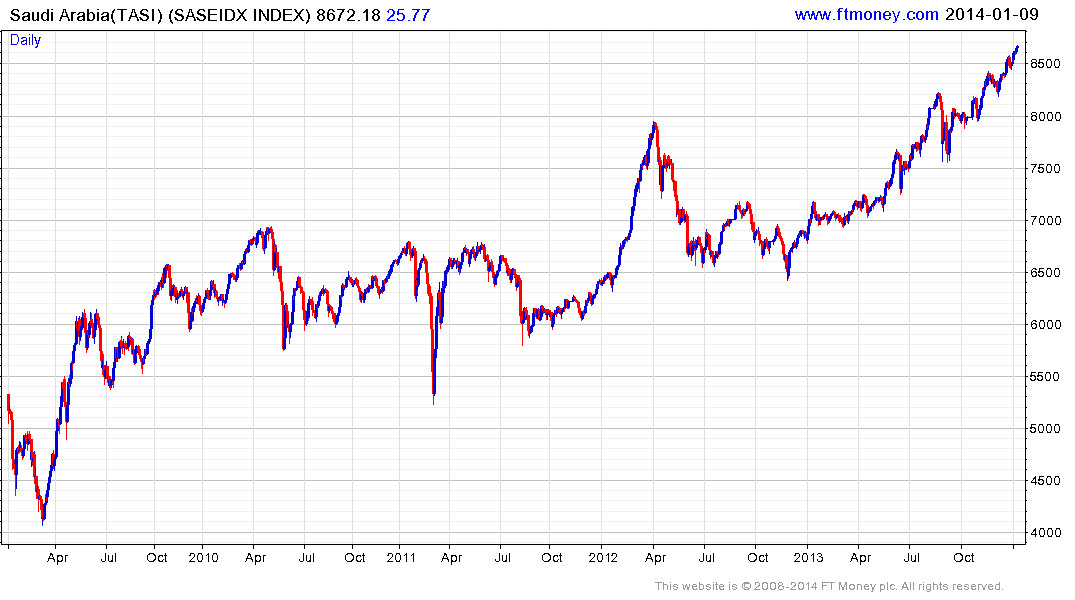 The Saudi Arabia Index continues to trend persistently higher following the completion of a lengthy medium-term range in June.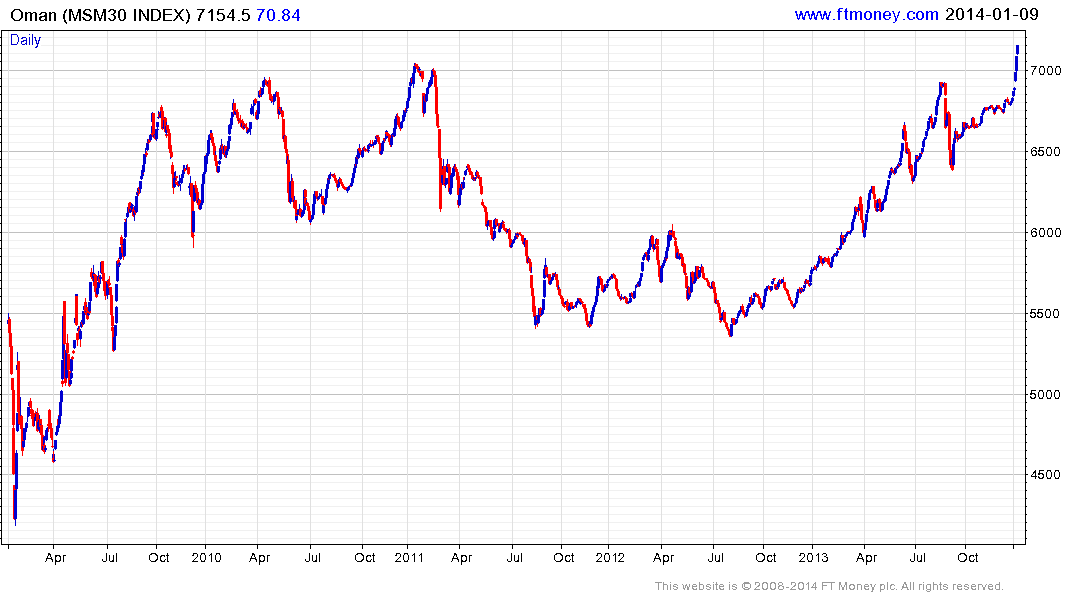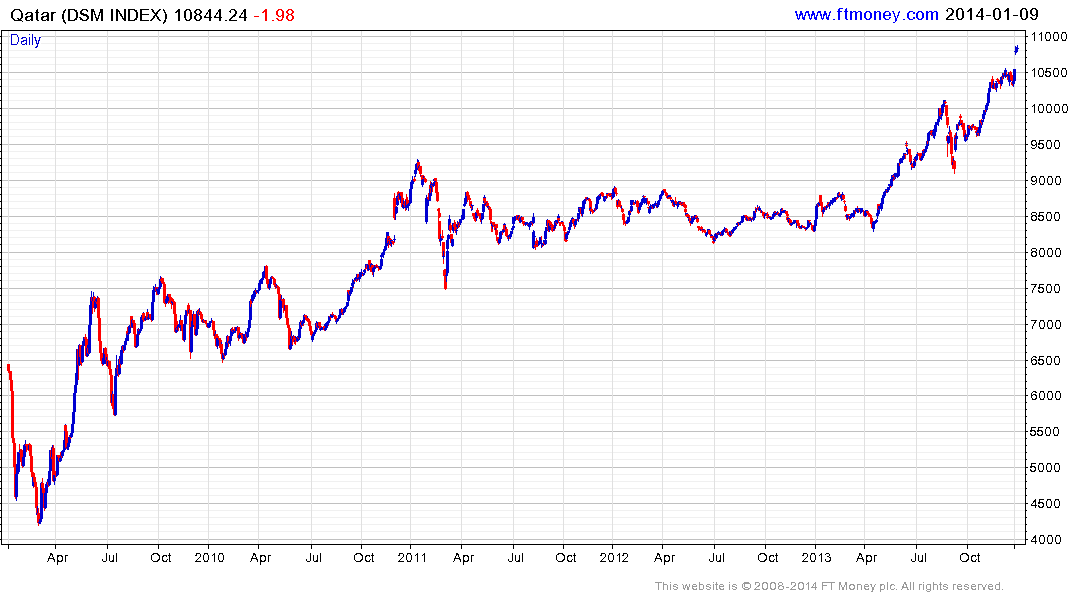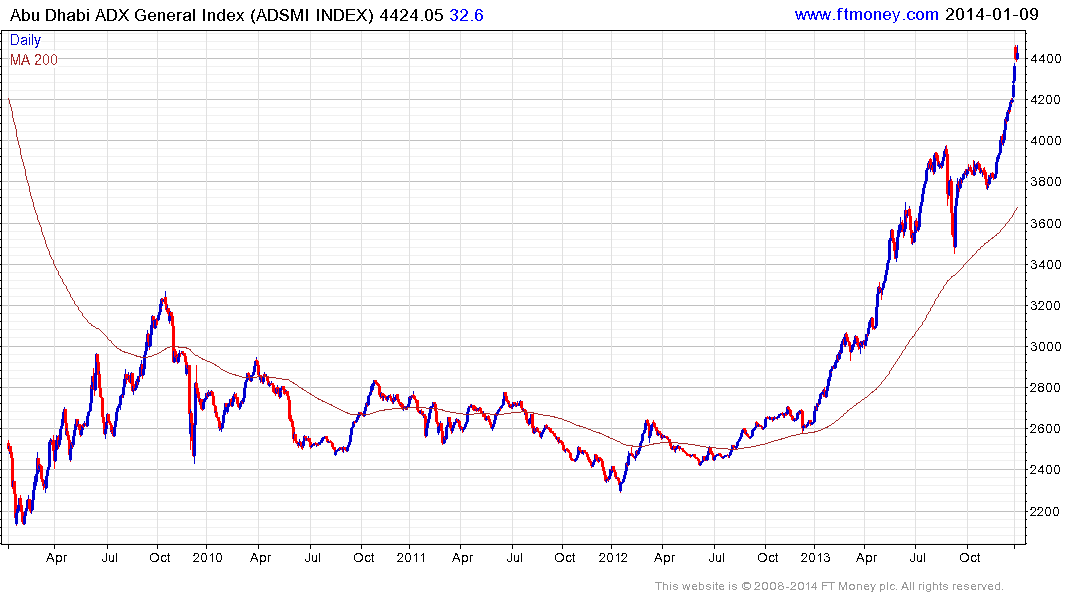 Elsewhere in the Middle East, the Oman index broke out to new five-year highs this week while the Qatar market continues to extend its medium-term uptrend. The Abu Dhabi General Index is temporarily overextended but remains on a recovery trajectory. The UK listed iShares MSCI GCC Ex-Saudi Arabia ETF appears to a reasonably accurate tracker of the UAE;s performance.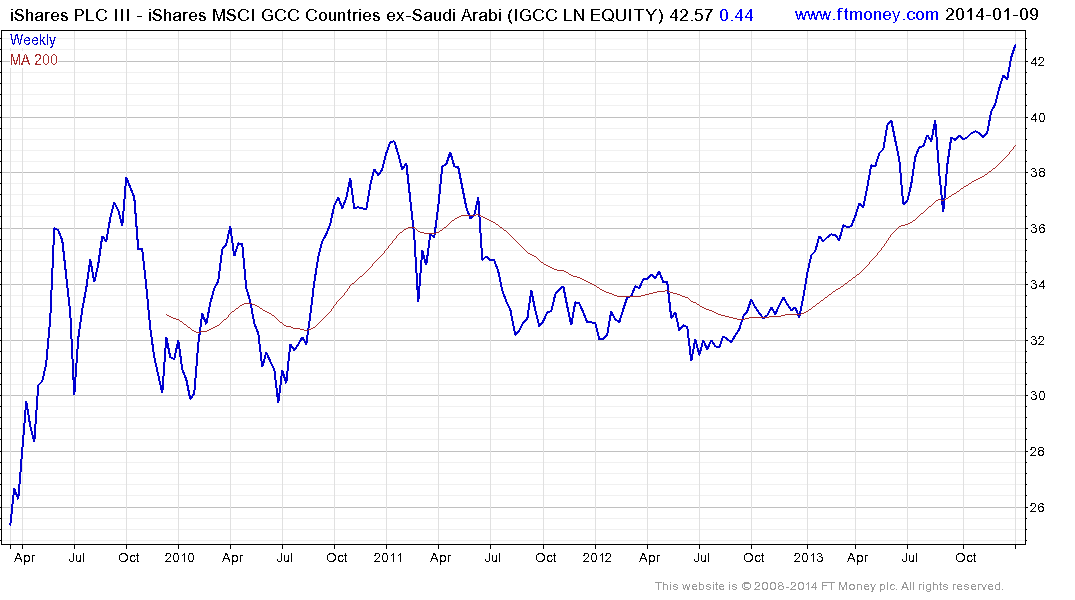 Back to top