Johnson Says Pandemic End in Sight as He Plans U.K. Recovery
This article from Bloomberg may be of interest to subscribers. Here is a section:
"This road map should be cautious but also irreversible," the prime minister told members of Parliament in London. "The end really is in sight and a wretched year will give way to a spring and a summer that will be very different and incomparably better than the picture we see around us today."

While U.K. leisure and travel stocks jumped as Johnson revealed his timeline, he is already facing pressure to move faster after the economy endured its deepest recession in more than 300 years. Chancellor of the Exchequer Rishi Sunak will announce more support for pandemic-hit businesses in his budget next week.
Psychologically, we tend to remember the totality of an experience based upon how well it ended. That's why bubbles are always remembered so negatively. People forget the euphoria of the advance and focus instead on the trauma of the subsequent decline. https://www.psychologytoday.com/us/blog/fulfillment-any-age/201209/happiness-it-s-all-about-the-ending
As we exit lockdowns, worrying about mask protocols, handwashing and social distancing, will we now remember the pleasure of that first meal out, meeting up with friends, going to that first football game or concert more than the year of watching and waiting? In a couple of years, we might be yearning to spend more time with our families and a less hectic schedule.
Politicians are obviously betting on that and they are keen to make the recovery as quick as possible so the feel-good factor lasts into the next election. With the Pound breaking above $1.40 and €1.15 respectively investors appear willing to give the UK the benefit of doubt as it plots a recovery out of its 2020 ordeal.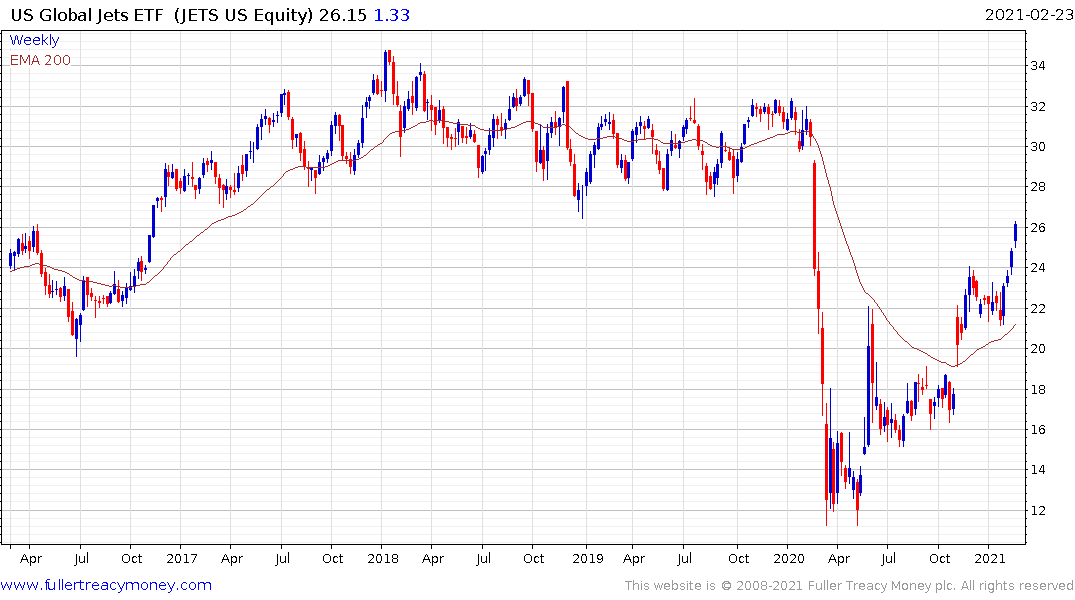 The US Global Jets ETF continues to plot a recovery.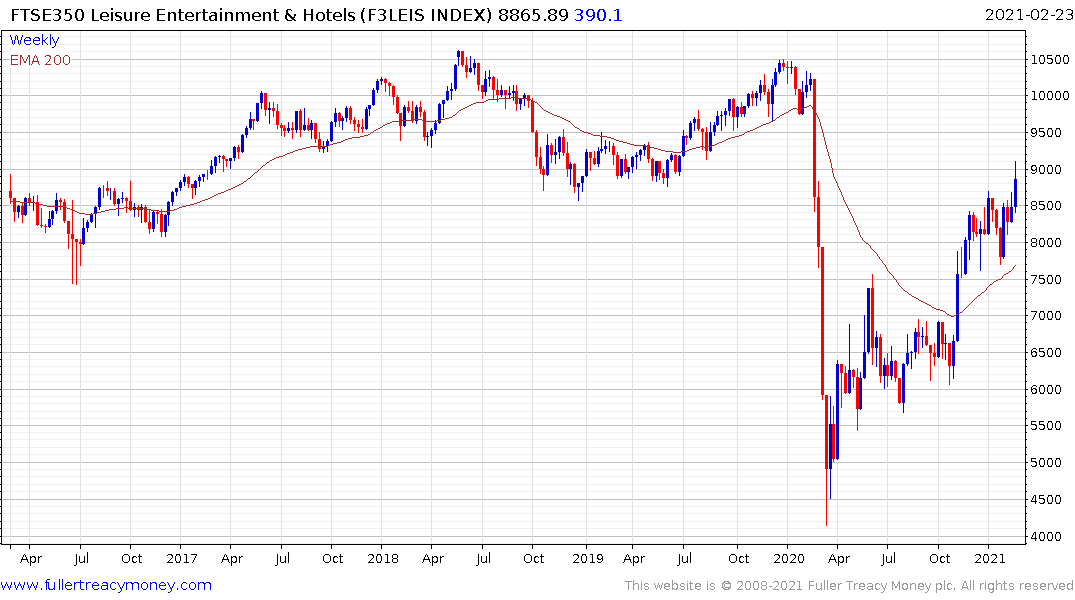 The FTSE 350 Travel & Leisure Index has a similar chart pattern.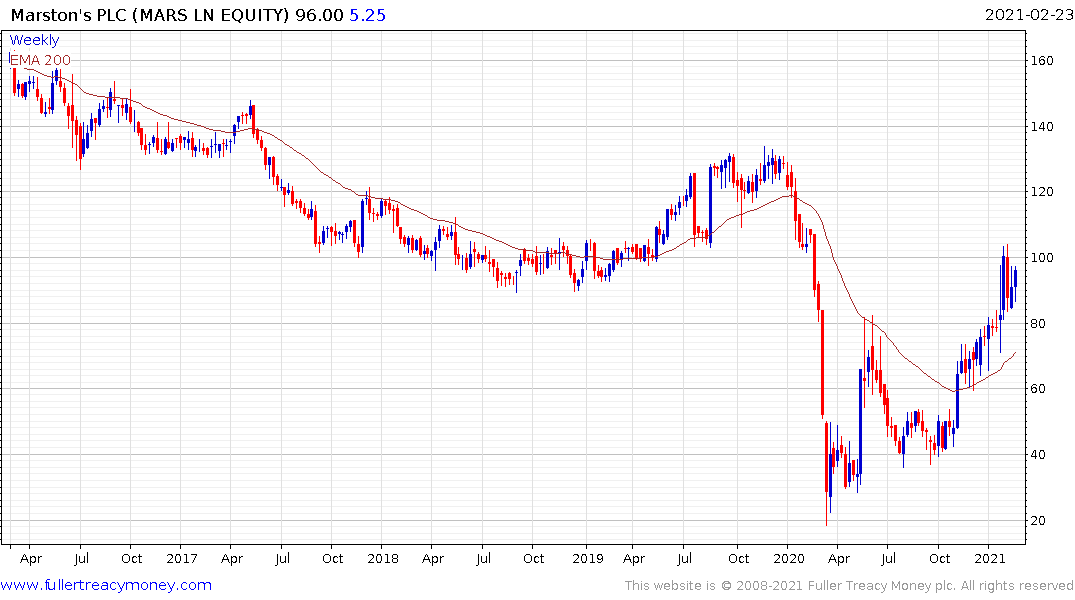 Pub chain Marston's also has a similar pattern.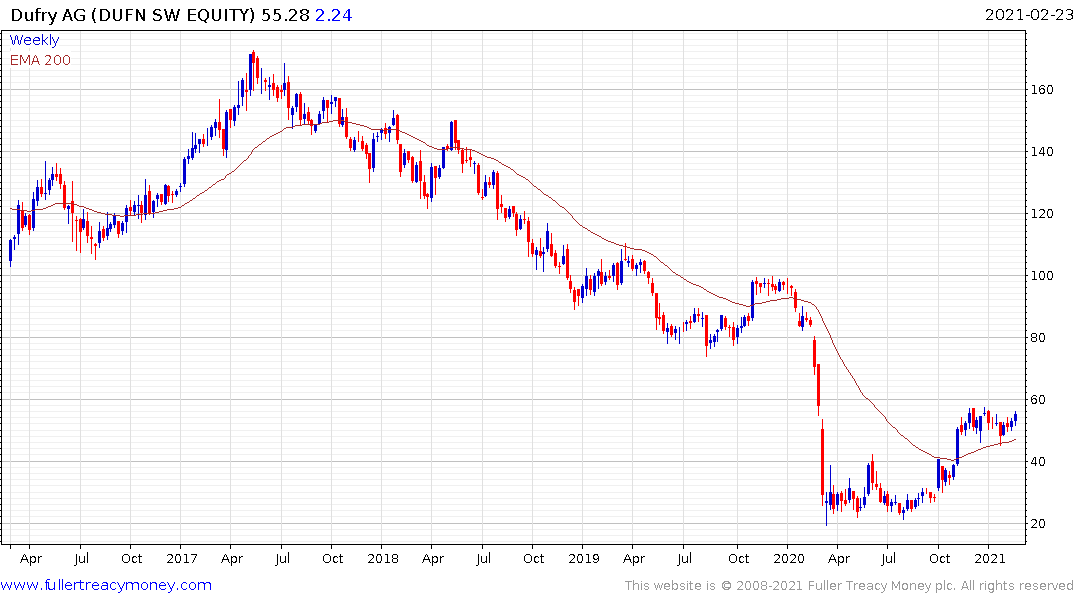 Dufry remains on a recovery trajectory and is heavily leaveraged to the airport shopping sector.
Even as health officials remain vigilant about the spread of variants, there is a growing chance that we are coming to the end of lockdowns. The Swedish solution is looking more attractive by the day and is more likely to be followed in the event we do see cases rising again over the coming months.
Back to top