There is Hope Beyond Botox as Pharma Races for First Migraine Fix
This article by David Wainer for Bloomberg may be of interest to subscribers. Here is a section:
An early look at the drugs Teva Pharmaceutical Industries Ltd., Amgen Inc., Eli Lilly & Co., and Alder Biopharmaceuticals have developed shows they work for about half of migraine victims tested, snuffing out some of the episodes that wreck their lives. The drugmakers are racing to cash in on a market that analysts say is worth between $4 billion and $8 billion and relieve the recurring spells that cost the U.S. economy an estimated $13 billion a year in lost work productivity.

"There's very little recognition of the suffering migraine inflicts," said Cathy Glaser, a 63-year-old patient advocate from New York City who started her own organization to fund research in 2006 because she was frustrated by the lack of relief options.

Glaser as a child recalls seeing her mother take to bed with a cloth over her eyes, and years later found she and her sister were migraine-prone as well. Her daughter suffers from a chronic version that has landed her in the emergency room.
Migraine headaches are an affliction people who do not suffer from them have difficulty understanding but they are no less real. The potential for therapies that can prevent migraines is a great example of how the healthcare sector is capable of delivering solutions that directly enhance productivity. Think of everyone you know and the number of days-off taken because of headaches. If the first solutions on the market only cure half of the people affected the cost of the treatment will be outweighed by the economic benefit on aggregate.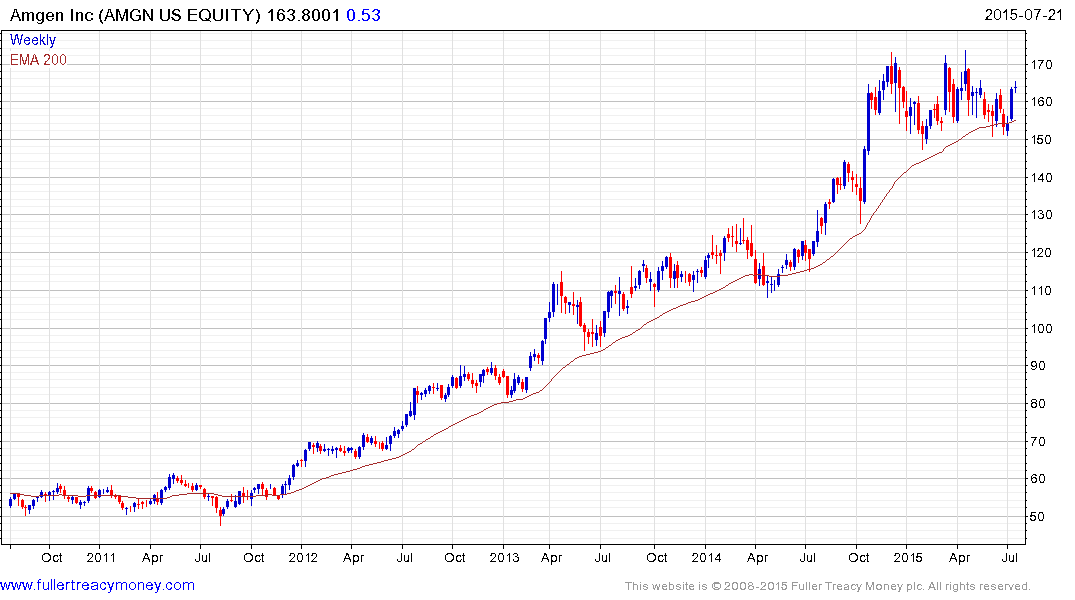 Amgen has been consolidating mostly above the 200-day MA since the beginning of the year and a sustained move below $150 would be required to question medium-term scope for additional upside.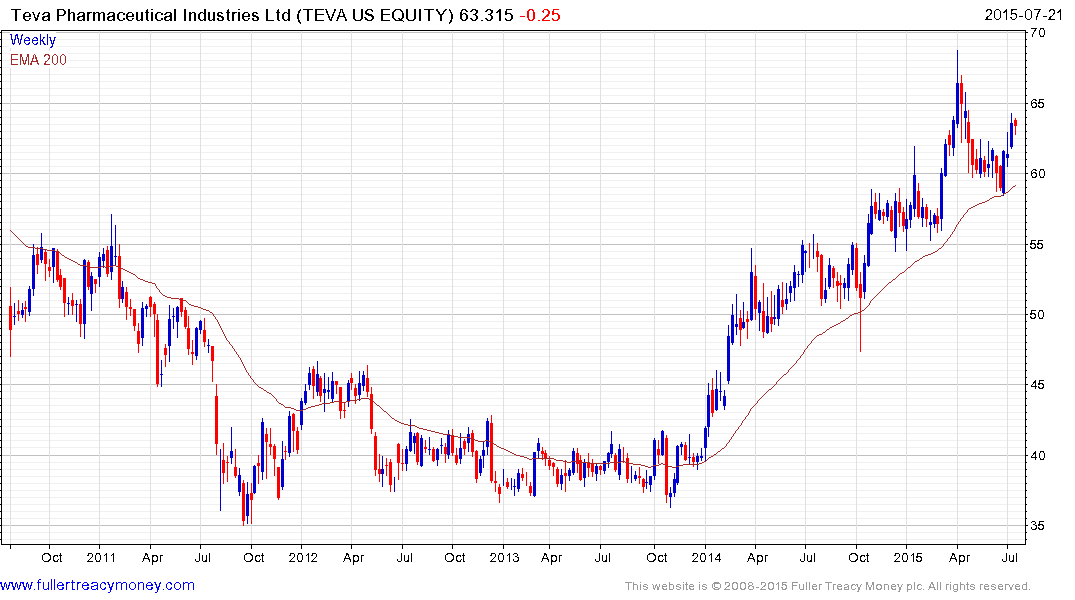 Teva found support in the region of the 200-day MA from late June and a sustained move below it would be needed to begin to question uptrend consistency.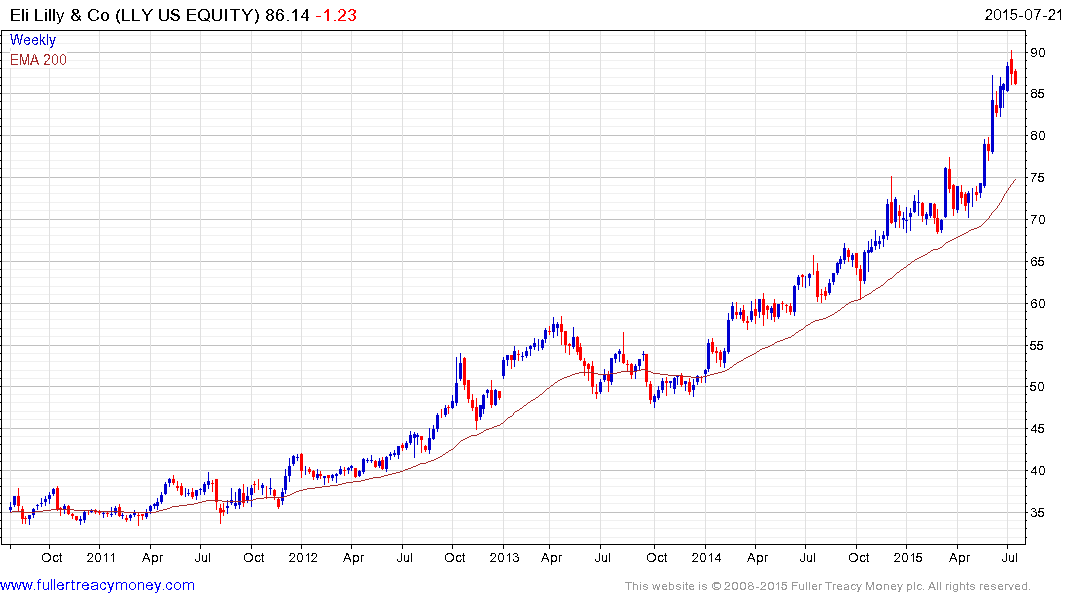 Eli Lilly has been making headlines recently because of expected announcements relating to its Alzheimer's drug but its migraine offering might have a better chance of commercial success in the near term. The share is more overextended relative to the trend mean than any time in the last three years and susceptible to a process of mean reversion.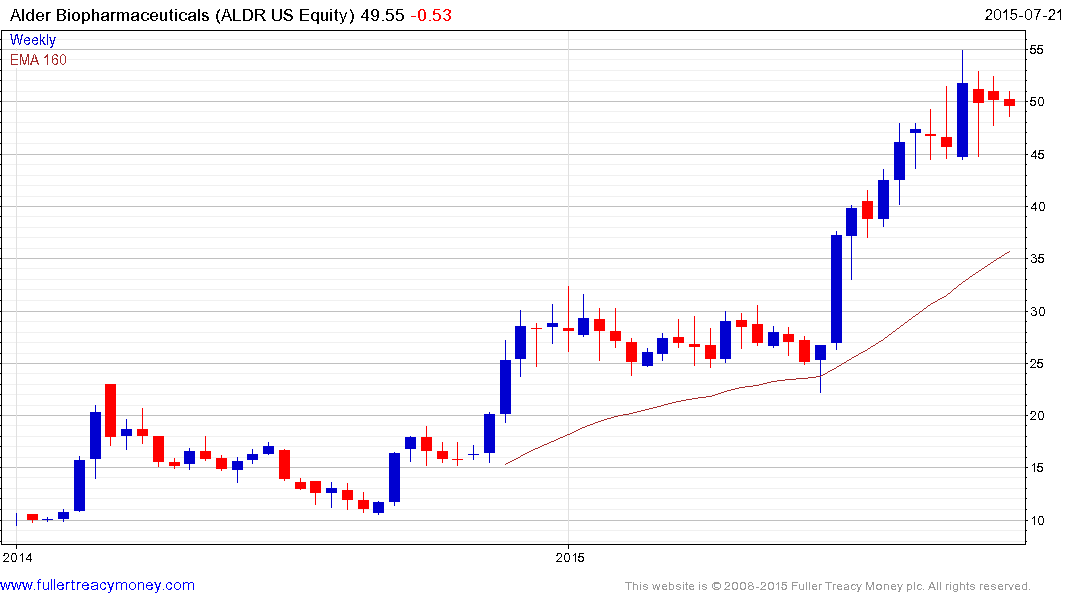 Alder Biopharmaceuticals IPOed little more than a year ago and has been trending higher. It is currently consolidating its earlier gain and a sustained move below the trend mean would be required to question medium-term demand dominance.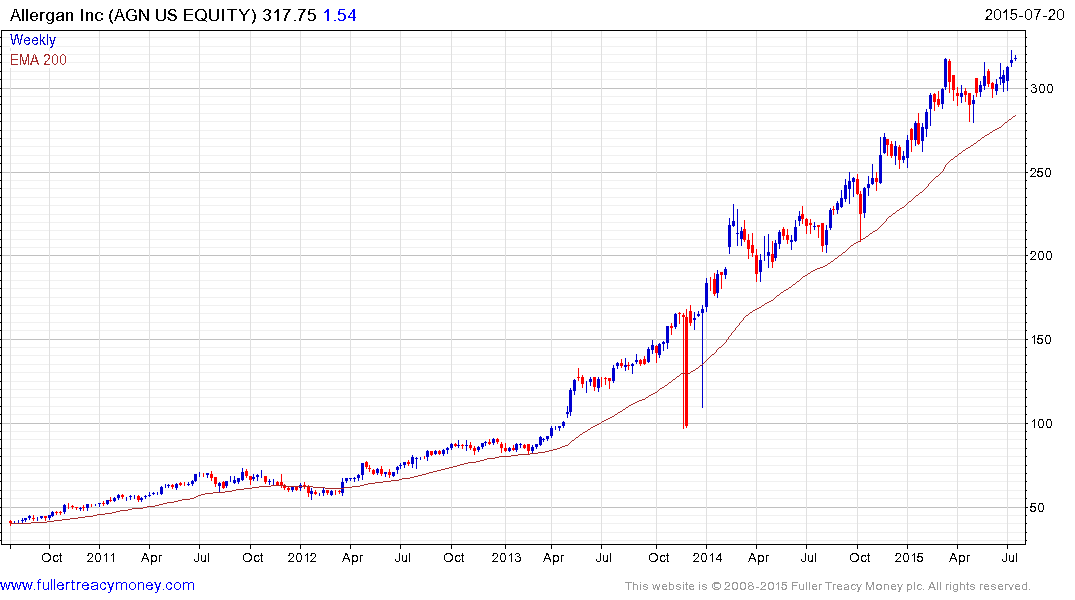 Allergan's Botox has been shown to be effective in a subset of headaches, namely chronic migraine. www.migrainetrust.org/factsheet-botox-for-migraine-10899 The share remains in a consistent medium-term uptrend and a break in the progression of higher reaction lows would be needed to begin to question the consistency of the advance.
Back to top