Police Target Truckers' Fuel After Ottawa Declares Emergency
This article from Bloomberg may be of interest to subscribers. Here is a section
Trudeau has largely been out of sight during the protest after testing positive for Covid-19 a week ago and going into isolation. On Friday, he said calling in the military was "not in the cards," but he's been silent since then and doesn't have any public appearances scheduled Monday.

The ministers of public safety, transportation and emergency preparedness, along with other Ottawa-area lawmakers, will hold a briefing at 12:45 p.m. in Ottawa on the federal government's response.

Carney, who was governor of both the Bank of Canada and the Bank of England before joining Brookfield Asset Management Inc., issued his call to action Monday morning in an opinion piece in the Globe and Mail newspaper.

"Those who are occupying the downtown of our nation's capital should be in no doubt. They are no longer simply advocating a different strategy to end Covid-19," Carney said. "They are not patriots. This is not about 'restoring freedom' but beginning anarchy."
The protests in Canada are just one more symptom of the global unrest provoked by the pandemic. People have not been satisfied with the inability of governments to react in a timely manner to emerging data, or with their failure to formulate common sense strategies to limit risk and enhance mobility. Truckers are truly essential workers and losing that status in how they are treated by the government is at the root of these protests.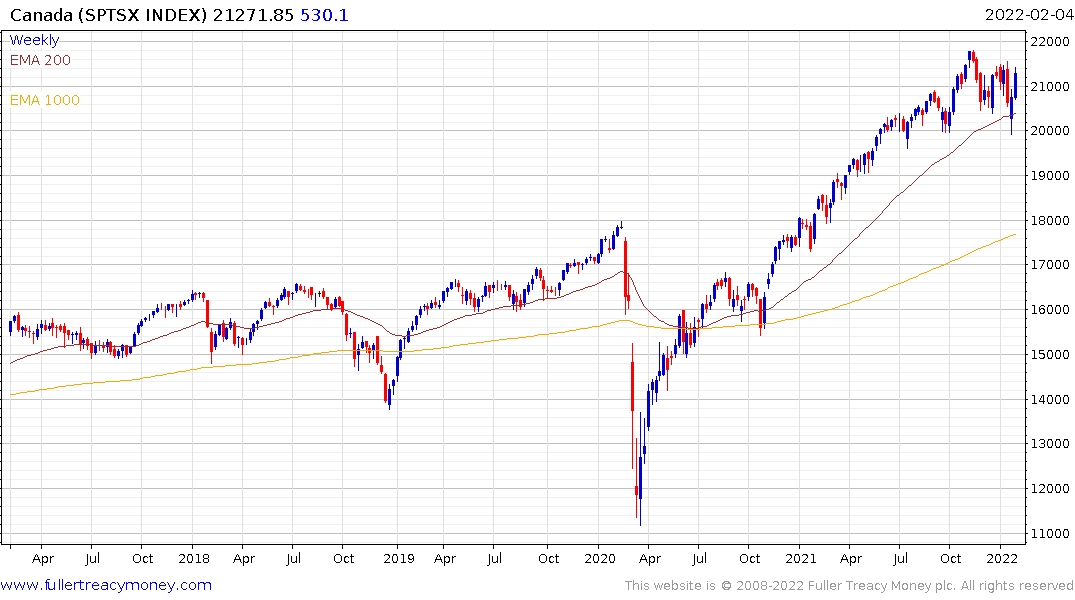 So far, the stock market has been unaffected by these protests. The S&P/TSX has held a sequence of lower rally highs since November but bounced from the region of the 200-day MA two weeks ago. It will need to hold the psychological 20,000 if the benefit of the doubt is to be given to a mild consolidation.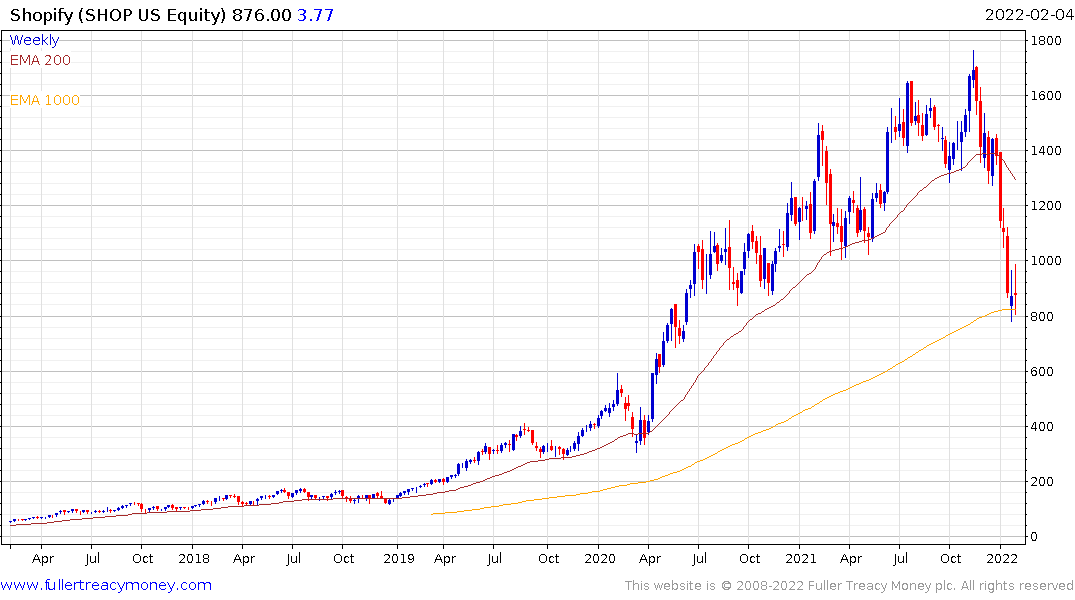 Shopify's peak to trough decline has exceeded 50% since November and it is still trading on a price/sales ratio of 25. The share is pausing in the region of the 1000-day MA but a full unwinding of the pandemic surge cannot be ruled out.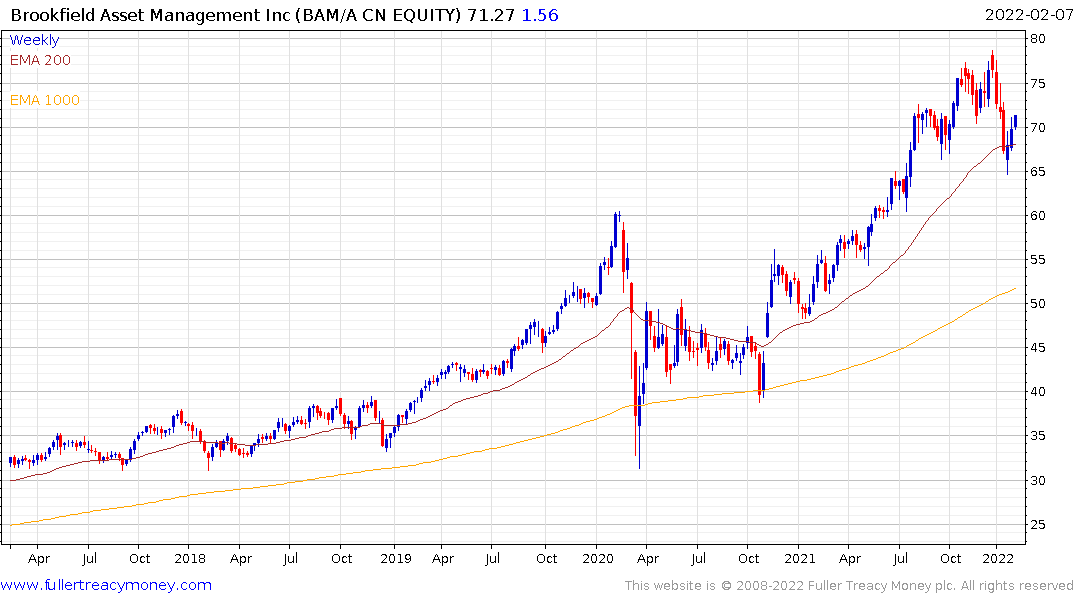 Brookfield Asset Management is among the best in class listed private equity firms and continues to firm from the region of the trend mean.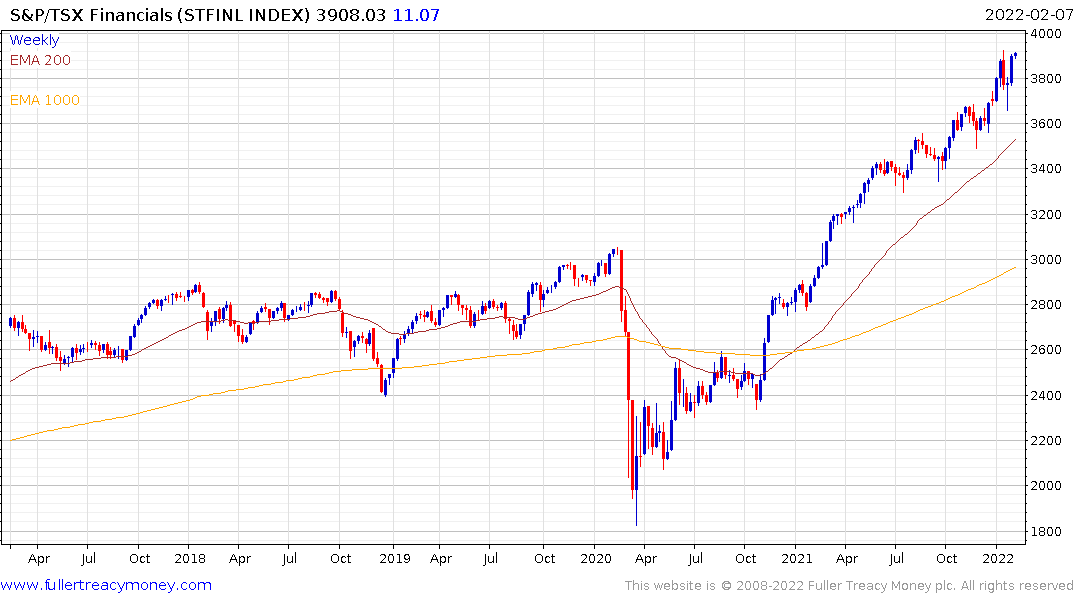 The S&P/TSX Financials Index remain the largest sector in the Index and a major source of relative strength. The Index remains in a consistent uptrend.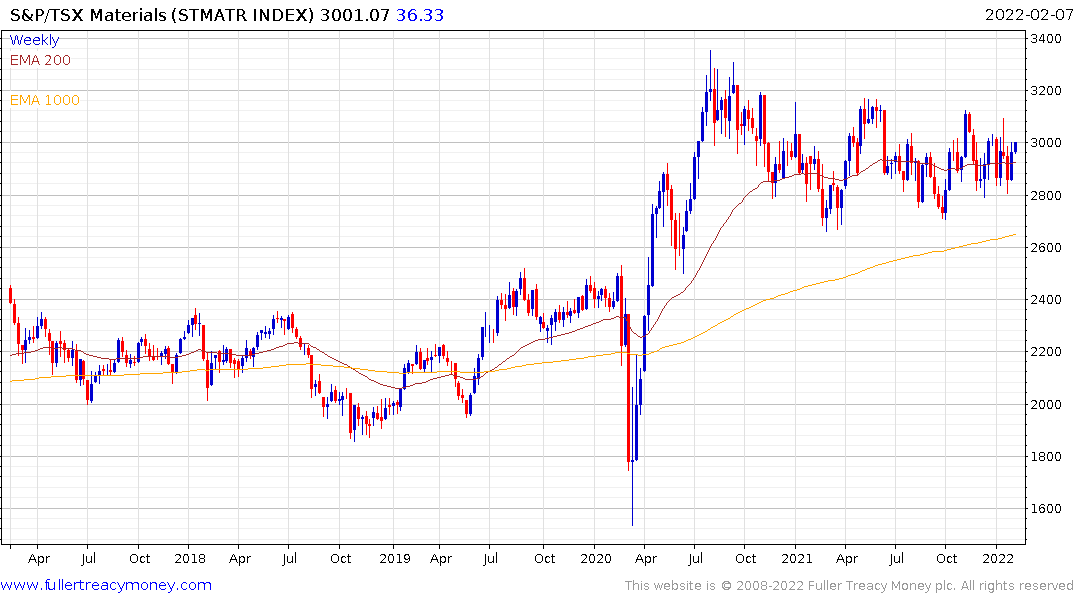 The S&P/TSX Materials Index has first step above the base characteristics.
Back to top