Park's Ouster Raises Prospect of Reset With China, Kim Jong Un
This article by Andy Sharp for Bloomberg may be of interest to subscribers. Here is a section:
The impeachment of Park Geun-hye opens the door for a reset in ties with North Korea and China.

The leading candidates to replace Park, who was ousted as president by South Korea's constitutional court on Friday, favor a softer touch with North Korean dictator Kim Jong Un. They're also open to rethinking the deployment of the Thaad missile shield, which has spurred Chinese retaliation against South Korean companies.

"The liberals believe that if you engage with North Korea, then they could get some kind of missile-test moratorium," said John Delury, an associate professor of Chinese studies at Yonsei University in Seoul. "The Chinese strategy will be to push just hard enough so the South Korean public sees the cost of having Thaad, but not too hard that you unleash outrage."

The election campaign -- a vote must be held within 60 days -- will spur fresh debate on how to stop Kim from acquiring more powerful nuclear weapons and missiles. Secretary of State Rex Tillerson plans to seek a new approach to dealing with North Korea in a trip to the region next week, though China's calls for talks have been rebuffed by the U.S., Japan and South Korea.

Earlier this week, the U.S. military unloaded two mobile missile launchers in South Korea to start deployment of Thaad. It came as North Korea launched four ballistic missiles that landed in waters near Japan.
The potential for a reset with North Korea is a double-edged sword. After all this is a regime whose main export has been nuclear technology to any country willing to pay for it, but most particularly those which are at odds with Western interests. In that regard it is reasonable to conclude North Korea's actions are those of a Chinese puppet state. Too often the liberal attitude to negotiations has been to give the recalcitrant threatening aggressor whatever they want just to make them go away. Unfortunately, that only emboldens them to ask make even more ambitious demands.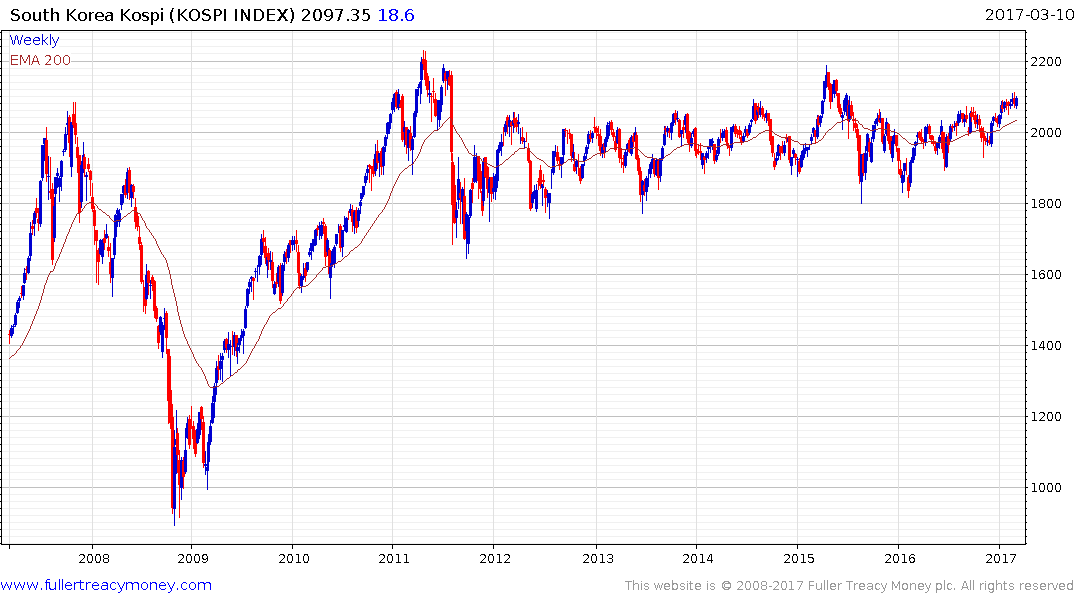 South Korea's stock market is testing the upper side of a six-year range and a sustained move below 2050 would be required to question medium-term scope for a successful upward break.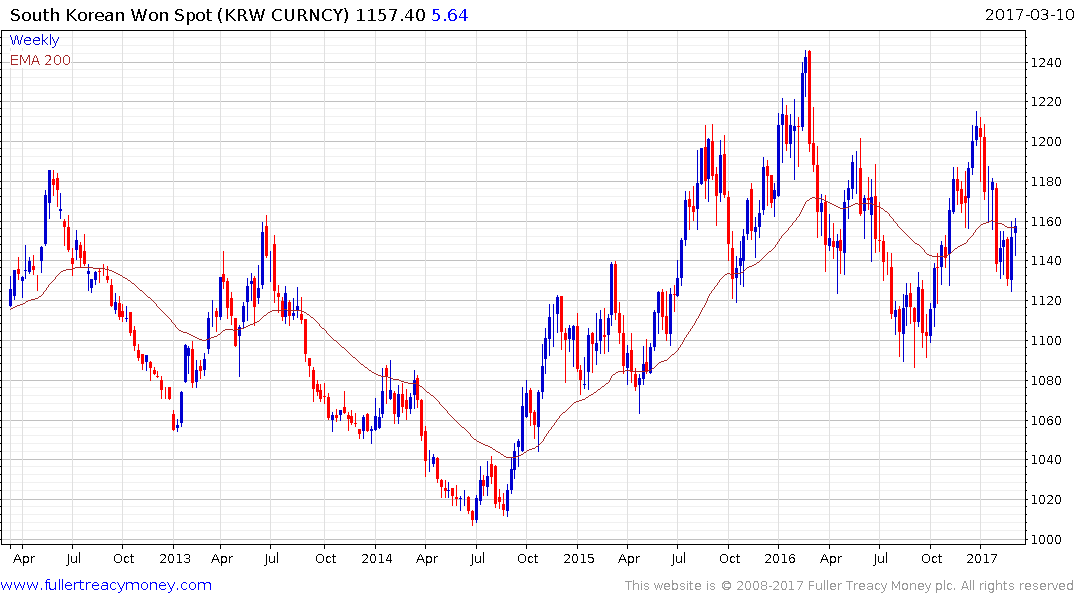 The US Dollar has now broken a two-year downtrend against the South Korean Won and a clear downward dynamic would be required to question potential for additional upside.
Back to top