Nvidia Leads Chip Selloff After Report on US Tightening AI Curbs
This article from Bloomberg may be of interest to subscribers. Here is a section:
Nvidia this year designed less-capable chips that fall under thresholds that require a license from the Commerce Department before export to China or other countries of concern.

Washington is now weighing action as soon as next month to expand the curbs to include those lower-powered semiconductors, the Wall Street Journal reported, citing anonymous sources.

Such a move underscores the Biden administration's determination to contain China's technological rise and could stoke tensions between the two countries. The US is increasingly concerned about Beijing's technological ambitions, including around the use of AI in military and scientific advances that could tilt the geopolitical balance.

While that's likely to hurt Nvidia's and AMD's business with the world's No. 2 economy, the two chipmakers remain at the forefront of a surge in AI development that's driving investment from the US to Europe and China. From Microsoft Corp. to Baidu Inc. and ChatGPT developer OpenAI, companies around the world are buying their products to train the next generation of artificial intelligence services.
Nvidia got around the ban on selling A100 chips to China by creating a custom underpowered powered version; the A800. They can achieve the same goal, but significantly more units are required. That's great for sales, but it does not comply with the spirit of the USA efforts to maintain a competitive edge in AI relative to China. Sales of these altered chips exploded in the first half of the year because Chinese buyers understand the window of opportunity is unlikely to stay open indefinitely.
That's a major source of demand which could slam shut over the coming month but the wider data centre business is also investing heavily in AI chips. The most bullish forecast I have seen is for a doubling of computing infrastructure to manage the traffic of AI applications. The Tesla chart of expected computing power to achieve autonomous driving represents a multiplication factor in chip demand.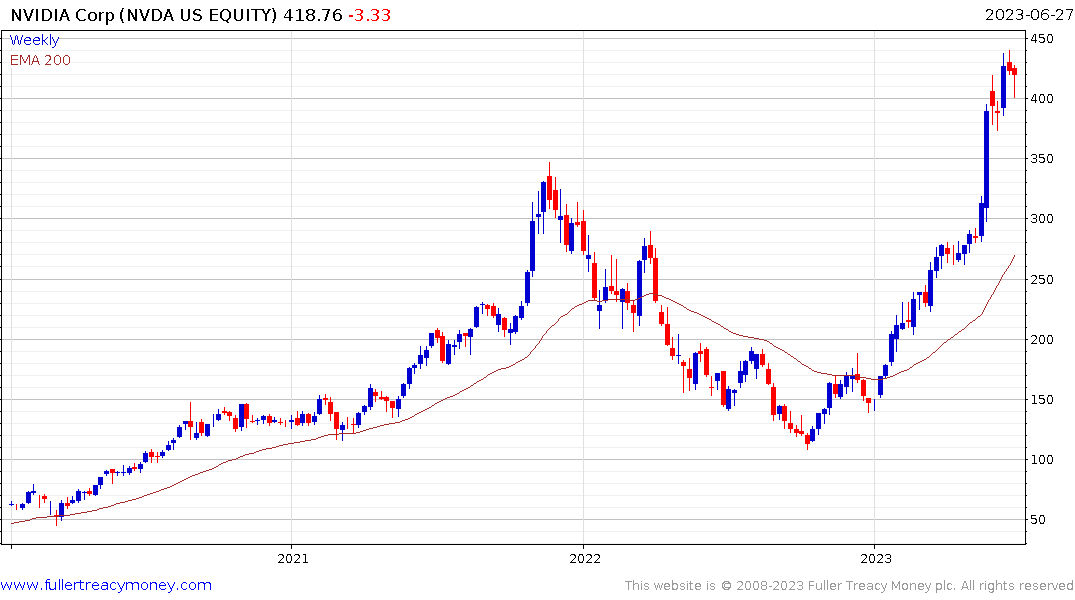 The burning question is how much of this has been priced into Nvidia's share. The company's revenue will need to multiply from here to come close to reducing the exaggerated valuation. It continues to hold the $400 area as it consolidates following the post earnings gap higher in May. The $370 is a big level which will need to hold, if the trend is to remain intact.
Back to top