Not So Fast on India Stock Rally as UBS Sees Profit Bar Too High
This article by Nupur Acharya and Ameya Karve for Bloomberg reiterates an argument more than a few institutional investors have made about India. Here is a section:
"The markets are trading at all-time-high multiples and are pricing in a lot, or expecting reforms to continue and growth to come back fairly quickly," Chhaochharia said. "The risk-reward is definitely not attractive."

Skeptics like Chhaochharia are becoming harder to find as foreign and local investors pile into equities and analysts predict further gains. The S&P BSE Sensex will climb to 32,000 by year-end, up 10 percent from current levels, according to a survey of traders and investors by Bloomberg News on March 14, three days after Modi won the state polls. Citibank, which previously forecast the Sensex to reach 30,000 by September, now sees the gauge at 31,500 in December.

Overseas investors have plowed a net $3 billion into Indian equities in March, the biggest monthly inflow in a year, while mutual funds have been buyers for seven months through February.

The liquidity-aided euphoria saw a department store chain double in its trading debut on Tuesday, and an exchange-traded fund of state companies on Friday got bids for about four times the target.
10-year local currency Indian government bonds yield 6.82%. That's well below the 9% which was on offer in 2014 but the question of the currency is much less pressing today than it was then. More than any other factors, the combined trends of the currency and the bond market offer a window into how large foreign investors view the prospects for India.


It is reasonable to expect that earnings will come in below par in the 4th quarter because of the effects of the demonetisation. At an historical P/E of 22 it is true the India market is not cheap based on earnings but it is also worth considering that the market is a discounting mechanism and this is already in the price. By another measure the Nifty's Price to Book is back to where it traded near the lows of 2008.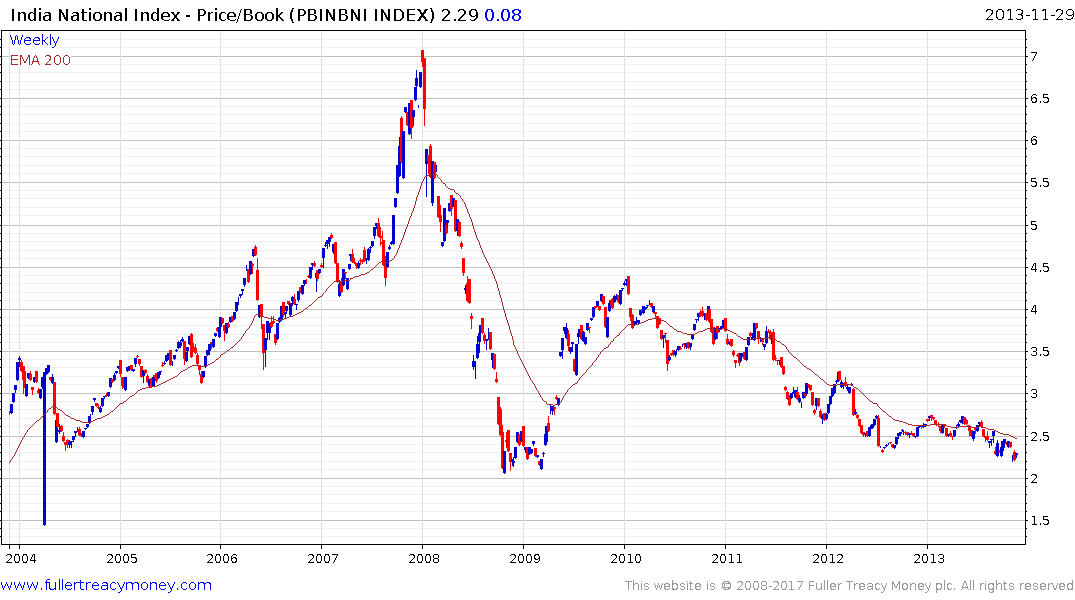 The Nifty Index has trending consistently higher for the last few months with impressive advances followed by shallow reactions. It bounced today from above 9000 and a sustained move below that level would be required to begin to suggest mean reversion is underway.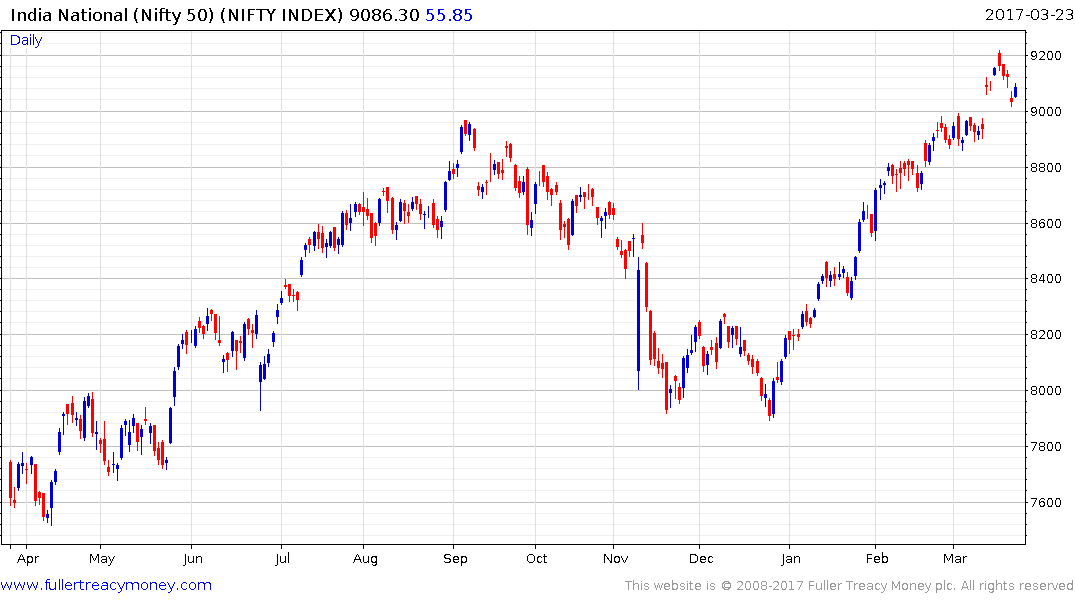 Back to top