New Order: ID>MY>TH>SG>PH
Thanks to a subscriber for this report from Morgan Stanley which may be of interest. Here is a section:
Indonesia: buy for the 2H17/2018 recovery? Our earlier worries for equities – politics, tax scrutiny, rising rates, earnings risk – have not disappeared, but we now think an expected period of support for EM currencies will help to keep bond yields and risk-free rates down – a bigger tailwind. This is coupled with improving earnings momentum with an acceleration to 17% growth in 2018, supported by less bank provisioning and increased infrastructure momentum ahead of the 2019 elections and a consumption recovery. Our Focus List includes BBCA, ASII, TLKM, UNTR, LPPF and LINK; our new index target implies 8% upside.

Malaysia: window still open. We initiate on Malaysia (Malaysia strategy initiation) and position it as our No.2 OW in ASEAN. Interest is back, as evidenced by US$1bn of foreign equity inflows in March. We see room for more outperformance from: 1) upcoming elections, 2) infrastructure pick-up, 3) better commodity prices, 4) return of earnings growth, and 5) currency support. We add IHH Health Care to our Focus List.
Here is a link to the full report.

The AEAN region was among the first to recover following the credit crisis and has been a centre of investor interest for more than a decade. It remains a hotbed of economic growth not least because of favourable demographics and proximity to the world's major population centres. Governance is everything and ASEAN offers some wildly different examples of how countries have gotten it right and indeed wrong.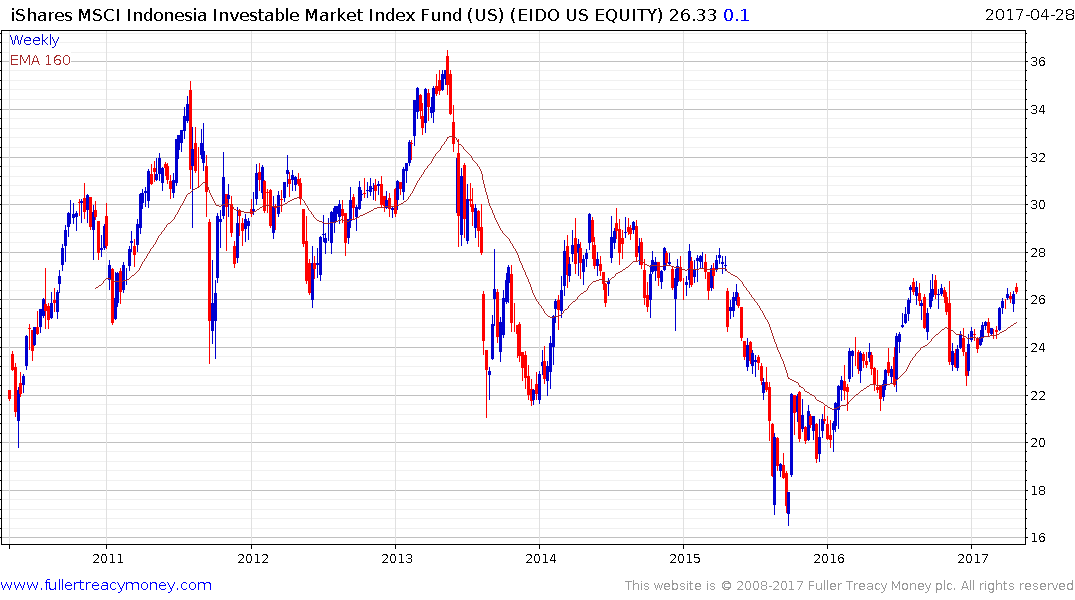 Indonesia under Widodo has been one of the better performers. The decision by the central bank to support the rupiah in 2015 acted as a bullish catalyst and encouraged investors to take a second look. The iShares MSCI Indonesia ETF (EIDO) which takes full account of the impact of the currency on foreign investors has held a progression of higher reaction lows since late 2015 and is now retesting its recovery highs.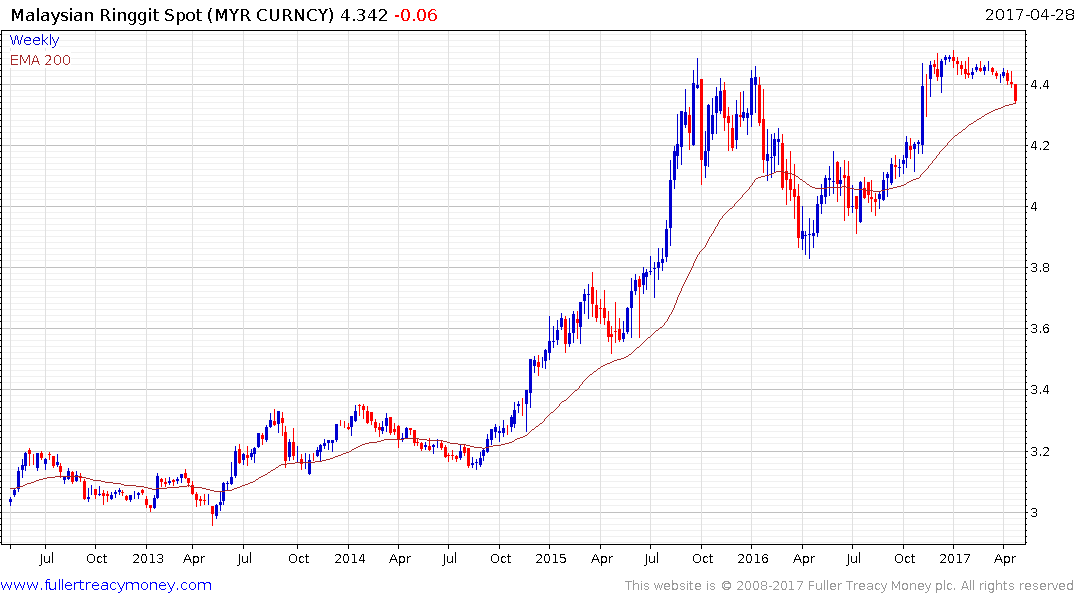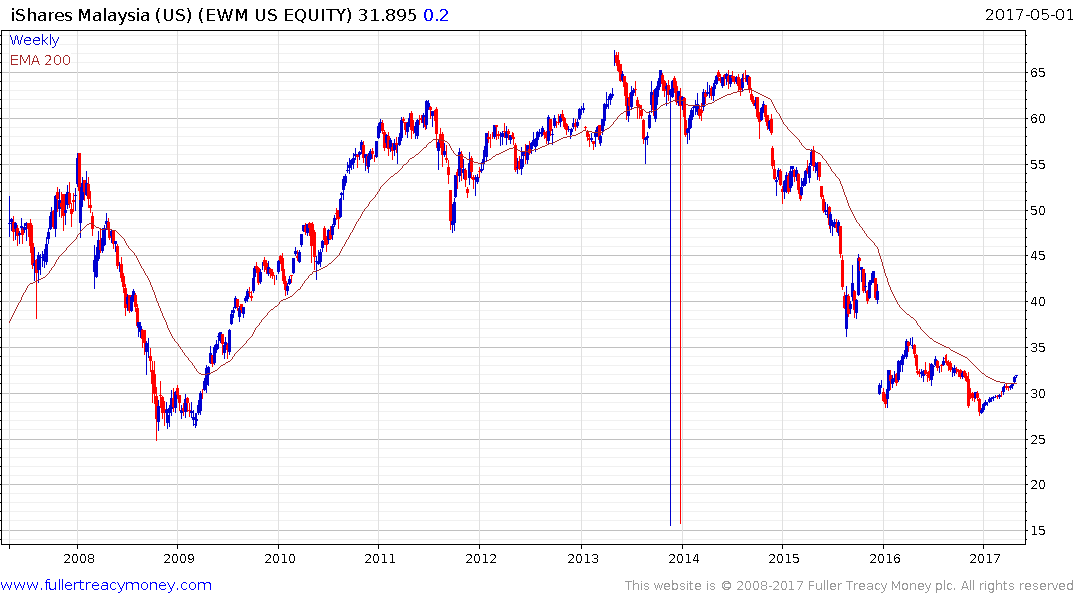 The Malaysian market has been subjected to heightened uncertainty because of the continuing controversy over the source of Prime Minister Najib Razak's personal fortune. However the Ringgit has steadied in the region of the 2015 lows and has now closed its overextension relative to the trend mean. The iShares Malaysia ETF (EWM) has held a progression of higher reaction lows since December and is now trading above the trend mean for the first time since 2014.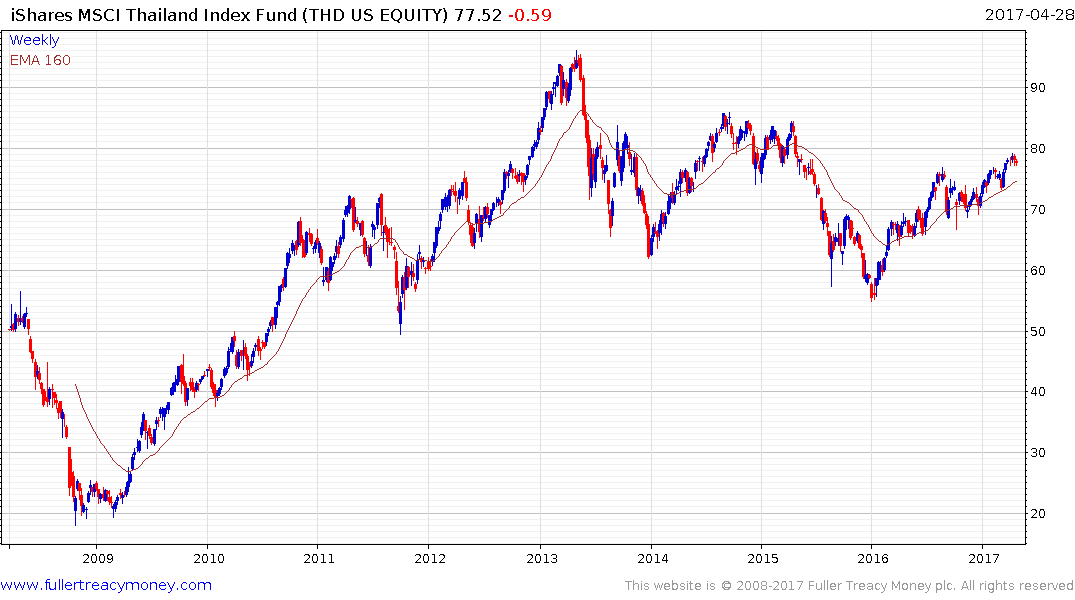 The Thai baht has also stabilised. The iShares MSCI Thai ETF (THD) experienced a shallower reaction than the above funds and it has also held a progression of higher reaction lows since early 2016.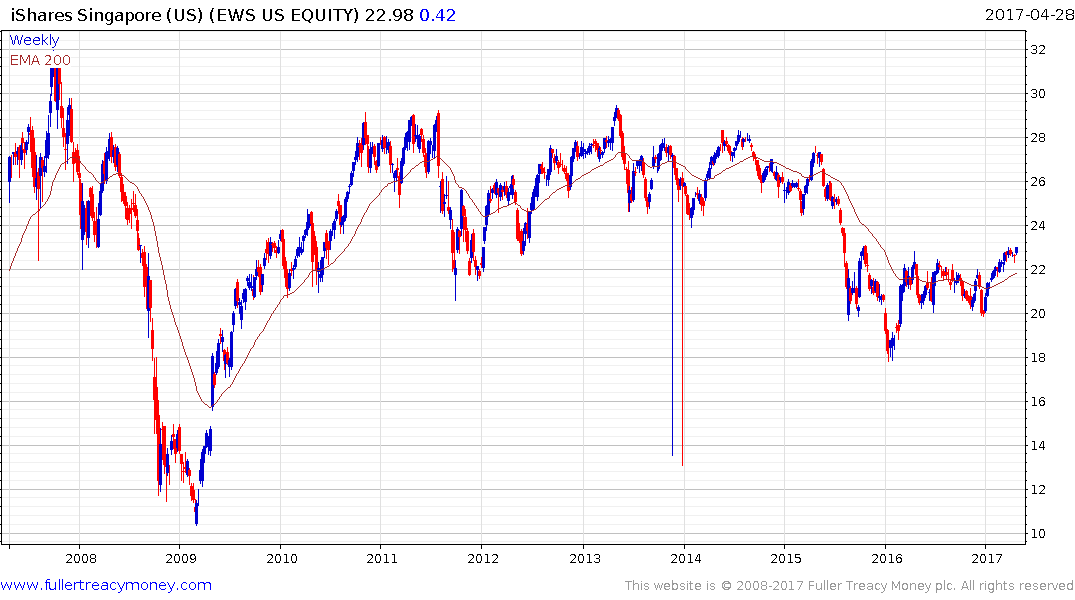 The iShares MSCI Singapore ETF (EWS) failed to sustain the beak below $20 in January last year and broke out to new recovery highs today.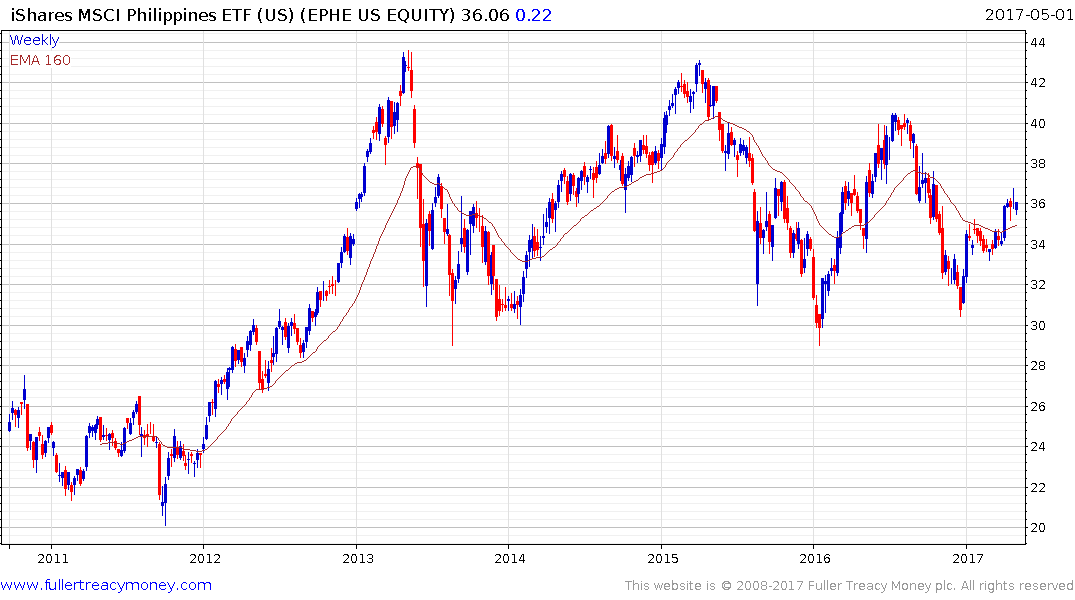 The iShares MSCI Philippines ETF (EPHE) has been ranging between $30 and $45 since 2013 and is currently bouncing from the lower boundary.
Back to top